Enterprise modernization, platforms and cloud
Thoughtworks named as a Leader in Forrester Wave™: Modern Application Development Services, Q3 2022 report
As a business or technology leader, modernization is a topic that's always on your mind. You know the stronger your digital capabilities are, the better. For your organization to quickly adapt to change, accelerate time to market for new services and make the most of fresh, cost-effective cloud-based capabilities, modernization is the key to success.
The Forrester Wave™ Modern Application Development Services Q3 2022 evaluation is an in-depth assessment of 14 vendors across 28 criteria. Thoughtworks was named as a Leader in the report, with our strengths including "a strong vision that addresses what's coming and outlines how clients and their products can benefit from it." According to the Forrester report, Thoughtworks received the highest score possible in the Strategy category. 
Thoughtworks is a strong choice for those committed to modernizing development capabilities, and keeping up with continuous modernization, and building modern products.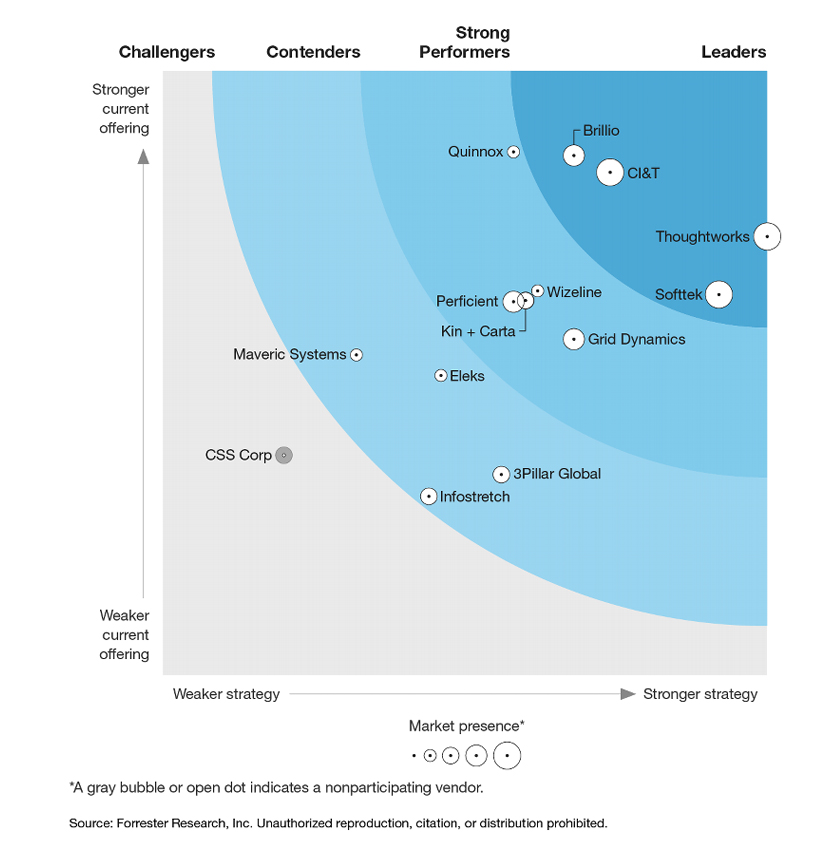 In this 28-criterion evaluation of modern application development services providers, The Forrester Wave™ report identified the 14 most significant ones and researched, analyzed, and scored them.
Forrester's findings reinforce our continued commitment to innovation and providing the best outcomes for our clients. When you work with us on an Application Development project, you benefit from:
Our relentless focus on business outcomes, where we align your business strategy with state-of-the-art technology and proven methodologies
A rapid return of investment, through our "thin slice" approach that emphasizes delivering business value
Our deep agile expertise that encompasses cloud-native application development, continuous delivery, testing and improvement, and data-driven decision making
Our unparalleled history of tech innovation, enabling us to surface powerful tools, platforms and techniques for our clients