When you think about joining a new company, what comes to mind? We're going to venture a guess that most of what you envision reflects a more 'normal' induction: an office tour, organizing your work space, or trying to memorize the names of everyone you met during day one. So when a virtual induction is the 'new normal' what does that look and feel like? 
What's your name?
Liam Tan
What are your preferred pronouns?
He/Him
What do you do?
I'm a Consultant Developer
And where in the world are you?
At the moment in my home office in Brisbane, Australia...right next to my fridge in case I need an emergency snack.
First things first, what initially brought you to Thoughtworks? 
Two months ago, I was completing my final year of engineering at the University of Queensland while working as a developer. I was constantly punishing myself for not loving uni, knowing full well I had no interest in becoming an engineer. I decided I would change most things in my life because studying and working at the time wasn't making me particularly happy. I decided to postpone my degree, move interstate, and start a new job. For me, Thoughtworks was a fresh start in a new city, working in an environment where I can learn and grow as a developer. I was also excited to be immersed in the consulting world, working with different companies, and expanding my skills through a wide variety of projects.
...and then the pandemic hit. What were your initial thoughts when you found out that your induction was going to be 100% virtual?
In the spirit of honesty, I was actually very apprehensive about starting my Thoughtworks journey remotely. I had heard tales of how engaging and exciting the in-person onboarding experience at Thoughtworks was, and felt like I would miss out on a quintessential part of the experience. In addition, I had planned to begin my induction in Melbourne—a new city for me—and meet lots of new people. Needless to say, the current situation didn't allow for this.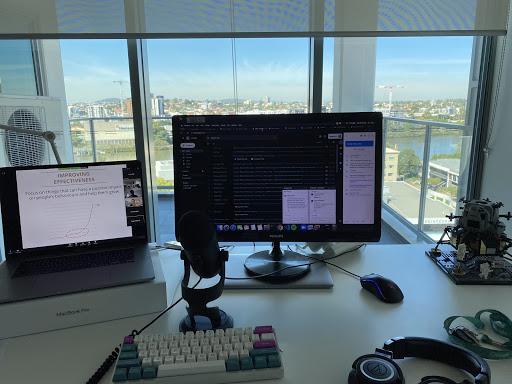 So what was the virtual induction process like?
My virtual induction was held over the course of four days, three of which consisted of introductions, workshops about how Thoughtworks aims to amplify positive social change, demonstrations of various Thoughtworks rituals, and processes like staffing calls. The last day was an intensive, day-long core engineering practices workshop where the new hires all paired off and solved problems together using Pair Programming. 
The key takeaway from these workshops and introductory sessions was a constant sense of interconnectedness with my fellow new hires. There were plenty of friendly faces keeping me company all day, along with several seasoned Thoughtworkers to make you feel right at home and answer any queries you might have. Thoughtworks also respected and understood the cognitive toll and fatigue that constant video calls every day can have, and gave me consistent downtime to disconnect and get some fresh air. After day one, I had essentially forgotten that this was a virtual induction experience. I felt so welcomed by Thoughtworks - I felt very close to the company and my co-workers and the current COVID-19 situation hadn't managed to sully that.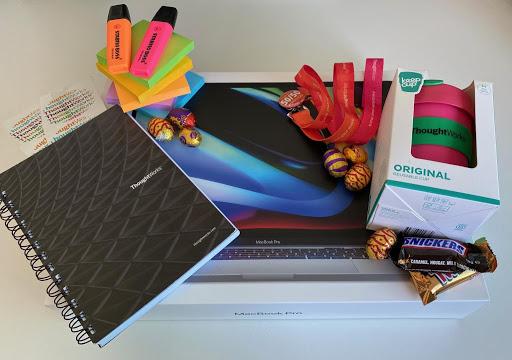 What surprised you most about the entirely virtual experience?
I was convinced that I would miss out on some key component of induction at Thoughtworks sitting at my desk in my living room, but I'm surprised to say that I don't think that is at all the case! I've been exposed to every facet of the company: I've been privy to how efficient Thoughtworkers are with their time, I've been introduced to the sales team and the Australian leadership team, and more. I don't feel at all that I'm at a loss for not being present in the Thoughtworks office. Everyone has had an understanding and empathetic attitude towards the current situation and has accommodated for me without compromise. 
That's great! Now that you've been here for a few months, how are you settling in? 
Thoughtworks has very quickly become home for me. I feel as if I've been part of the company for a while, despite only having started a few weeks ago. I've learnt a lot about my coworkers over the last few weeks despite being remote. Thoughtworkers are very special people: they are ruthlessly organised and efficient, but also very down to earth and love the occasional after-work beer. They are brave and value trust above most things, meaning that us as new hires have the privilege of finding our own way and focusing our time and energy on the things we think are most important. 
What are some of your key takeaways from this experience? 
I've broken my observations down into two separate areas of focus: companies and individuals. 
1. What companies can do to provide a better induction experience
Identity and online platforms 
Thoughtworks has exceptionally well-organized online platforms for managing everything including staffing and assignments, personal leave, etc. all managed through one centralized identity management tool. This provides a cohesive experience for new hires, as any information I might need is right at my fingertips, all neatly managed and maintained. 
The buddy system + pair programming 
Pair programming has been a cornerstone of Thoughtworks' history and to this day is an extensively utilised tool to deliver software excellence. During virtual onboarding however, this tool becomes an effective way to connect people and understand how your coworkers think and solve problems. In addition, making sure that new hires still have a buddy—or someone they can come to when they are in mid panic—is a must even if contact is done by remote means. My buddy answered lots of my questions and set me right back on track when I was having moments of anxiety or feeling a little lost.
2. How new hires can have a make the most of their virtual induction experience
Practice empathy and understanding 
It's easy to undermine the cognitive toll that virtual meetings, workshops, and interactions can have after several days. A key takeaway from this experience is to make yourself aware of this cognitive load and be mindful of the impact it has on your wellbeing, and just as importantly, the impact it has on your peers. Take lots of breaks, create an environment where anyone feels comfortable to speak through their troubles, and always encourage open dialogue.
Embrace meeting new people
I have admittedly taken this for granted. It took a global pandemic for me to appreciate how much energy I derive from meeting new people. We can all be a bit guarded when stepping into a new company, wanting to make a good impression, perhaps being a little too reserved at times. However the best thing you can do, especially when your induction is virtual, is embrace the experience of meeting new people. Charge into your Zoom meetings with energy and get excited about getting to know your future coworkers. Ask lots of questions, say yes to lots of online events, and even have a drink with your boss over Zoom on a Friday afternoon.
Disclaimer: The statements and opinions expressed in this article are those of the author(s) and do not necessarily reflect the positions of Thoughtworks.