Our purpose is to deliver extraordinary impact through our culture and technology excellence, and our annual Social Impact Report provides a summary of how we have put that mission into practice over the past year. This report aims to capture the depth, breadth and global reach of our commitment to social impact and Environmental, Social and Governance (ESG) principles [1]
.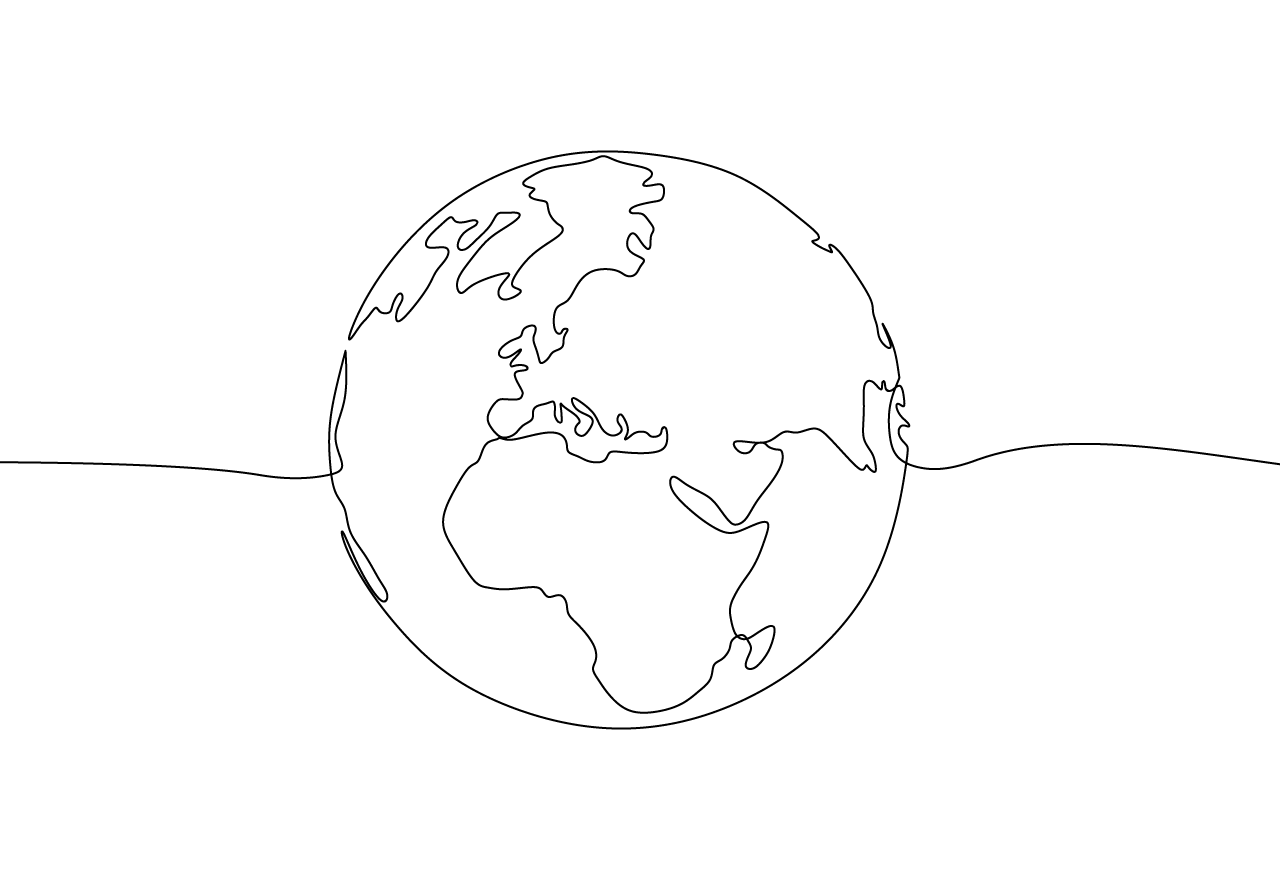 The report explores how we are driving positive outcomes across some of our focus areas: Responsible tech and innovation; diversity, equity and inclusivity; social justice; sustainability and climate action; healthcare and human rights; education; and governance.
This report also takes into account the perspectives and priorities of our various stakeholders — from current and future Thoughtworkers to clients, investors and regulators — on weaving social and sustainability considerations as well as governance more deeply into our operations and into the technology industry. We share stories as a powerful way to track our efforts and their outcomes, and amplify the efforts of the partners, groups and movements with which we stand in solidarity to solve deep-rooted societal problems. 
Though we have been committed to social impact for close to three decades, we are just starting our journey with more formal ESG reporting. We began reporting on our social impact in 2018 and have since signed on to the Science Based Targets Initiative (SBTi), the UN Global Compact and the Carbon Disclosure Project (CPD) platform.
We have begun work on our ESG materiality assessment and reporting frameworks, completing a Sustainability Accounting Standards Board (SASB) assessment in 2021 and aligning our priorities to the UN Sustainable Development Goals (SDGs). In 2022 we will complete a full Materiality assessment with our stakeholders to guide our focus and reporting. We use Global Reporting Initiative (GRI) as a guiding framework for sharing our impact data and plan to report more formally on GRI metrics in 2023.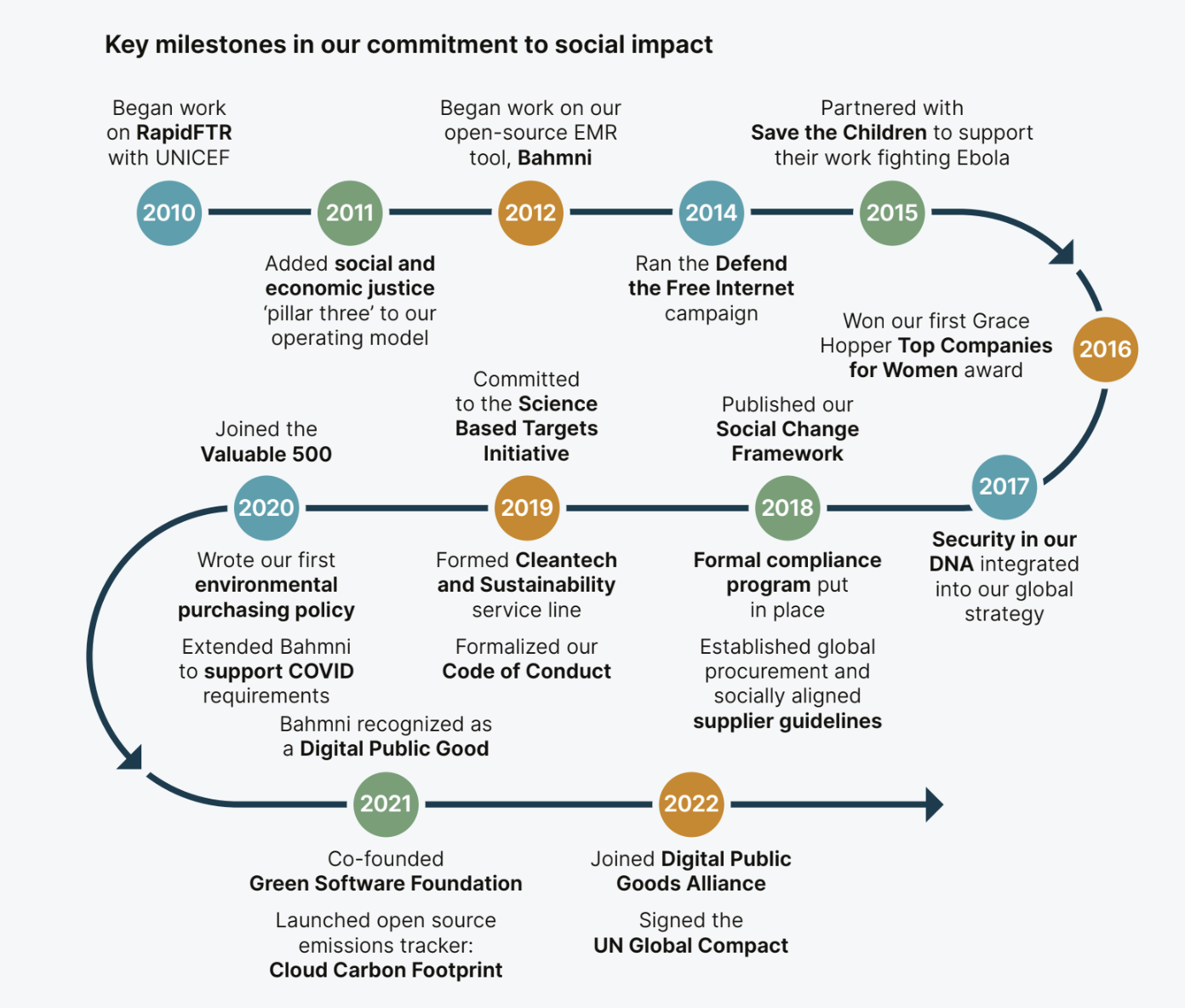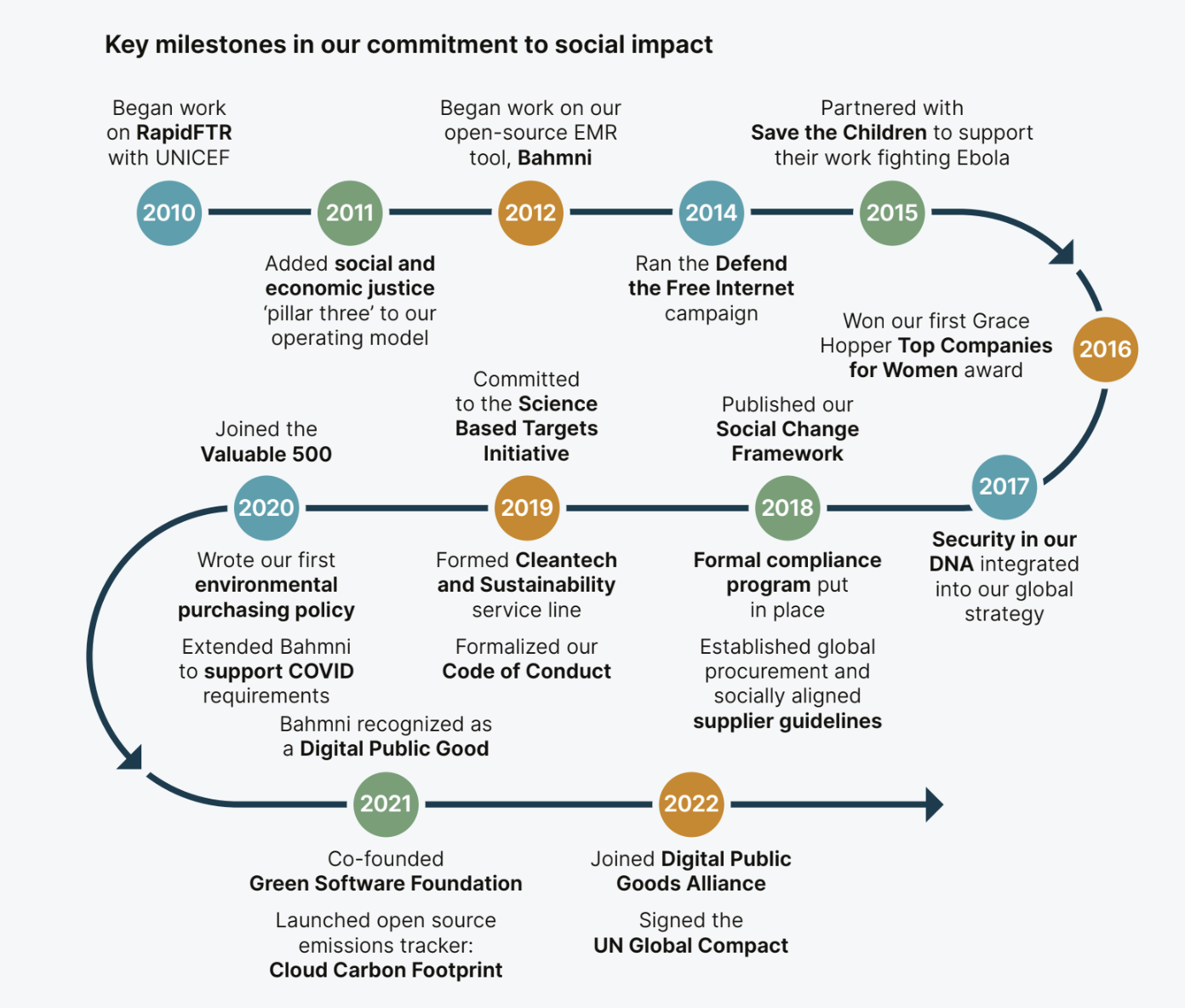 Sustainability, solidarity and service: Practicing Responsible technology to create positive social impact 
As technologists it's in our nature to strive to solve problems. But as an organization that's had a social mission from the very beginning, we've come to understand that we occupy a distinct position at the intersection of technology, society and business. This position is both a privilege and an obligation, and compels us to act in the service of our many stakeholders – while always remaining mindful that technology doesn't have all the answers. 
In every Thoughtworks region, we work to support needs identified locally, establishing long term partnerships with social organizations on the ground, and then seek to align those strategies with broader global goals. Over the course of years our stakeholders — including Thoughtworkers and society — have shaped this approach. It gives us natural alignment with many frameworks and compacts around social and environmental issues globally, including SASB (Sustainability Accounting Standards Board) Standards and the United Nations Sustainable Development Goals (SDGs).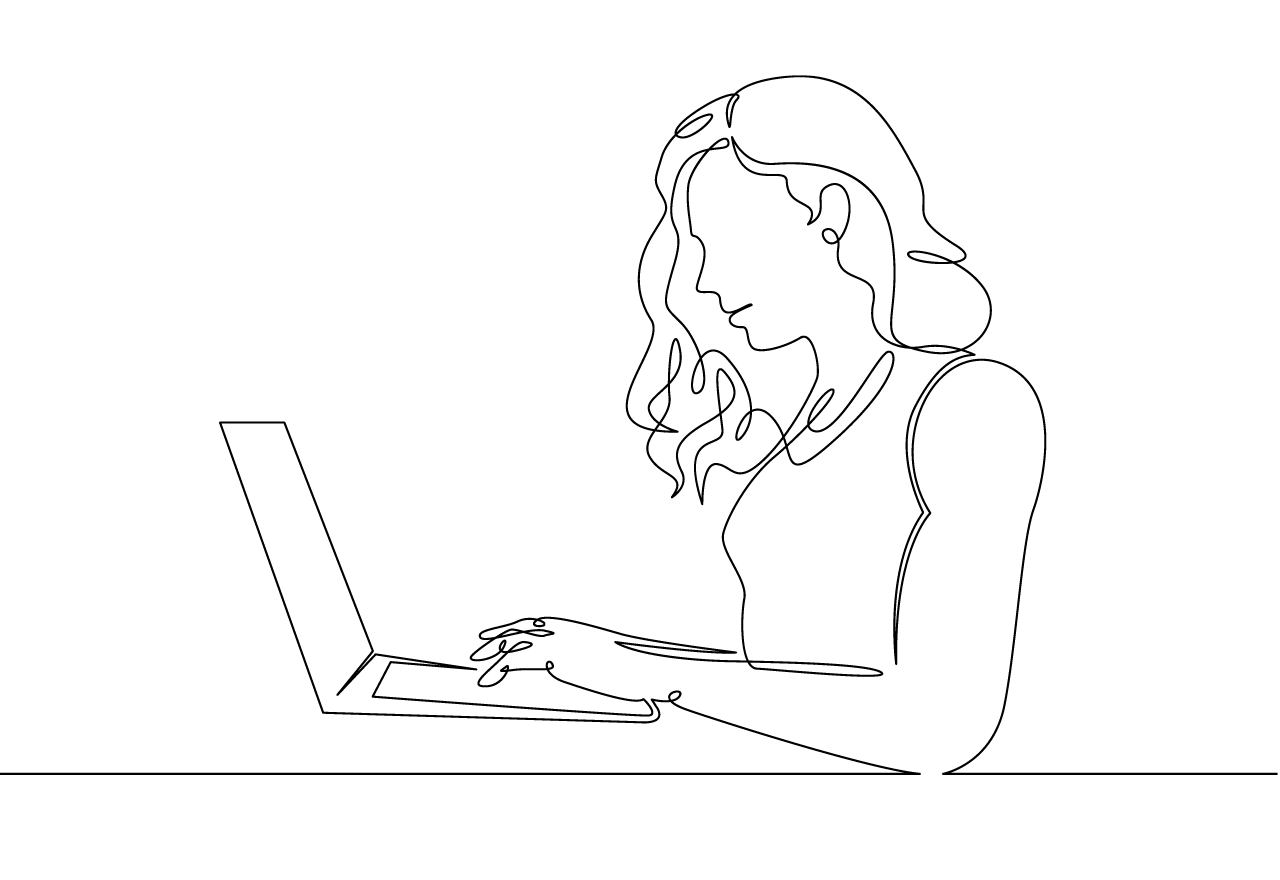 In addition to our social change work being aligned to the SDGs, we continue working with UN partners on specific initiatives to advance the SDGs. For example, we partnered with the US Coalition on Sustainability to build the SustainChain™ platform, which was recently recognized as one of Fast Company's 2022 World Changing Ideas [2]. SustainChain™ exists to accelerate progress toward the SDGs by enabling various stakeholders and groups to intelligently discover, align and unify sustainability efforts under one ecosystem.
This report shares multiple examples of technology being harnessed to benefit society. But Responsible technology requires a reckoning and acknowledgement that technology is not inherently a force for good, or necessarily neutral. 
The stories in this report show what it's possible to achieve with a Responsible tech mindset – and also why our work must continue. So much remains to be done.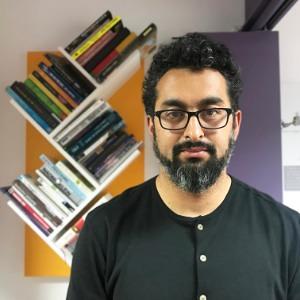 "Our world is being reshaped by a technological revolution. As technologists, we need to be aware that we have a fundamental responsibility towards the future we are helping to build. This means that we face contradictions and tradeoffs that we need to make difficult decisions about and own. Working with social movements that bring a voice to those who have been historically marginalized enables us to better understand and resolve those contradictions."
Eduardo Meneses
Global Head, Social Change Group, Thoughtworks 
Our social impact framework: A foundation for Responsible tech that drives results 
Responsible technology is a key component of our long and ongoing commitment to social change, because it's increasingly evident that each requires the other. Technology has become core to society, and can create connections and solutions that were never before possible. Yet technology, and technologists, can't solve societal problems alone. 
Meaningful progress depends on partnerships and on forging relationships with social movements and voices that have been historically excluded — such as migrant workers and First Nations. Embracing diverse views and acting at multiple levels are the only ways to address challenges of the complexity and magnitude we now face, from rising inequality to climate change. 
We developed our social impact framework in 2018, to help us think about the levers of social change, and ensure our work advances along many dimensions, from the individual to the international.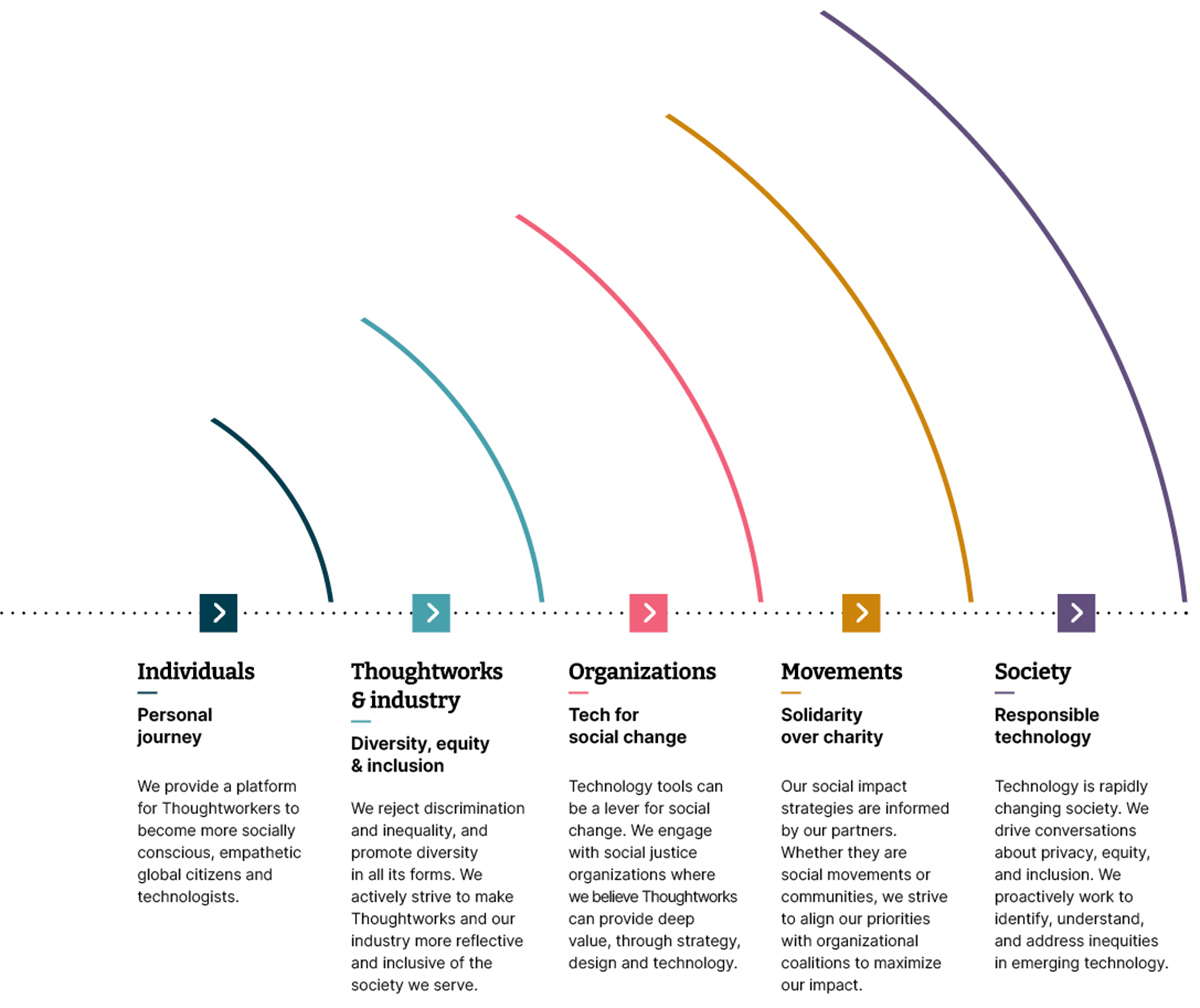 Tech as a changemaker and an ally 
In the past year we took new steps to pinpoint and address persistent systemic inequalities with tech. Examples include creating a tool that reports on the real diversity through influence and share of voice, with Women at the Table, and helping unite and mobilize informal workers in the Global South. 
We have efforts focused on the response to refugee crises unfolding in Ukraine and other conflict zones. These are built on existing partnerships, allowing us to effectively offer meaningful help to medical logistics and refugee support organizations on the ground. Our priority goes beyond immediate action; from providing donations and paths to safety, to supporting the infrastructure that sustains longer-term aid and recovery.    
From a climate perspective, we've embarked on ambitious programs to push ourselves and our clients to reduce our emissions, and those of the tech industry. Tech has emerged as a major contributor to climate change and will play a critical role in the fight against it. By signing the UN Global Compact we've joined other leading enterprises in upholding important commitments on anti-corruption, labor and human rights, as well as the environment.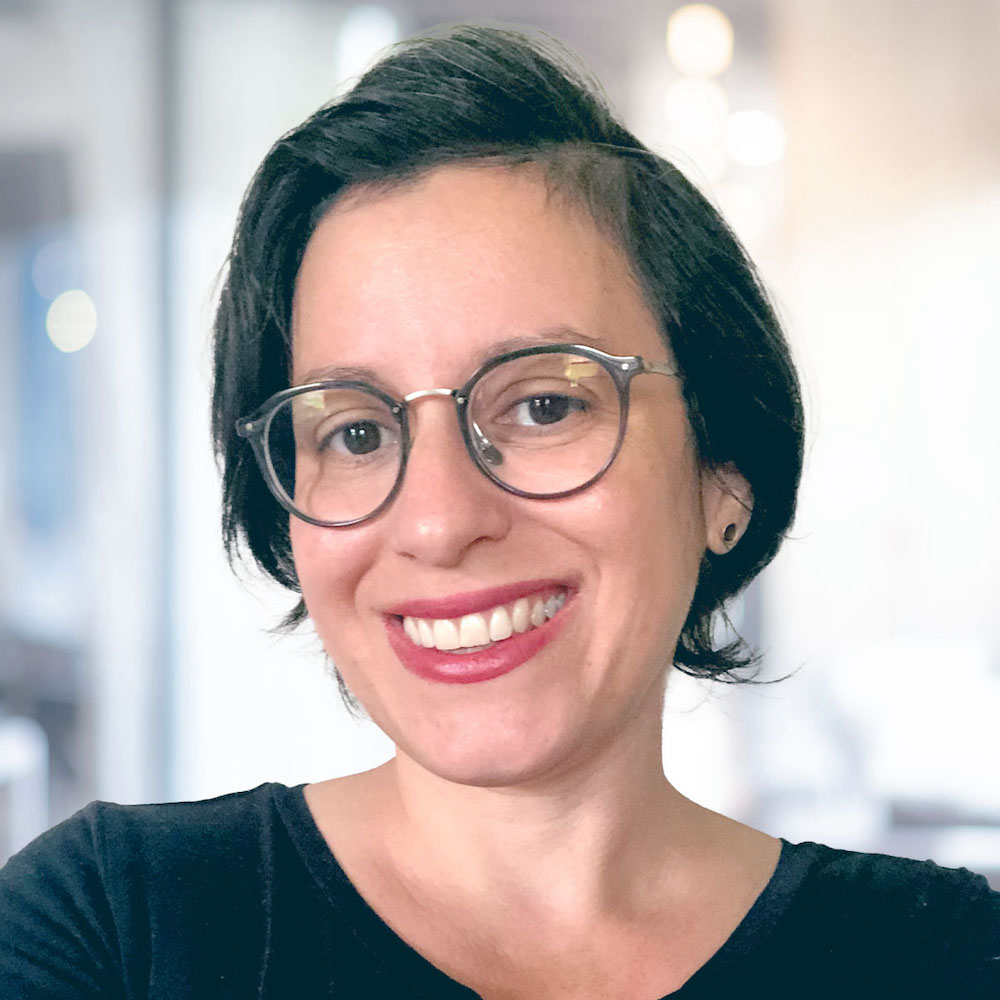 "A natural evolution of being a purpose-led company is to deeply consider the environment in how we operate our business. But that perspective is not limited to carbon reduction. It extends to the dynamics that underpin the climate crisis, and ensuring that investments prioritize the most vulnerable people."
Elise Zelechowski
Global Head of DEI, Sustainability and Social Change, Thoughtworks  
As this report shows, our social impact initiatives take many different forms. They're in varying stages of development, and are often work-in-progress as part of multi-year programs and long-term partnerships. But they're all rooted in the same basic convictions. First and foremost is solidarity; that our response to any crisis or challenge should be led by the organizations and communities that are the closest to the situation, rather than our own priorities or preconceptions. 
The second is that entrenched social, environmental and economic imbalances can't be addressed in isolation. Genuine transformation requires the efforts and participation of a broad range of sometimes competing actors, coming to terms with tension, and making occasionally contentious decisions. This isn't easy. Guided by our values, our partners, and the people and organizations with which we stand, we ensure our work will always be an expression of purpose, directed where it is needed most. 
The UN Sustainable Development goals


Thoughtworks supports the realization of the SDGs


Footnotes
[1]  The majority of this report reflects on 2021 action, programs and events. Some information includes "forward-looking statements" within the meaning of the "safe harbor" provisions of the United States Private Securities Litigation Reform Act of 1995, as amended. Forward-looking statements include statements that are not historical facts and can be identified by terms such as "believe," "plan," "expect," "likely," "will" or similar references to future periods.  These statements are based on the information, beliefs and expectations regarding the future of our business, anticipated events, the economy and other future conditions as of the date of publication, but are subject to many risks and uncertainties that may cause actual events or results to differ from our expectations, including general business and economic conditions, or our ability to execute on our strategic plans. Information concerning these and other risks and uncertainties may be found in the "Risk Factors" section of Thoughtworks quarterly reports on Form 10-Q, our Annual Report on Form 10-K, and other filings and reports we may file from time to time with the SEC.  We undertake no responsibility to update or revise forward-looking statements whether as a result of new information, future developments or otherwise.
[2] SustainChain™ received an honorable mention in Fast Company's World Changing Ideas 2022 list in the AI & Data, Best World Changing Ideas North America and General Excellence categories.