ClimatePartner works with their customers to embed climate action into corporate activity. From measuring corporate and product carbon footprint to carbon reducing and offsetting, they work with companies to design tailor-made solutions to support their clients to fight climate change.
With the opening of ClimatePartner's engineering center in Barcelona, Thoughtworks was engaged to co-deliver a public website and three other products to support their vision, which is enabling ClimatePartner customers to track and communicate their carbon reduction and offsetting actions publicly, in a transparent, clear and credible way. This came to life with the recent launch of the ClimatePartner certification, which sets requirements for companies including mandatory emissions reduction targets.
But ClimatePartner's own climate action starts with themselves. They are a company that works constantly on reducing their carbon emissions. Thoughtworks and ClimatePartner extended their collaboration to create a clear picture of the energy use and carbon emissions associated with the organization's own cloud infrastructure.
ClimatePartner's cloud infrastructure is complex and relies on many technologies, yet the company is mature enough to be able to effectively manage expenditure. They follow a multi-account strategy for deploying their digital products and services, and during the engagement they were relying on AWS ECS for containerized workloads. To measure the impact of these in sustainability metrics such as energy consumption and carbon emissions, Thoughtworks worked with the platform team to deploy the Cloud Carbon Footprint (CCF) monitoring tool.
The Cloud Carbon Footprint is an open-source tool sponsored by Thoughtworks to help organizations measure, monitor and receive advice on how to reduce the carbon emissions from their cloud infrastructure. It connects to different cloud providers and calculates energy consumption and carbon emissions from usage data. 
Thoughtworks worked with ClimatePartner's platform team to analyze their current infrastructure and discover potential optimization opportunities. As a climate conscious organization, they were already implementing good sustainability practices in the cloud, hosting more than 99% of their services in regions with a low carbon intensity.
Deploying the CCF tool into the ClimatePartner cloud ecosystem aids in the measurement of Greenhouse Gas Protocol scope 3 carbon emissions, as cloud computing vendors fall under this category. Taking a closer look at their total annual carbon emissions for cloud infrastructure, they have incurred approximately 7 tons of CO2e, which to put things in perspective, is equivalent to 4 direct round-trip flights from NYC to London.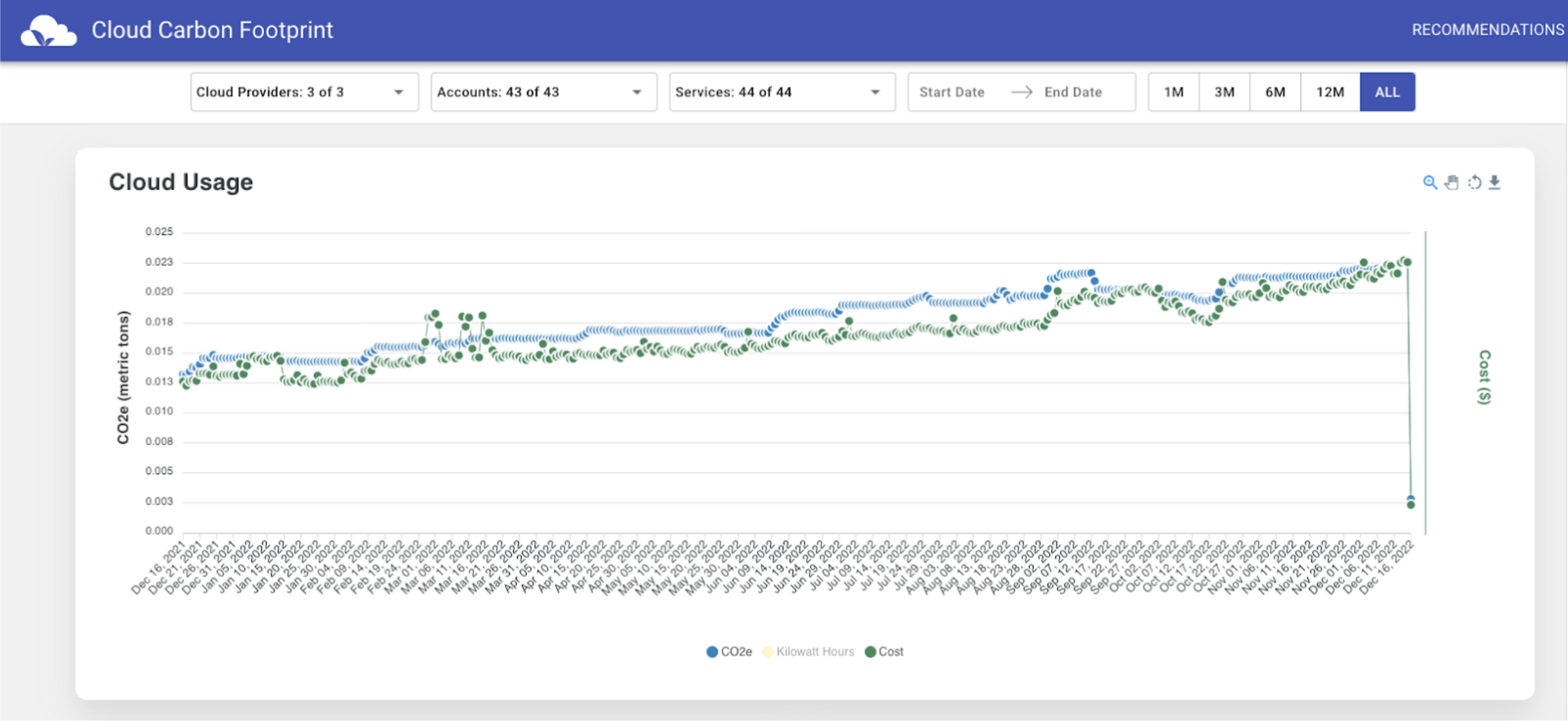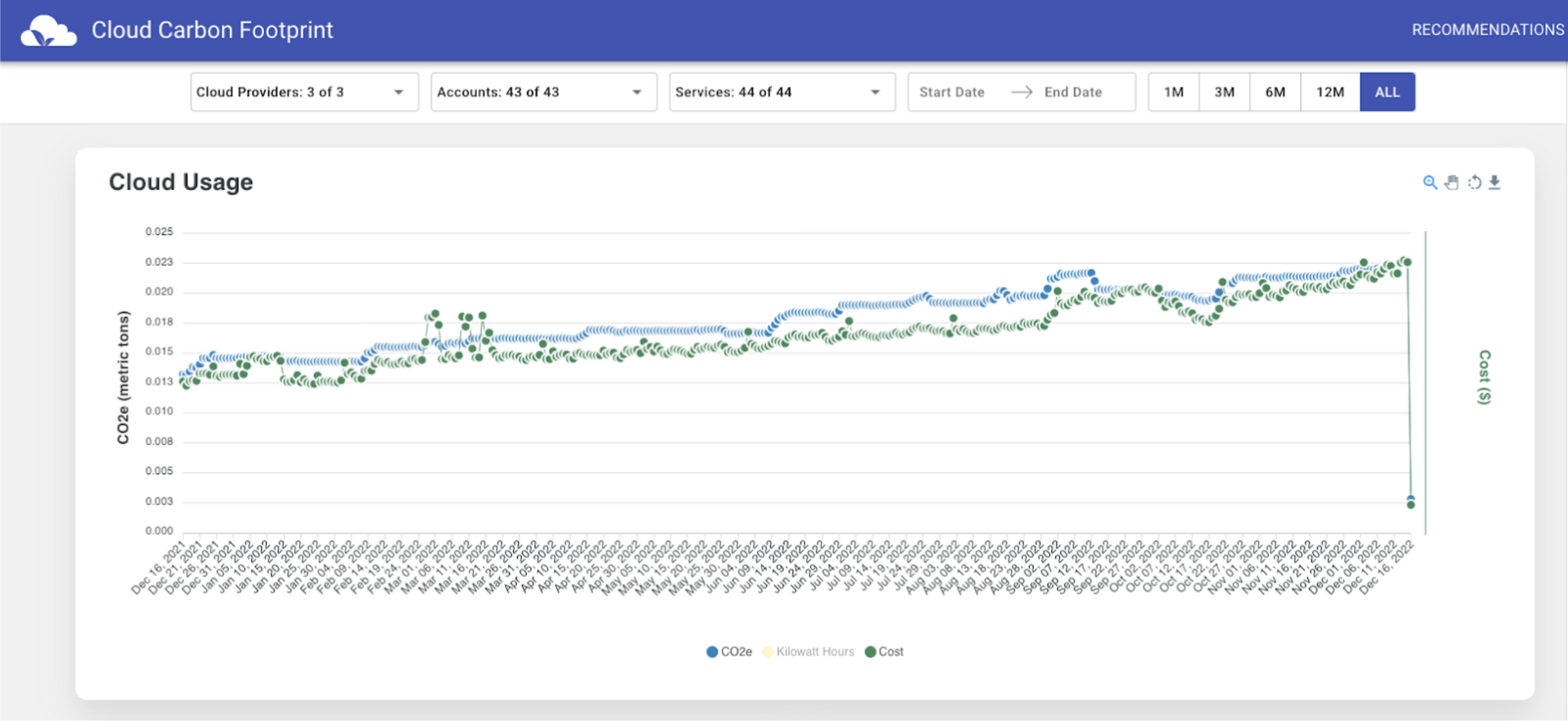 Besides the overall increase in cloud usage since 2021, which was due to growth of ClimatePartner's user base, our Cloud Carbon Footprint tool confirmed that they are using cloud vendor technologies as efficiently as possible given we could not find any improvement or optimization opportunity. This demonstrates ClimatePartner's ongoing commitment to not only offset, but actively reduce, the carbon footprint of their technology operations.
Modern digital businesses must be accountable for carbon emissions, but they need to comprehensively assess those emissions to know where to begin their reduction and optimization journey. In the coming years, this will be a critical differentiator in driving user adoption. On this, ClimatePartner is leading the way.
Our collaboration with Thoughtworks helped us accelerate our digital product development while sharing modern engineering practices with our own teams. Their support in reviewing our own carbon emissions from our cloud usage have further contributed to positive climate action and carbon emission reduction