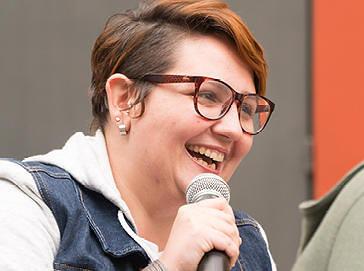 Camilla Falconi Crispim
Principal Technologist and Market Technology Director
I'm a Principal Technologist at Thoughtworks with more than 10 years experience in the tech industry, having worked in software projects across different fields. I've been at Thoughtworks since 2013, during which times I have solved different kinds of problems while taking on roles such as developer, consultant, technical leader, trainer, and coach.
I'm currently Market Technology Director for clients in our Brazilian portfolio and responsible for the creation and execution of a Tech Strategy for the market and ultimately for Thoughtworks Brazil. I help clients achieve their biggest ambitious, working with clients and Account Tech Principals to build high performing teams, ensure software and technical excellence within the digital products, and a frictionless development and delivery process — this is done by leveraging Agile, Lean and DevOps practices and techniques.
I'm also a member of the Thoughtworks Technology Advisory Board and contribute to the creation of the Thoughtworks Technology Radar.
I have a deep interest in Agile principles and techniques, Software Development and Software Delivery, Architecture, Engineering Practices and Technical Leadership, and have been active in the tech community and speaking in conferences across Brazil, sharing knowledge and experience – which is one of my passions. I'm a passionate advocate for equality and committed to using my position to represent women and LGBTQI in technology as a change agent in tech conferences and communities; breaking typical tech industry stereotypes.
My past experiences include being a trainer at Thoughtworks University, helping develop the next generation of Thoughtworkers; and championing and organising events which are focused on bringing and upskilling Women in IT. Prior to Thoughtworks, I worked as developer and consultant for Accenture; and was part of R&D projects in partnership with Chesf, a Eletrobras company considered one of the largest generation and transmission power systems in Brazil.
I received a Bachelor of Science in Computer Science degree and a Master's of Science in Computer Science from the Federal University of Campina Grande (UFCG), in Brazil.