The retail sector has experienced a series of shockwaves in recent years, as digitization has uprooted long-held beliefs and changed the face of shopping as we know it. Now on top of that, the COVID-19 pandemic has dealt another blow to the sector: outlets across the world have been shuttered for months. 
We saw the impact of this at first hand, with retail clients — primarily in apparel and fashion, and in some cases groceries — going into crisis mode. After that initial eight-week period, there was a cautious re-evaluation, with some retailers looking at new priorities and projects covering online, payments and customer experience. We believe this is a medium-term plan; in the long term, a more pronounced shift in investment patterns is likely. As the lockdown begins to ease, we look at the impact on the sector and consider how the retail industry's future will pan out.
I. How has retail been drastically affected by COVID-19?


Some pandemic-induced behaviors will be permanent
The COVID-19 pandemic has necessitated changes in customer behavior. Over the course of two months, consumers who might previously have been hesitant to embrace online shopping — say older shoppers, or those shopping for fresh produce or high-end goods — were forced online. And many found they liked it.
In the US, more than a third of all Americans have ordered groceries online for the first time starting around April 2020. Other services like education, entertainment and fitness have all been forced to move online — defying expectations about what works online. 
Now that customers have become accustomed to the convenience, many changes are likely to stick. This massive social disruption has changed behaviors and taught many consumers about the value of digital engagement. Retailers had lessons to learn too, when faced with sudden, widespread stress testing of their online channels, supply chains and internal operations.
Digital-first consumers
Customers' expectations — now that more of them are comfortable with digital interactions — have shifted. The majority of consumers will have experienced many digitally supported benefits of online retail, though not all at the same retailer, including:
Availability at all hours
Avoiding contact and queues
Time savings through 'click and deliver', and 'click and collect'
Increased choice
Price transparency 
Huge product selection of online services
Personalized services
Digital became mandatory and consumers are becoming more sophisticated in their buying behavior. From a product supply chain point of view, retailers will need to respond with an increased focus on optimizing three key variables:
Choice of products
Speed of delivery
Cost of delivery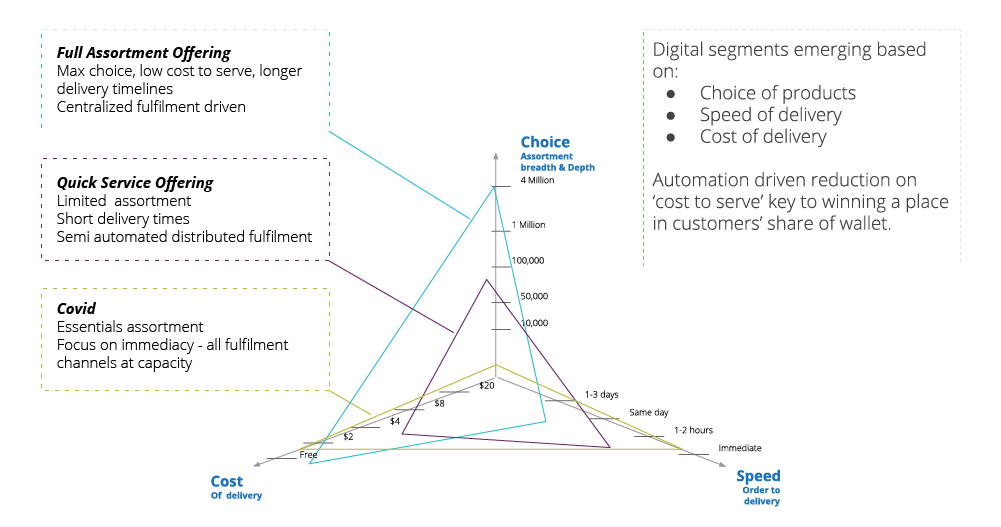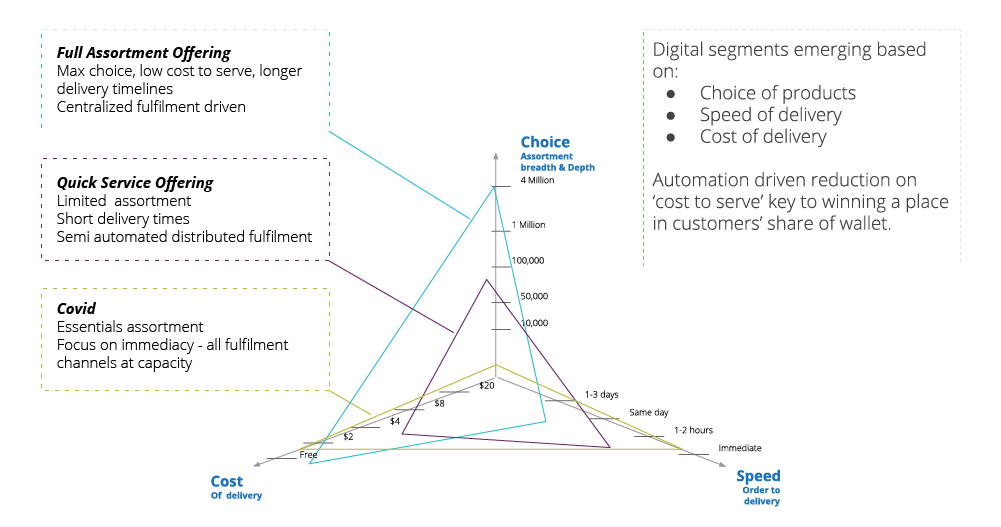 Figure 1: Emerging digital segments
Digital must be an executive priority. Digital experiences must feed the discovery needs of consumers so they are not only satisfied by delivery but drive customers into the store, drive them to the store to try more things out, to discover things that are not just related to 'what others searched for/ purchased too'. Accidental discovery is left out using other people's habits and purchase history. Retailers will need to broaden and deepen their business capabilities so they can provide all of these digitally supported benefits, to drive higher traffic both online and in-store, and increase customer loyalty.
The end of the physical store?
So what is the future for the offline world? Even before COVID-19, many retailers were seeing dwindling foot traffic. During the pandemic, it dried up completely for everyone except essential retailers.
Today, a key question for every retailer has become: what is the value of a physical store in a post-pandemic world?
II. How should retailers respond?
There's already lots of chatter about what a 'new normal' might look like. In fact, for retailers, the safest assumption to make might be that there's no normal. As countries and municipalities begin to emerge from lockdown, it's reasonable to expect that there'll be periods of relaxation and periods of more stringent social distancing regulation. You'll need to be flexible to adapt to changing conditions.
Online meets offline: Redefining the physical value proposition 
More than ever, retailers need to offer a compelling value proposition for customers to visit a store. You want somewhere to offer your customers a unique experience, rather than just a place to browse for items that they'll then buy online. Retailers need to enhance the physical store with experiences impossible to do on a screen. Drive value from the store beyond sales per square foot. 
A great example of what's possible is NIO, one of China's electric vehicle startups. Its outlets, in nine locations across China, feature a customer lounge, cafe, library and daycare facilities. They're more like a clubhouse, where owners come to hang out, rather than just a car showroom.
To mitigate uncertainty, your focus should be on providing consumers with a meaningful customer experience, one that is seamless and enjoyable no matter how the customer chooses to engage with you.
Not everyone loves online
Despite the challenges, physical retail outlets continue to enjoy one significant advantage over digital channels: discoverability. There's a convenience to knowing which aisle will have the product you're after; and if you're interested in nutrition, it's far easier to pick up a box and check it out than it is to find that information online. Similarly, if you want to know an expiry date, pick up an item and check. Who hasn't had a digital delivery where at least one item with a "use by" date of the next day?
There is evidence that consumers prefer in-store promotions too, which are perceived as more democratic. Despite the allure of personalization, many customers are beginning to spot the downside of online promotions: how can they be sure that others aren't getting better deals?
Your focus should be on providing consumers with a meaningful customer experience, one that is seamless and enjoyable no matter how the customer chooses to engage with you. 
Operations to support the experience
In a post-pandemic world, physical distancing guidelines are likely to reduce store capacity. More cautious customers are also likely to continue to use more services like online ordering (buy online/ pickup in store or at curbside, or delivery). Your stores may have to find creative ways to manage in-store traffic, for example having customers reserve time in advance for their store visit. This will mean store operations have to adjust for timely order notification: effective picking, inventory management and updates are essential. Order tracking and customer notifications, efficient onsite queuing and order closeouts will similarly need special attention.
Digital tools are also complementing in-store discovery to help customers self-serve in checking item prices and locations ,as well as speeding up check-out using digital wallets and touchless payments.

China doesn't just offer great examples of using retail space. There are instances that might point to a whole different future for physical presence as distribution hubs.
During the worst of its pandemic lockdown, many online-only retailers came to envy those with physical stores, which could act as local distribution and fulfillment centers, avoiding the lengthy delays in delivering items across the country.
For instance, Alibaba implemented Hema Fresh that uses local stores as delivery hubs to enable 30-minute delivery for people living within 5 kilometres of the store. Staff pick and pack from the store, using a creative overhead conveyor belt to move the customer order from store to the back where delivery drivers await on scooters.
Physical Space: The small store advantage
Small stores may have other advantages. In the US, in India, China, mom-and-pop stores are thriving, possibly because they're seen as a safer environment. Social distancing means some big stores are perceived to be tighter spaces and therefore riskier. And out-of-town outlets may be too far for people to travel under some 'shelter in place' rules. Indoor malls, once seen as the future of retail outlets, might suffer too: many shoppers are concerned over air quality in large spaces where air conditioning might spread pathogens.
What dynamic merchandising strategies can alleviate uncertainty?
To address the likely cycles of tightening and relaxation of COVID-related restrictions, you'll want additional resilience in your supply chains (including greater vertical integration and improved demand sensing). Be prepared to support customers in finding suitable alternatives if their first choice is out of stock. This might mean you need a more sophisticated product information solution — one that not only captures product characteristics at the time of catalog entry, but also includes analytics that provide information on substitutes, along with data on customer behavior and sales.
Of course, it's not just storefronts that are changing in this new retail environment. Back-office activities might be moved upstream to the factory. Many retailers are adding increased automation, where low-cost technology such as RFID can increase stock accuracy counts from 60-80% to close to 100%, with little manual work. Global inventory management is another growing capability, where stores' inventory and distribution center inventory are unified into the inventory picture. An efficient real-time picture of inventory and sales in turn helps stores with assortment planning.
Your back end must be supported by easy-to-use front end systems, so that your customers can find alternatives online or via a mobile device, and that support in-store employees with inventory management, planning and merchandising placement.
Retailer Controlled Supply Chains
Over the past decade, retailers have invested in 'demand-elastic' solutions to aid in their planning and supply management — enabling them to quickly shrink and expand logistical capabilities with supply chain demand. Some forward-thinking retailers had begun to use big data technologies to build demand-driven supply chains capable of deriving information from a massive array of demand signals. 
However, the sudden pandemic-induced lockdown introduced massive demand shocks and uncertainty into demand-driven supply chains. And it presented a conundrum for retailers: how can you make good predictions about future demand amid so much uncertainty?
As we move into the 'new normal' there will be huge pressure on retailers to focus on specific areas of their supply chains, to a) diversify, b) reduce inventory costs, c) make risk mitigation plans part of business as usual, d) seek cash-out opportunities, and e) reduce the risk of product not selling. Traditional practices such as the 'big stock-up' based on conventional sales forecasts won't be relevant if consumers focus on more frequent replenishment. Smart retailers are going to have to take a fresh look at how they do forecasting. How can you enable resilience in the supply chain? 
Adaptability and agility will be key for future supply chains. You can create a model that accounts for sourcing or supply-side constraints and can account for location-specific fluctuations in demand. This increases the capability of your supply chains to be robust and resilient in uncertain times.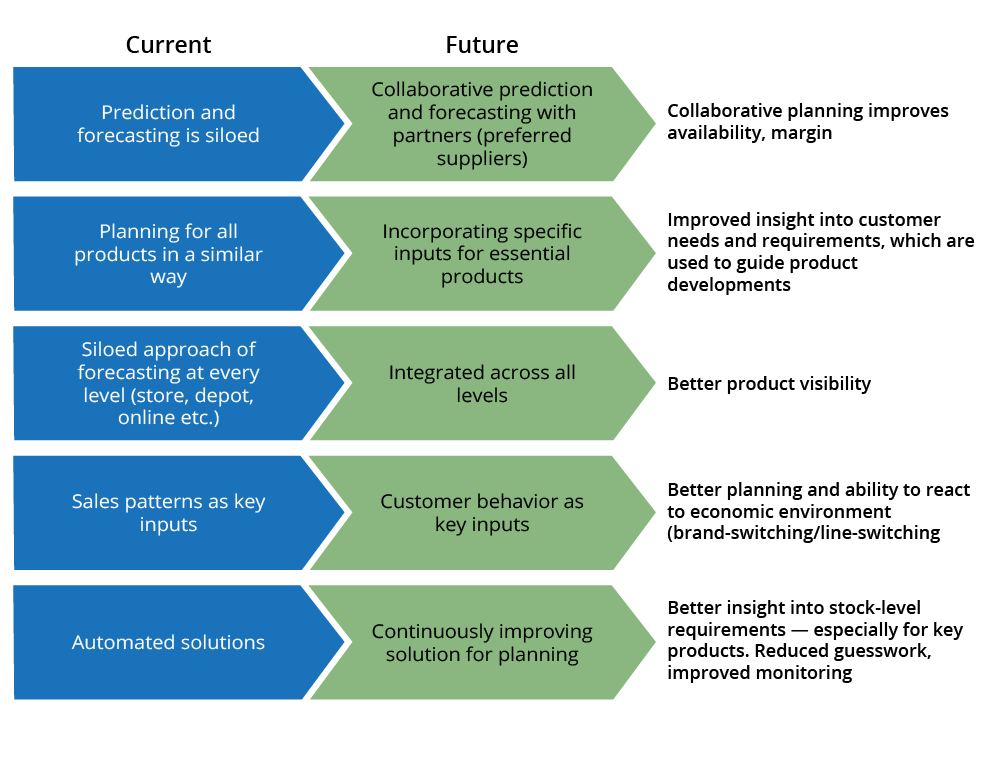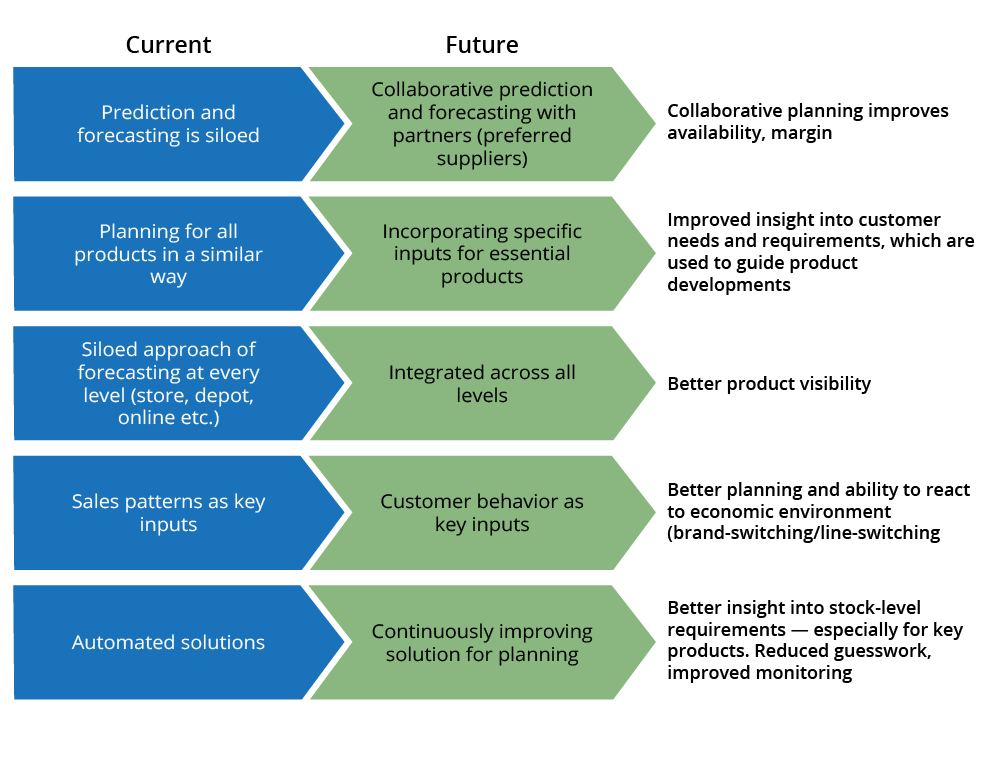 Staffing in retail's new normal
For those retailers with significant physical footprints, it's important to not just think about how the space is used. There are opportunities to rethink how your staff are utilized, with a focus on customer-value generation. Instead of being rewarded solely for in-store sales, you might find opportunities for staff to drive omnichannel sales.
One of our clients, a luxury retailer in China, offers a good example of generating more value from staff. Together, we set up the capabilities that enable the retailer's sales associates to maintain one-on-one relationships with customers during lockdown, so that staff could continue to sell to customers over WeChat, WhatsApp and Facebook Messenger. For another client, our digital service platform provides access to vital information so staff can spend less time on admin and research, and more time with customers. These systems included the ability to activate in-car demo features, take secure payments online, check order status, communicate with prospective customers, organize 'white glove' delivery, and ensure that commissions were still attributed to the right sales associates. 
During COVID-19, many stores in China transformed their staff into live-streaming social media influencers — or KOLs (key opinion leaders). Shenzhen's multi-brand retailer Ideal, increased the commission sales associates could earn from 3% to more than 10% of each sale, to encourage staff to get behind trials of this new business model.
It's worth bearing in mind that staff will become an increasingly important part of your value proposition. And they'll be doing so at a time when many of them will be nervous about the future. The UN's International Labour Organization predicts 232 million jobs will be lost in wholesale and retail — so don't be surprised if job security is top of mind for your employees. 
You can never go back
The 'Great Lockdown' has created a learning opportunity for retailers with omnichannel aspirations; it's a chance to respond, to focus on more targeted approaches in your core operations. 
Spend your energy on your supply chain. Ensure that it aligns with your wider customer experience strategy. Integrate it with newly digital vendors and suppliers. The digital revolution has been evolving over the last few years. Within a matter of weeks, retailers have had to exponentially improve their capabilities. Consumer attitudes and behaviors have shifted and retailers will have to accelerate their own digital shifts to stay relevant.