In the spirit of reconciliation, Thoughtworks acknowledges the Traditional Owners of Country throughout Australia and recognizes their continuing connection to land, waters and culture. We pay our respects to Aboriginal and Torres Strait Islander Elders past and present.
For more than two decades, Hitnet has delivered vital health information and services, through their Hitnet Hubs, to remote First Nations communities and bridged the digital divide for those hardest to reach. As governments and organizations increasingly become digital-first, the digital gap has widened for many Australians who do not have access to the internet. Hitnet seeks to narrow, and eventually close, this gap.
Located in 40 sites across Australia, the Hitnet Hub is a touch screen kiosk with a built-in, free-to-use, Wi-Fi hotspot. Many are located in health center waiting rooms. Every Hub has its own locally-produced, culturally-specific video stories and content available on the 'My Place' channel, often in Indigenous languages. 
When the COVID-19 pandemic hit, Hitnet saw a significant reduction in the number of people accessing the Hubs. With many health centers limiting access or temporarily closing due to government-ordered lockdown, people weren't able to get access to information through the Hub, including vital COVID-related information.
Hitnet partnered with Thoughtworks to develop the Hitnet mobile app. As digital literacy and digital inclusion has improved in many Aboriginal and Torres Strait Islander communities over the years, the idea for a mobile app was already on Hitnet's technology roadmap but this plan was fast-tracked due to the pandemic.
The Hitnet app will certainly be something that I will promote as part of my work. Overall, I can foresee the Hitnet app as playing a recognised part in strengthening communities. Communication seems to be a consistent challenge in Woorabinda and the Hitnet app has the potential to be part of the solution in that regard.
Building an app that delivers impactful customer experiences requires bringing users to the center of the strategy and decision making process. Hitnet's advisory board member and Aboriginal and Torres Strait Islander woman, Nickeema Williams, helped the team understand the context and digital challenges of remote Indigenous communities, which was critical to the success of this engagement.
Research showed that while mobile penetration in remote Aboriginal communities was quite high and many people owned a handset, the use of app stores was low. A potential reason for this is that people were not comfortable with sharing their personal information when setting up an account or using a payment system. To address this, the Thoughtworks and Hitnet team built the mobile app using the React framework, which means the app is essentially a website, but appears like a native app when a user accesses the Hitnet webpage on their mobile phone. This way a user can easily access the content without having to set up an account or download the Hitnet app from an app store.
The Hitnet mobile app is also geolocation specific - users who are anywhere within 25Km of a Hitnet Hub can view and download culturally sensitive content from the community's My Place channel. Ensuring that the content created by the community stayed in the community was an intentional and culturally significant feature of the app, founded on a fundamental respect for the cultural sovereignty of Aboriginal and Torres Strait Islander people. Another important feature of the app allows users to download video content to their phone and view offline, giving users access to content without having to use their mobile data which can be notoriously expensive. This also allows users to view sensitive information in private.
The background artwork for the app was developed by Hitnet's graphic designer, James Olsen, a proud Wadjigan man who was inspired by his grandmother's cultural art and stories.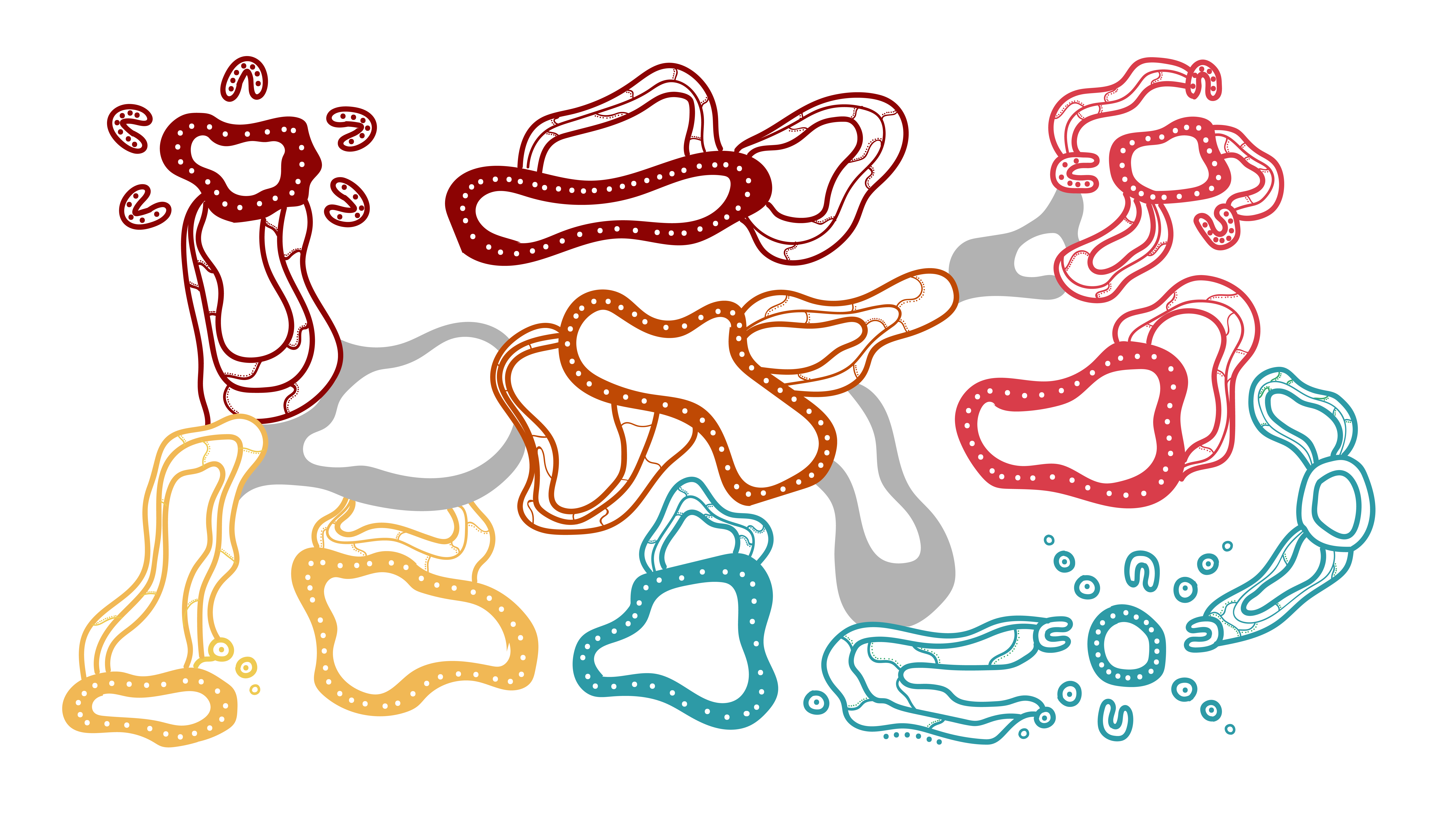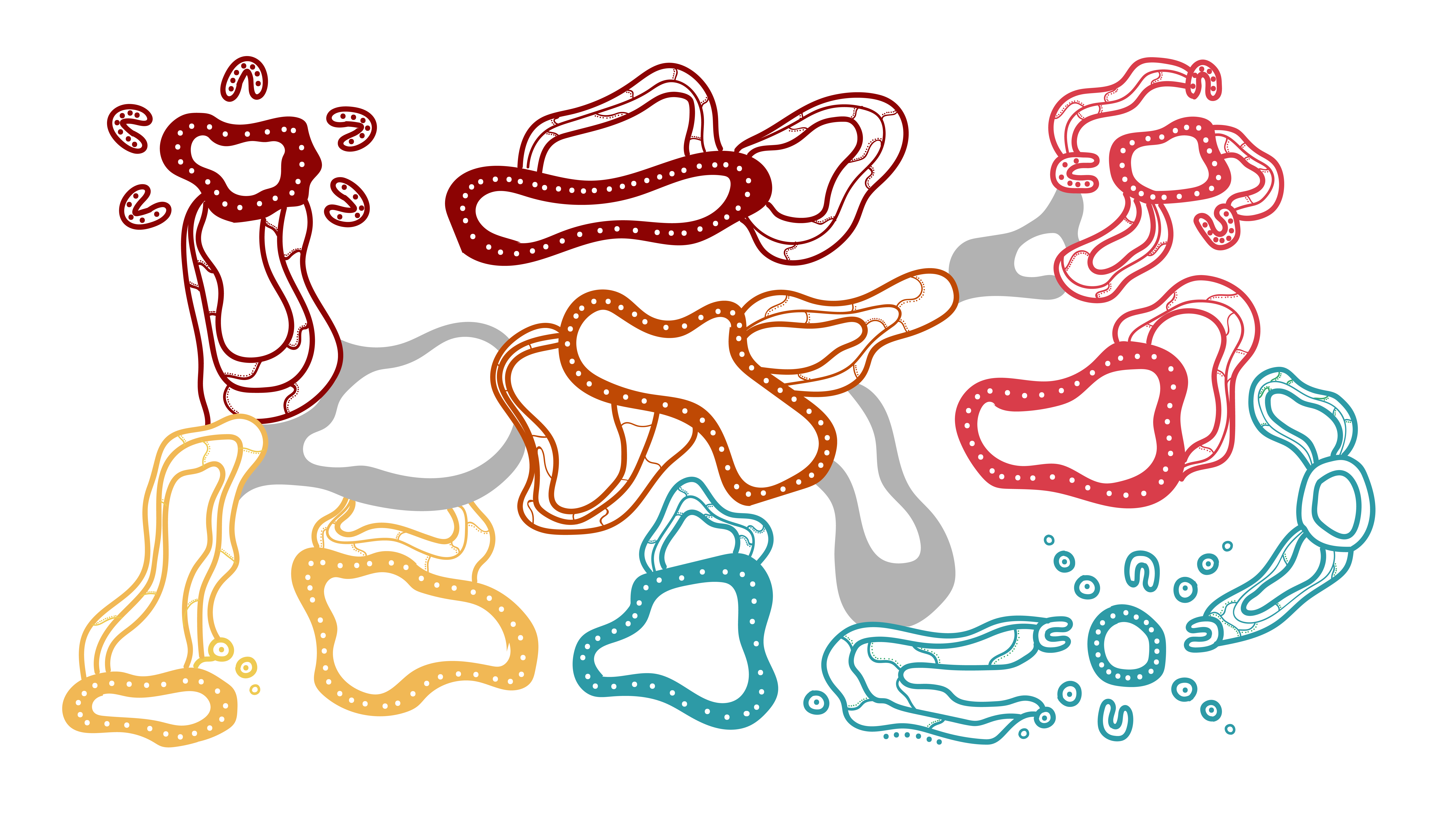 Background artwork for the app by Hitnet graphic designer, James Olsen
Hitnet is now able to iterate on their app and develop new features that are based on respect for Indigenous sovereignty of both land and knowledge.

Thoughtworks and Hitnet were finalists and merit award winners at the 2021 iAwards in the Community impact category.