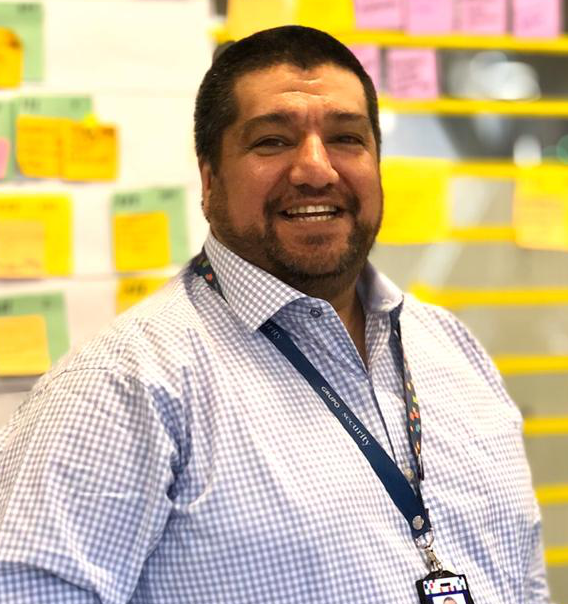 Antonio Gallardo
Project Manager
When I was a child I really liked sharing with other people and working together to achieve a common goal. I was a scout from a young age and up until I was 22. I realized that I love leading teams where everyone has an opinion and the best option is the one decided by the team.
While I was studying I did not like being alone, working in pairs gave me good results, a practice that still accompanies me. Together we can challenge ideas and have various points of view regarding what we do. During my time at university I liked doing assistantships, today I realize that it prepares the foundations for my career as a Teacher and Facilitator. I was always linked to communities, we applied for competitive funds to finance activities for all students, participated in Student Centers and the Superior Council of the University, a rich experience that helped me understand that it is possible to make changes, it is a slow process, but it works.
My first experiences in the workplace were as a developer, we participated in interesting projects that generate a positive impact on society. I remember when I worked at the SERVIU and with a team of 4 people we built a system to eliminate the application line for housing subsidies, before people camped for days, in rows of blocks and blocks. With a little code and a lot of enthusiasm, you can help people.
Half of my working life was spent as Project Manager in the public service, and the other half between Retail and Banking where changes and new opportunities were everyday things. I remember a boss who left me a lot of space to experiment and test, with the team we went from a project with a Gantt chart to an iterative and incremental development, we discovered new ways of working, we got involved in learning communities and that's how I got to Chile Ágil , where I am now a volunteer, to give back the hand of everything I learned and continue to learn from the community.
That path led me to learn about many practices, frameworks and methodologies to focus on the needs of users, and as a consequence of this, meet the metrics and objectives of the companies. One of those methodologies is Lean Inception created by Paulo Caroli from his experiences working at Thoughtworks, that inspired me to learn more about that company. Fate led me to meet other people from Thoughtworks, all wonderful and inspiring, they worked in a company without bosses, where they collaborated with Agile Manifesto signers such as Martin Fowler and Jim Highsmith, each book I looked at agility had the imprint of Thoughtworks on it , The Agile Samurai written by Jonathan Rasmusson while working at Thoughtworks and Lean Enterprise among others. When I finally joined the company, I realized that I only knew the tip of the Iceberg, in the clients I was with people who help me develop my career as a professional, with incredible technical excellence, CI/CD, TDD, Clean-Code, DevOps, and a culture of Feedback and transparency that I have never seen.
Today I have space to develop my skills as a facilitator accompanying the Lean Inception, and as a Project Manager in teams full of leaders, autonomous, with freedom of opinion, diverse and inclusive. Where I can support the professional development of other people on the team, share with the community, and make a real social change through technology and our culture.