Be it new customers joining the financial services world or existing ones diversifying from other providers, customers' financial needs are ever evolving. Traditionally, banks have segmented customers to upsell/cross-sell based on the services they use, demographics, income etc. In the post-pandemic world, where a vast majority of banking is done online, these parameters don't provide a complete picture. 
McKinsey finds that age is no longer a differentiator for retail banking digital preferences. A digitally mature customer is more open to banking with new tools if it meets their needs. 80% of those who used video calls to communicate with their bank advisor rated it 'successful overall.' Personalization is growing to be a top priority, with customers willing to share personal data for a better experience.
As financial institutions onboard more customers online, they must consider the added dimensions of digital maturity and emotional needs in their customer personas. Their Customer Experience (CX) strategy must cater to these evolving needs.
The digital-ready way to segment banking customers
In our experience working with some of the world's largest banks and surveying customer reviews for various banks, we've segmented users into the following three groups, alongside the features and services they demand: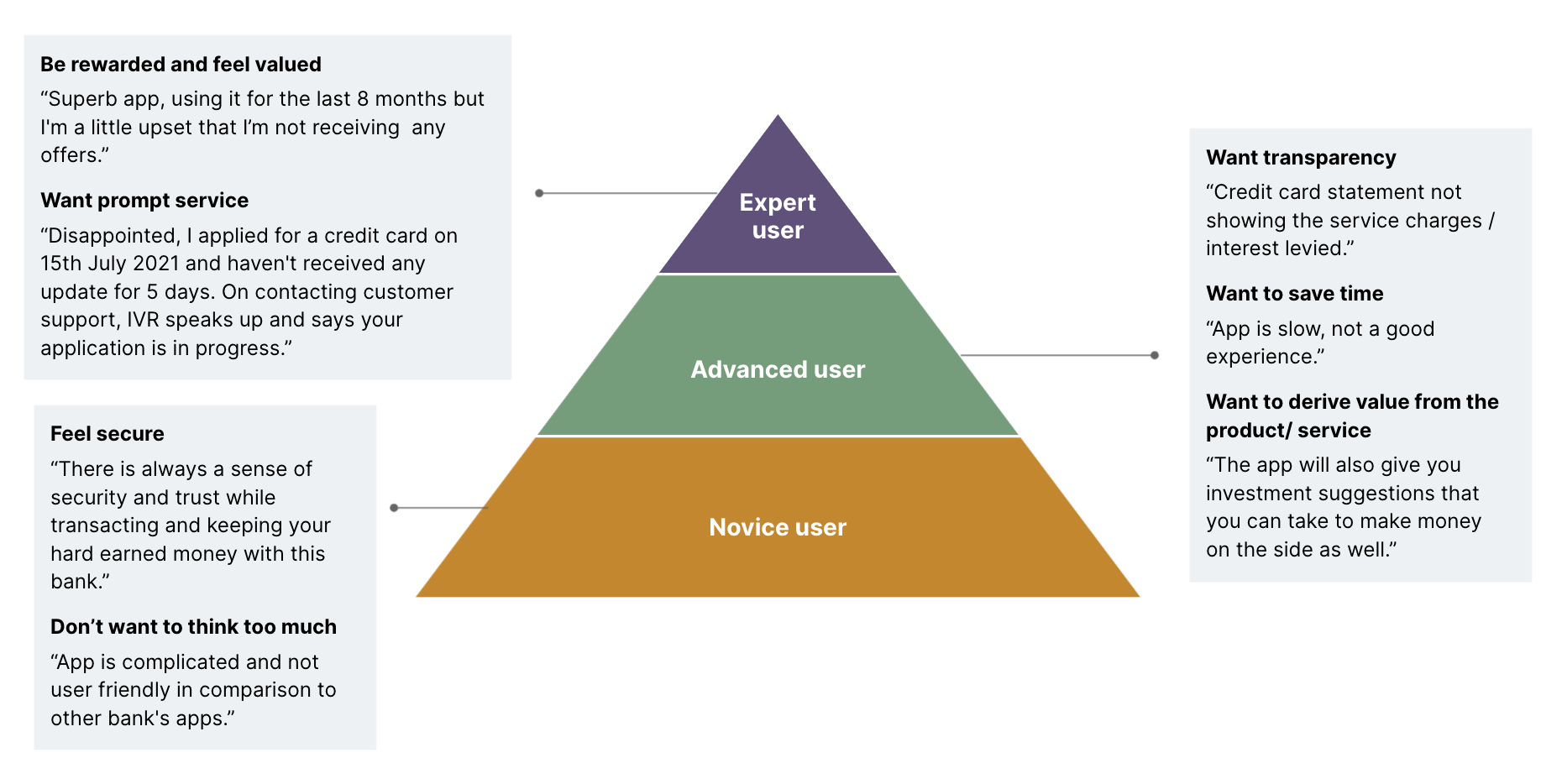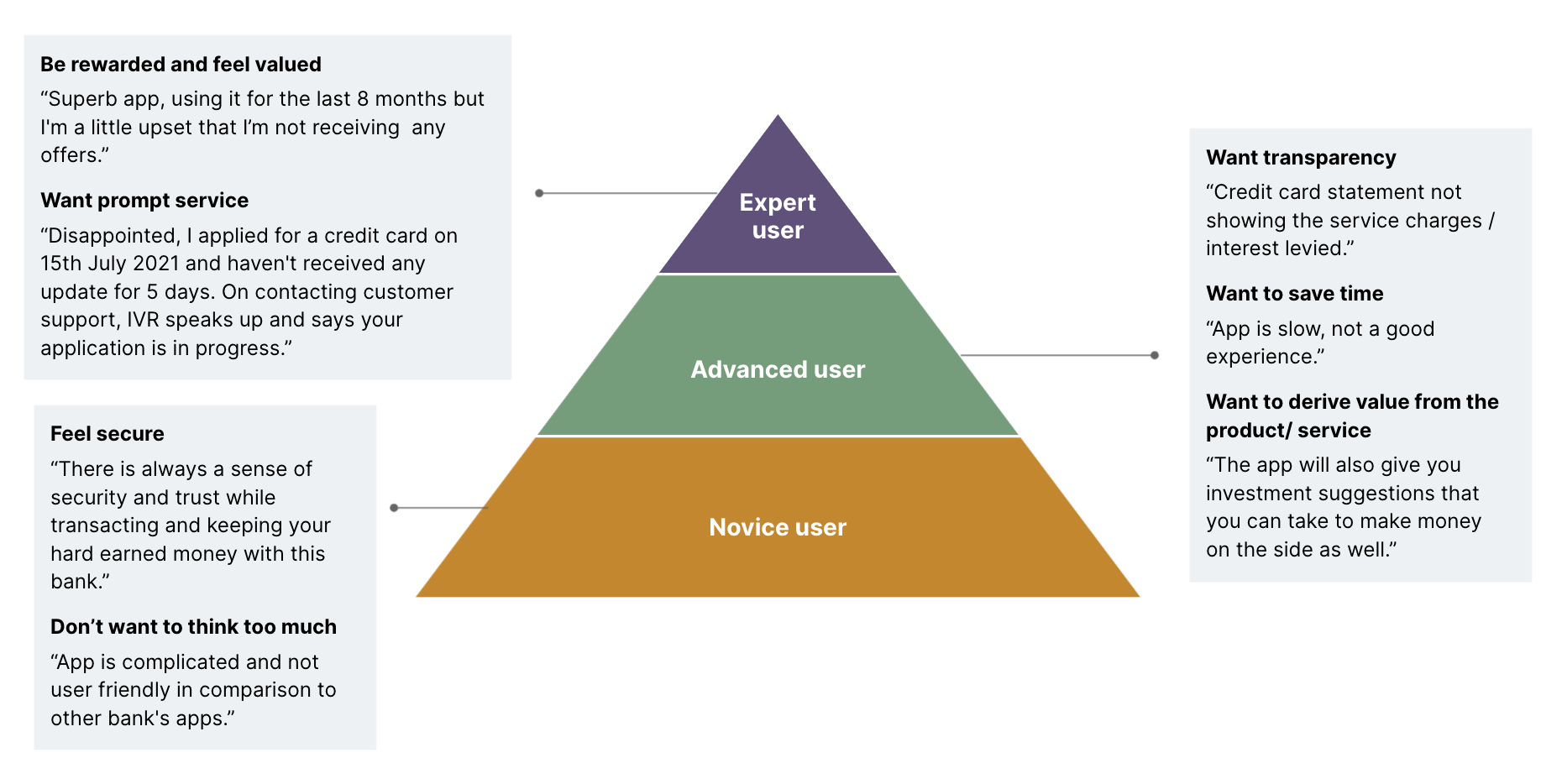 Novice users, early in their digital banking journey
Simplified design/navigation: reduce ambiguity or perceived risk that leads them to be overwhelmed and/or abandon the action

 

Security: block suspicious transactions using fraud detection, inform them about social engineering techniques through subtle prompts, etc.

 
Advanced users, comfortable transacting online
Contextualized messaging: sharing full information around product benefits and fees, errors, potential security risks, etc.

 

Performance/speed: seamless transaction experience that meets performance benchmarks

 

Availability: regular updates on the status of a query/complaint to reduce the perception of waiting time

 
Expert users, early adopters of fintech products
Hyper personalization: harnessing data related to every aspect of customer's behavior and their banking history to offer personalized services

 

Responsive customer service: triaging customer requests and routing them to human agents or chatbots based on severity of the issue to provide near-real time service

 
Achieving CX transformation at scale
We learned that decision makers at successful organizations rate improving CX as the number one business transformation goal, in a recent study commissioned by Thoughtworks. To achieve this, financial institutions need a coherent CX strategy that trickles down to every member in the product teams. Here's our two-pronged approach to developing this strategy.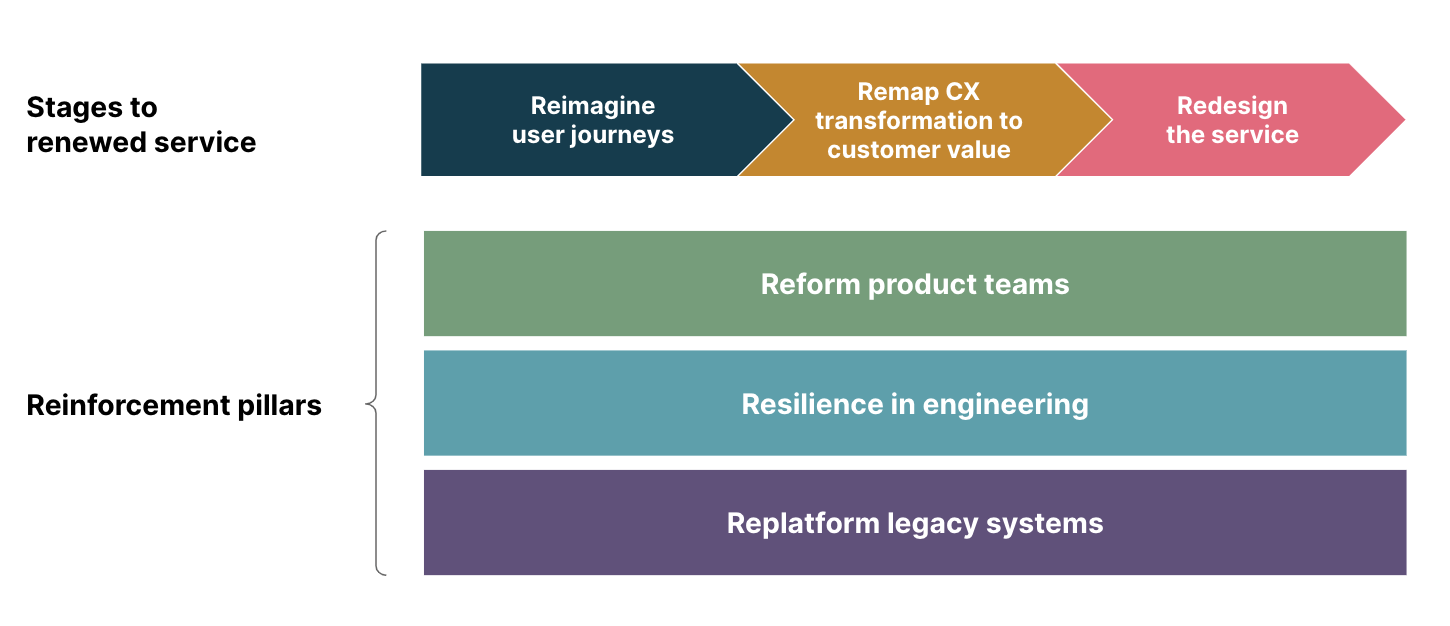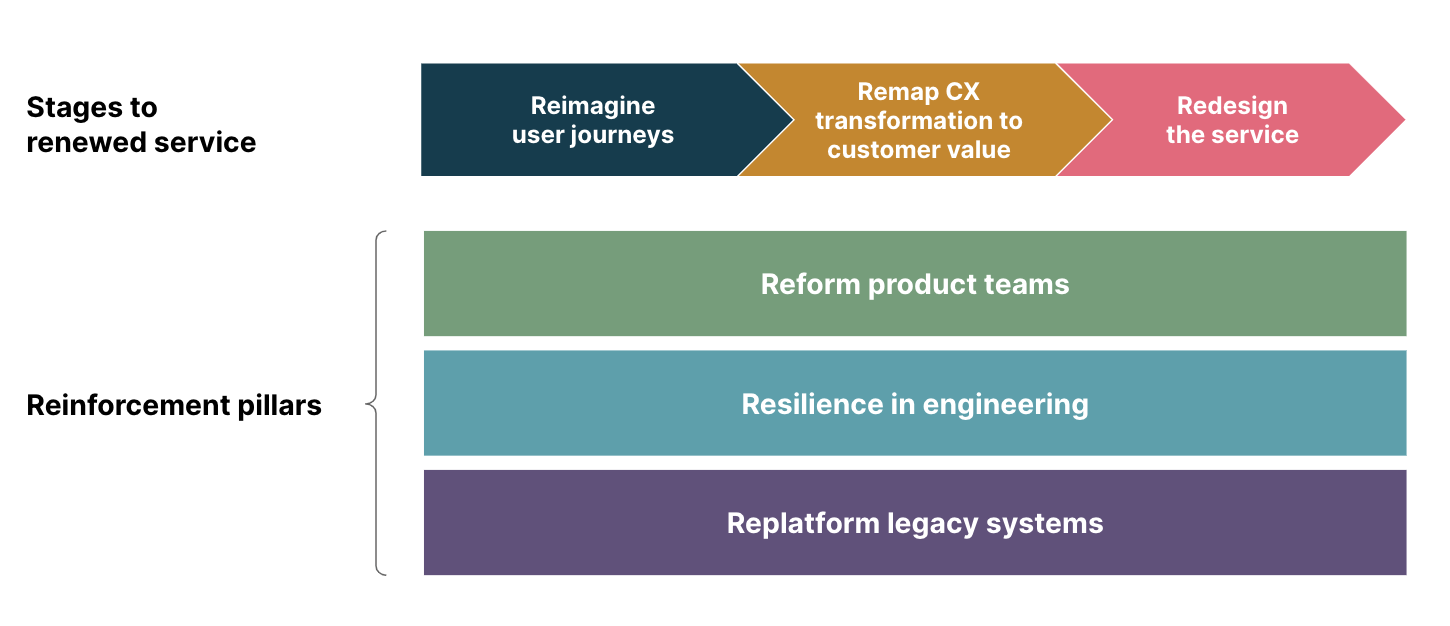 Reimagine user journeys
Customers logging in to a banking app usually have specific goals such as checking their balance or booking a loan. They want to complete these actions with the least amount of friction.
Multiple teams working on independent roadmaps for a single project could result in inconsistencies in navigation across different features that could confuse the user. For instance, savings account cards that require horizontal swiping to navigate versus loan account actions that use a vertical drill down will be frustrating to navigate within the same app.
Similarly, balancing various kinds of information required by the customer can be challenging. Amazon has mastered the art of providing the necessary information (delivery time, cost of shipping etc.) at a glance. On the other hand, a large Indian bank was fined by the regulator for manipulating investors into buying risky products by suppressing important risk related information.
Reimagine user journeys for consistency of experience and thoughtfulness of presentation and within compliance for the applicable industry.
Remap CX transformation to customer value
When banks embark on a CX transformation journey, they anchor their goals to must-have digital features that meet the industry benchmark CX scores. While this addresses a range of needs, it may not always guarantee customer satisfaction. It is important to map features or enhancements to customer value, which enables one to measure impact and collect feedback. 
Embedded finance is a classic example of remapping CX. Amazon offering a 'buy now pay later' option or Tesla offering car insurance through its proprietary car sales program for example – are changing the landscape of fintech as well as customer experience.
We have also seen that new development behaviors like rapid prototyping, cross-discipline collaboration and leading with emotional customer stories help teams appreciate the human aspect of CX transformation.  
Redesign the service
Customers can sometimes feel like they're talking to different companies as they move from a bank's website to the app to a branch executive. To address this, create journey maps covering all relevant touch points including backstage operations, processes and staff interactions.
Ask questions like: 
What happens after the customer has applied for the credit card? 

When do they receive it? 

What issues can they face? 

Who will address them? 
Designing the experience covering multiple touchpoints instead of just a single channel can improve the efficiency of the back office teams who are resolving customer queries.
For instance, Thoughtworks engaged with a lending institution in South East Asia to address the increasing operational pressure on the collections team. Our approach involved evaluating the end-to-end loan journey where – we identified and fixed gaps in the loan repayment process to reduce defaults and also transitioned from the traditional collections process to an analytics-based risk segmentation of customers.
Reform the product teams
Cross-functional teams need to operate as product teams rather than as feature teams. Just creating a dedicated CX team is not enough. Organizations have to empower teams to speak to customers and understand their pain points.
Our recommendation is to also collect publicly available feedback such as reviews to improve CX. For instance, ReviewBot is a bot plugin that scans customer reviews in public channels and provides a Slack/Teams/email integration for teams to access and reply to reviews. This feedback should, in turn, feed into the team's day-to-day decision making around the features or enhancements that are prioritized. 
Resilience in engineering
While it is important to listen to customer feedback, the competitive edge is in how quickly agile teams are able to respond to feedback. For instance, if customers have reported a usability issue and it takes us one month to release the changes in production, it could lead to customer churn. Engineering readiness can enable faster response to customer feedback. 
Evaluate technical excellence using The Four Key metrics: Mean Time to Restore, Change Fail Percentage, Lead time and Deployment Frequency. Juxtapose these metrics with business goals to assess the ability to meet changing customer needs.
Replatform legacy systems 
As banks pour more time and resources into improving the design and visual elements of the customer-facing app and screen-based interactions, its full value cannot be realized if the supporting backend systems are still non-performant. 
Thoughtfully replatform legacy systems to meet business goals. For instance, organizations often rush to a cloud-first strategy for cost savings. But Gartner estimates that more than 60% of the organizations might have to redo it — at least in part — owing to the gap between an organization's business strategy and cloud strategy.
Capitalizing on customer insights
Banks are under immense competition from tech giants and neo-fintechs alike. Their biggest competitive differentiator is the understanding of the customers' emotional needs, gained from years of deep relationships. Mapping this customer empathy to their digital savviness can help banks elevate CX transformation efforts. This way, they can also nudge the customers' digital maturity towards the next stage building a mutually beneficial long-term relationship.
Disclaimer: The statements and opinions expressed in this article are those of the author(s) and do not necessarily reflect the positions of Thoughtworks.