At Thoughtworks, we believe that climate action should be holistic, addressing our own carbon footprint and working to support broader systemic change. We also believe that any action on climate should encompass a lens of equity and prioritize the communities most impacted by resource extraction and most vulnerable to climate change.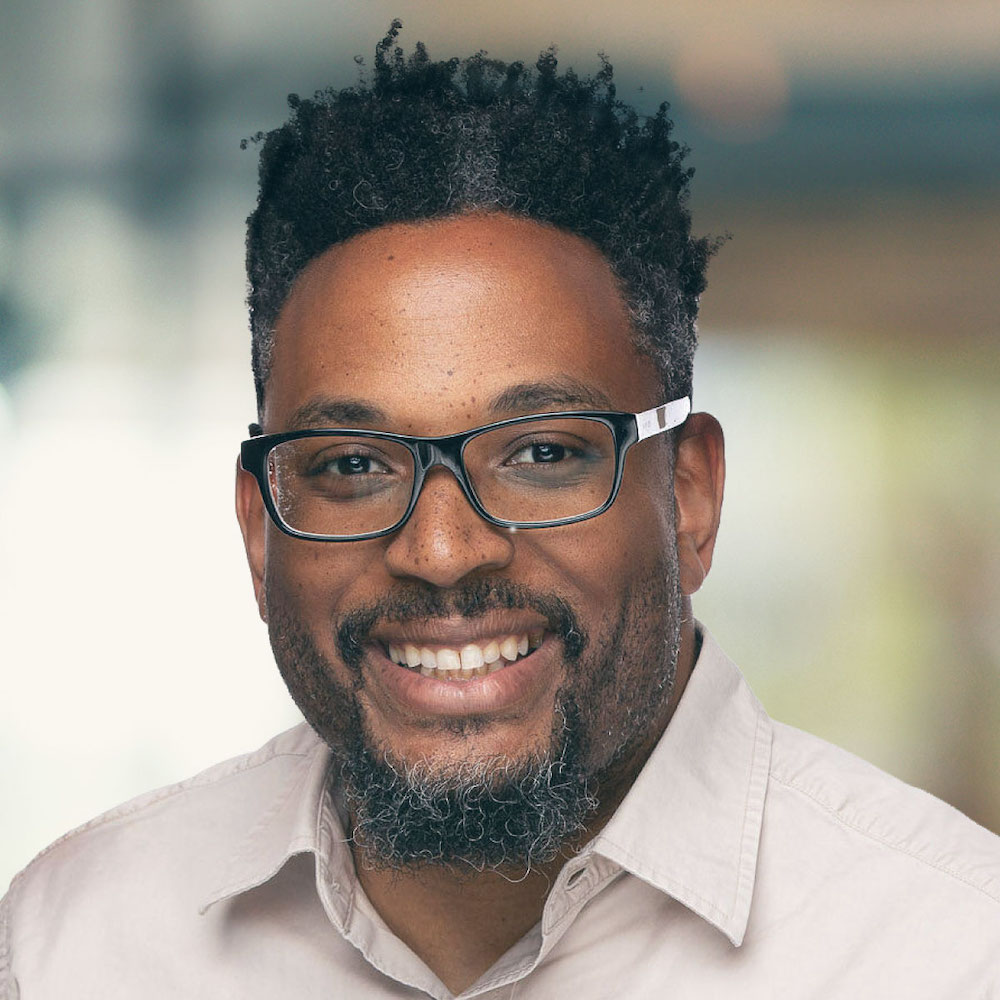 While offsets have value and carbon removal is increasingly an option, they don't deal with the urgency of the most vulnerable people being affected by climate change. Our sustainability strategy goes beyond decarbonization, to spell out the ways in which we want to make commitments to social movements. We see technology and climate as interlinked, whether in the environmental footprint of software, or in the way tech tools are being used to both create solutions and perpetuate environmental harm."
Chad Wathington
Chief Strategy Officer, Thoughtworks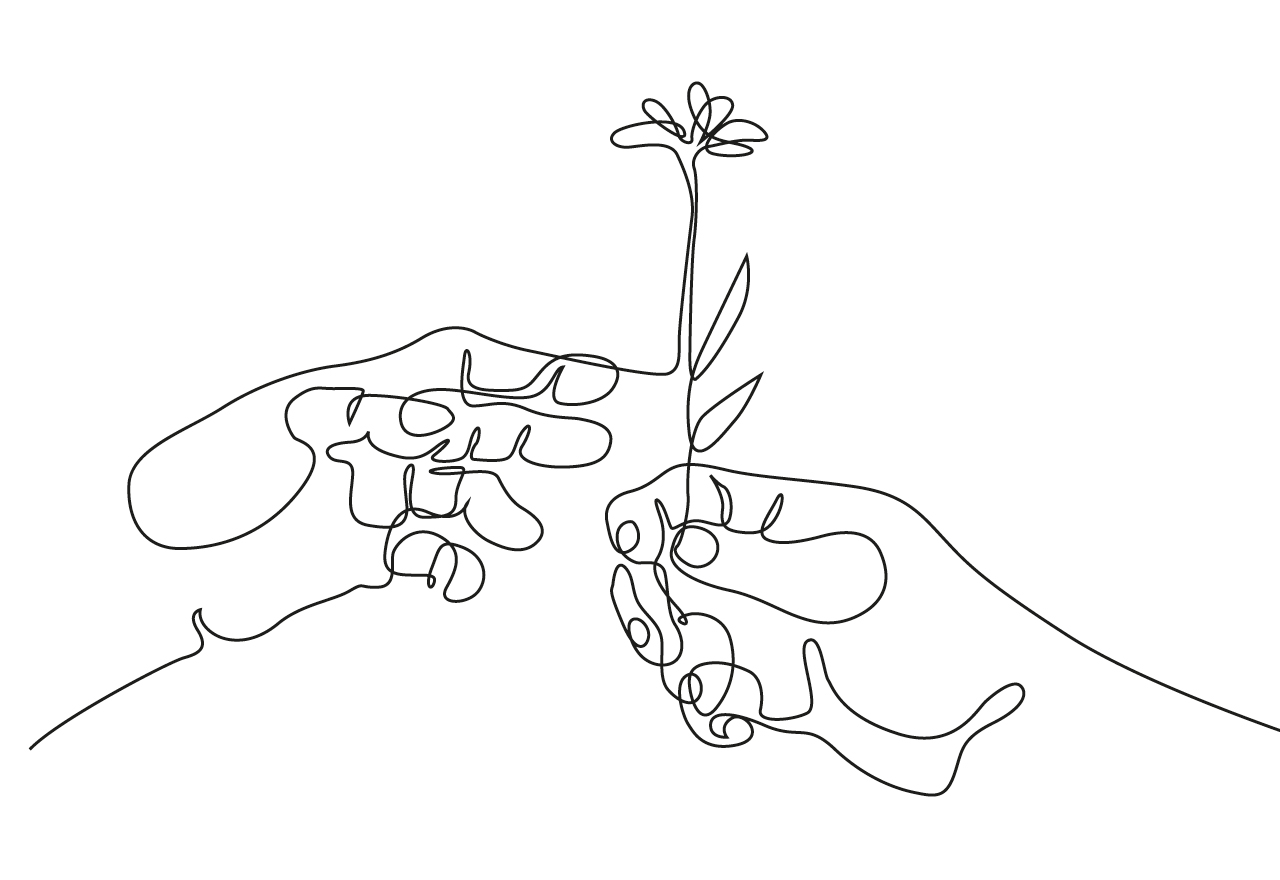 We believe that climate action has to go beyond attempts to change the behavior of individuals or companies, to address the inequalities that underpin our dominant economic models. To make meaningful change happen, it's crucial that stakeholders from all corners of society come together to address these issues, urgently. 
We also believe that bringing together diverse perspectives is a critical part of addressing climate change. These groups need to be truly inclusive and open-minded to seed change in all corners — that means bringing in voices from governments and companies involved in the natural resource extraction process. The task before us is monumental, but we are firm believers that technology can enable new models and new relationships that lay the groundwork for ongoing action and are more sustainable in all senses of the word. 

To address our decarbonization ambitions, we've committed to achieving near-term targets set by the Science-Based Targets Initiative (SBTi), the benchmark for best practices in greenhouse gas emissions reductions. We've set aspirational targets that are built on four principles: authenticity, boldness, inclusion and agility.
Principles for our climate commitments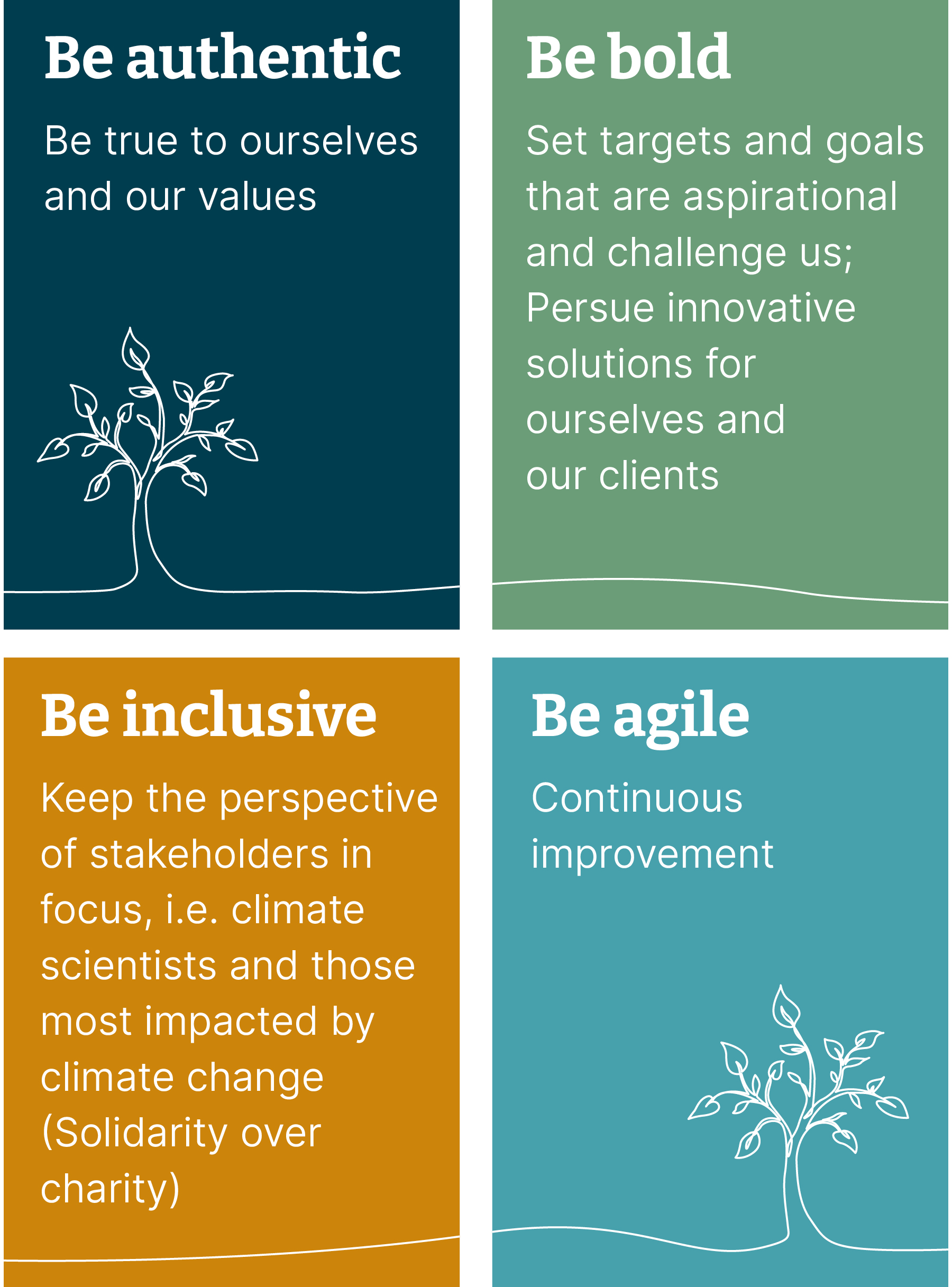 Our targets – currently being verified by SBTi – are to move to 100% renewable energy in our offices, reduce our absolute Scope 1 and 2 greenhouse gas emissions 50% and our Scope 3 greenhouse emissions by 85% per headcount, all by 2030 from a 2019 base year. More details and definitions outlined below.
Beyond our own decarbonization journey, we're developing solutions that allow our clients and partners to achieve their sustainability ambitions, for example our free, open-source tool, Cloud Carbon Footprint. Authentic to our long-term focus on improving the tech ecosystem for all, we're helping teams to assess and mitigate the environmental impacts of digitalization.
Green Software Foundation: A new standard-bearer for sustainable tech 
As the scope of what's possible with software expands exponentially, so too does software's energy intensity. The raw computing power needed to train neural networks or to fuel innovations like blockchain will be a significant driver of tech sector-led emissions that could account for up to 14% of the global carbon footprint by 2040, versus under 2% in 2007 [1].
More sustainable approaches to building software are urgently needed. But these, in turn, require new expertise, new best practices to follow and standards that measure performance in terms of the environment as well as efficiency. 

We co-founded the Green Software Foundation (GSF) alongside partners such as Microsoft and the Linux Foundation aiming to address these gaps, and to ensure the software industry contributes to wider efforts to cut greenhouse gas emissions. In less than a year since launch, the GSF has released the alpha version of a Software Carbon Intensity Standard (SCI) that allows developers to score and track the carbon intensity of an application as it's built, just as easily and transparently as they gauge factors like cost and security. Importantly, by omitting neutralization from its calculations, the SCI reflects our belief that emphasis has to stay firmly on emissions reduction. While significantly more challenging, it is the only real basis for meaningful net-zero progress. 


Precise, broadly accepted metrics and greater collaboration between builders and deployers of software are vital to achieving sustainability targets. For this reason the GSF welcomes members from all sectors. The foundation will continue to develop green software skills and standards and push for their adoption in government and corporate policy through training, education and outreach programs.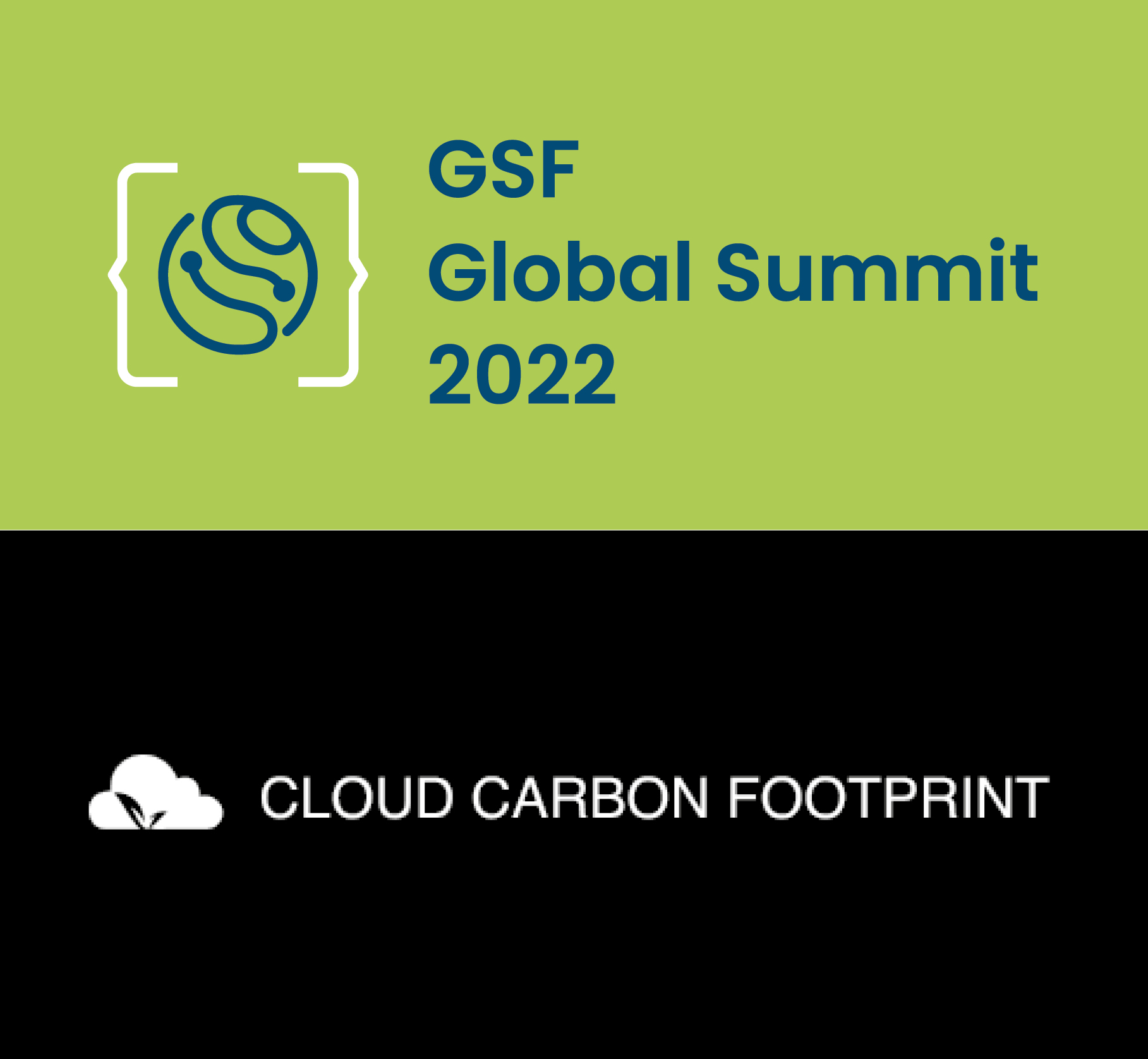 Cloud Carbon Footprint: Calculating the real costs of digital infrastructure  

In 2021 we refined the capabilities and functionalities of our Cloud Carbon Footprint (CCF) tool, an open-source solution that helps organizations assess, monitor and reduce emissions from their cloud computing resources. Based on client and community requests, we worked to incorporate more memory, networking, replication and embodied emissions data points in carbon estimates, and enabled the display of data center carbon intensity readings from major cloud providers. 
Critically, we're encouraging adopters to create a recommendation dashboard that points the way to targeted optimizations and calculates the carbon and cost savings that can result.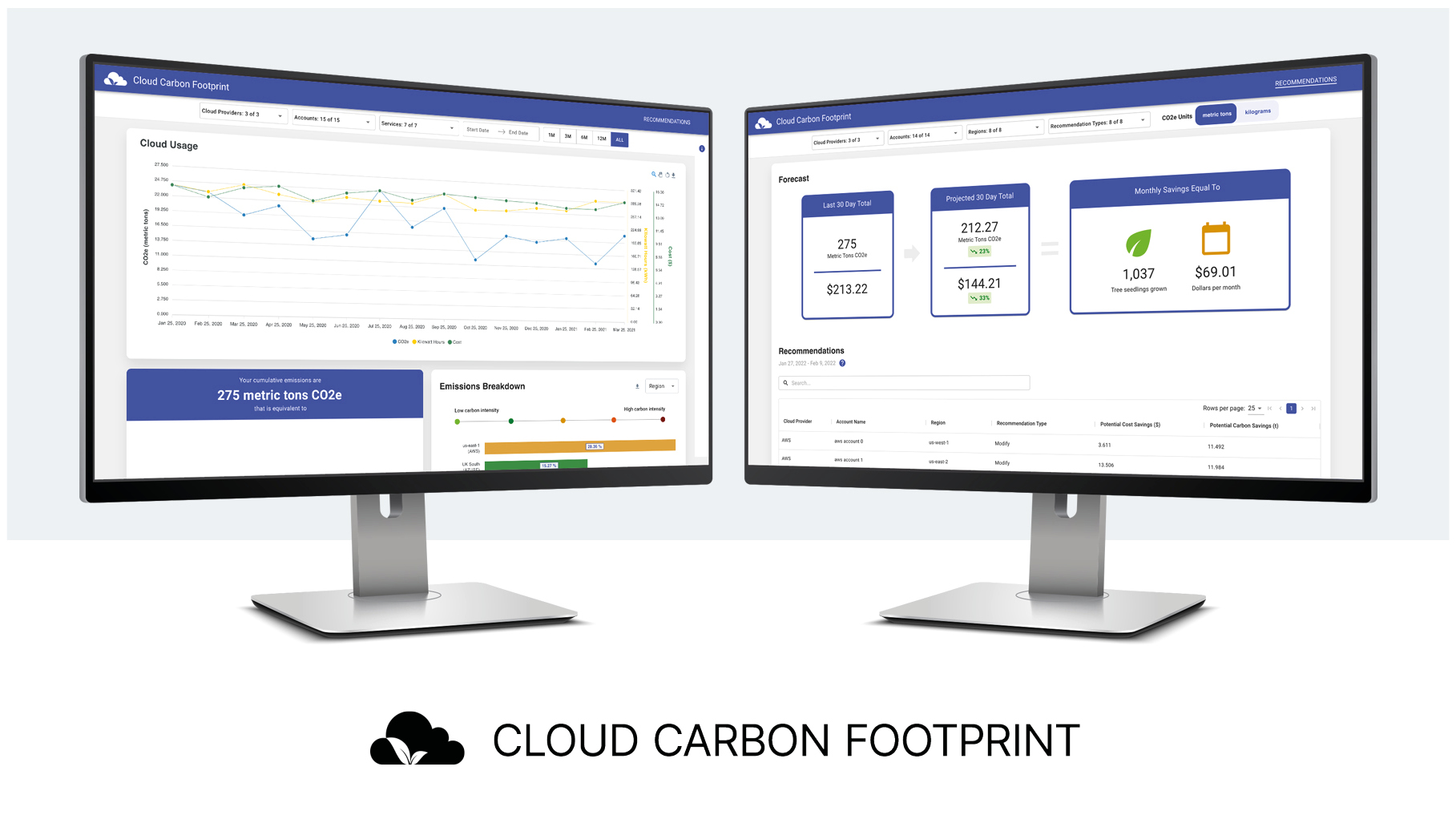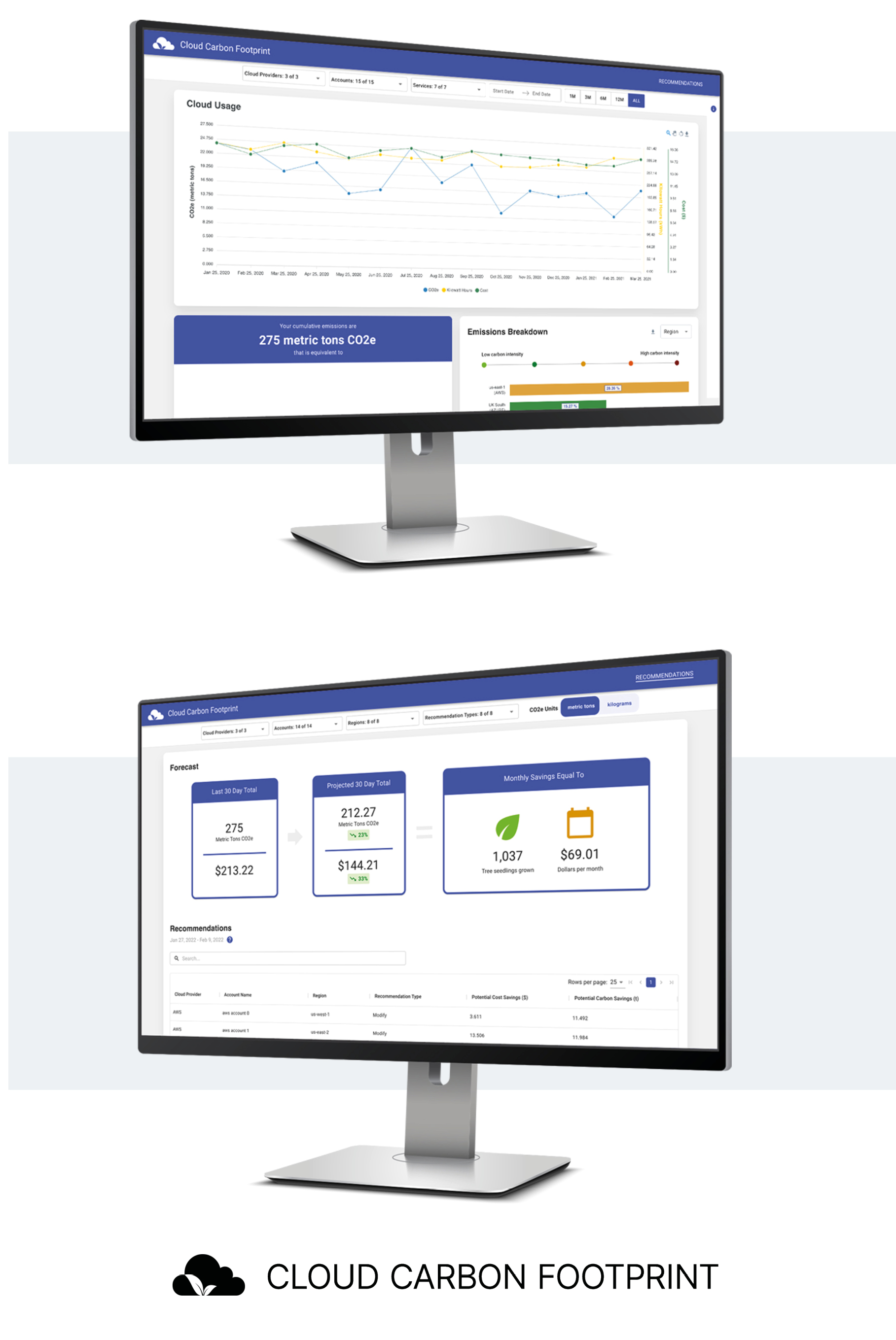 Our partnership with Spain-based green energy technology company Holaluz is an example of what the CCF makes possible. As a leading advocate of the shift to renewable energy, Holaluz is also intensely focused on reducing its own environmental footprint, and turned to the CCF to shed light on the carbon emissions and energy consumption of its cloud infrastructure.
Together we identified clear opportunities to slash emissions and energy consumption, and to trim annual infrastructure costs by 3%. Insights from the tool are now factored into 'business as usual' for Holaluz's tech teams, giving them the confidence that their decisions and workloads serve broader sustainability goals. 
Decarbonization: A long-term, multi-dimensional commitment  
Thoughtworks has been committed to addressing environmental and climate-related issues for close to three decades, through partnerships, campaigns and the development of software solutions. Our technologist community has come together over the years to raise awareness about climate action and drive change programs in our office operations around the globe, such as Green Office Challenges.
We formalized this commitment and joined other leading enterprises in signing up to the best practices set out by the Science-Based Targets Initiative (SBTi). SBTi was jointly established by the Carbon Disclosure Project (CDP), the United Nations Global Compact, the World Resources Institute and the Worldwide Fund for Nature to develop benchmarks for the corporate path to net-zero. 
SBTi doesn't allow avoidance-based carbon offsets as part of the emissions reduction approach, instead focusing on true reduction and carbon removals once emissions targets have been reached.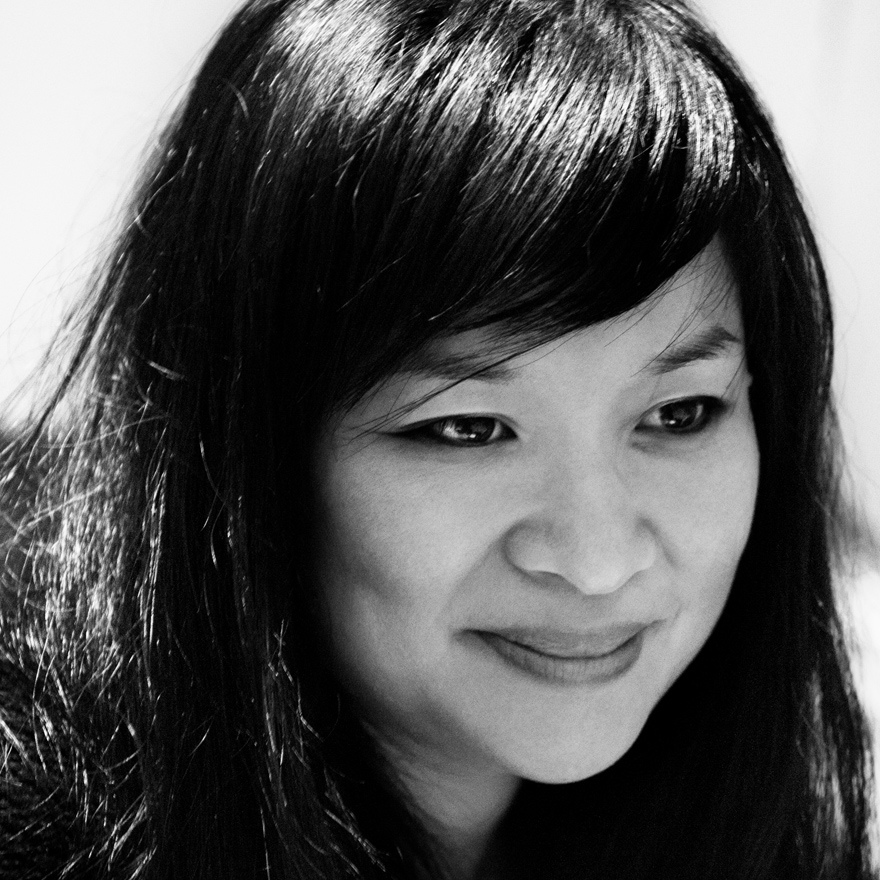 "Thoughtworks is continuously challenging ourselves to reduce our emissions sooner than our stated 2030 goals and, long term, to invest in carbon removal projects that align with our vision of inclusion, solidarity and the focus on those most impacted by resource extraction and climate change."
Amanda Ting
Sustainability Program Lead, Thoughtworks 
We have calculated our emissions across the SBTi framework, including Scope 1 (direct emissions), Scope 2 (indirect emissions associated with electricity consumption) and Scope 3 (other indirect emissions, such as those related to transport or outsourced services). For any organization of our size and with our geographic footprint, assessing emissions throughout our markets and supply chain is a complex process. 
Our near-term targets are now with SBTi for review and will serve as a foundation for comprehensive and sustained emissions reduction. These targets are to: reduce absolute Scope 1 and 2 greenhouse gas emissions 50%, Scope 3 greenhouse emissions by 85% per headcount, and increase annual sourcing of renewable electricity from 2% to 100%, all by 2030 from a 2019 base year. 
Our targets for 2030 from a 2019 baseline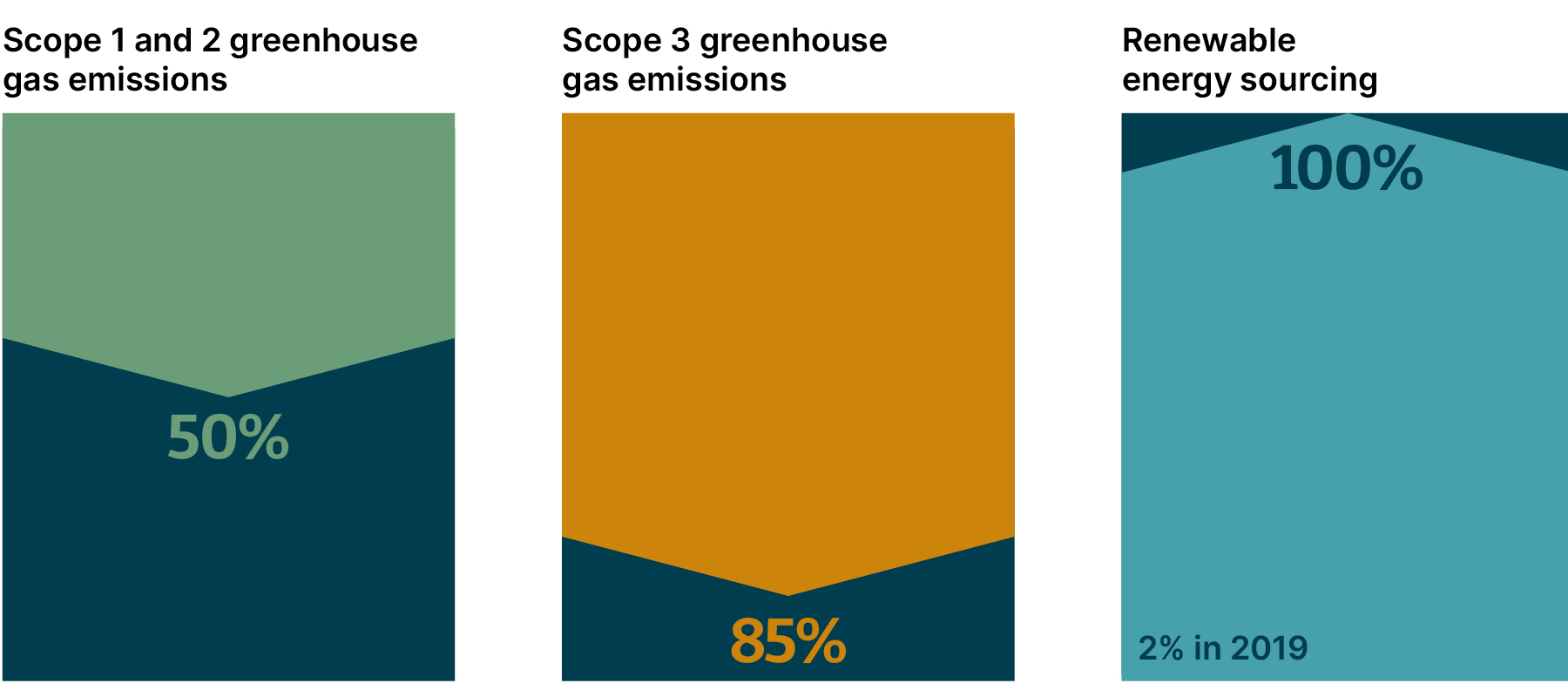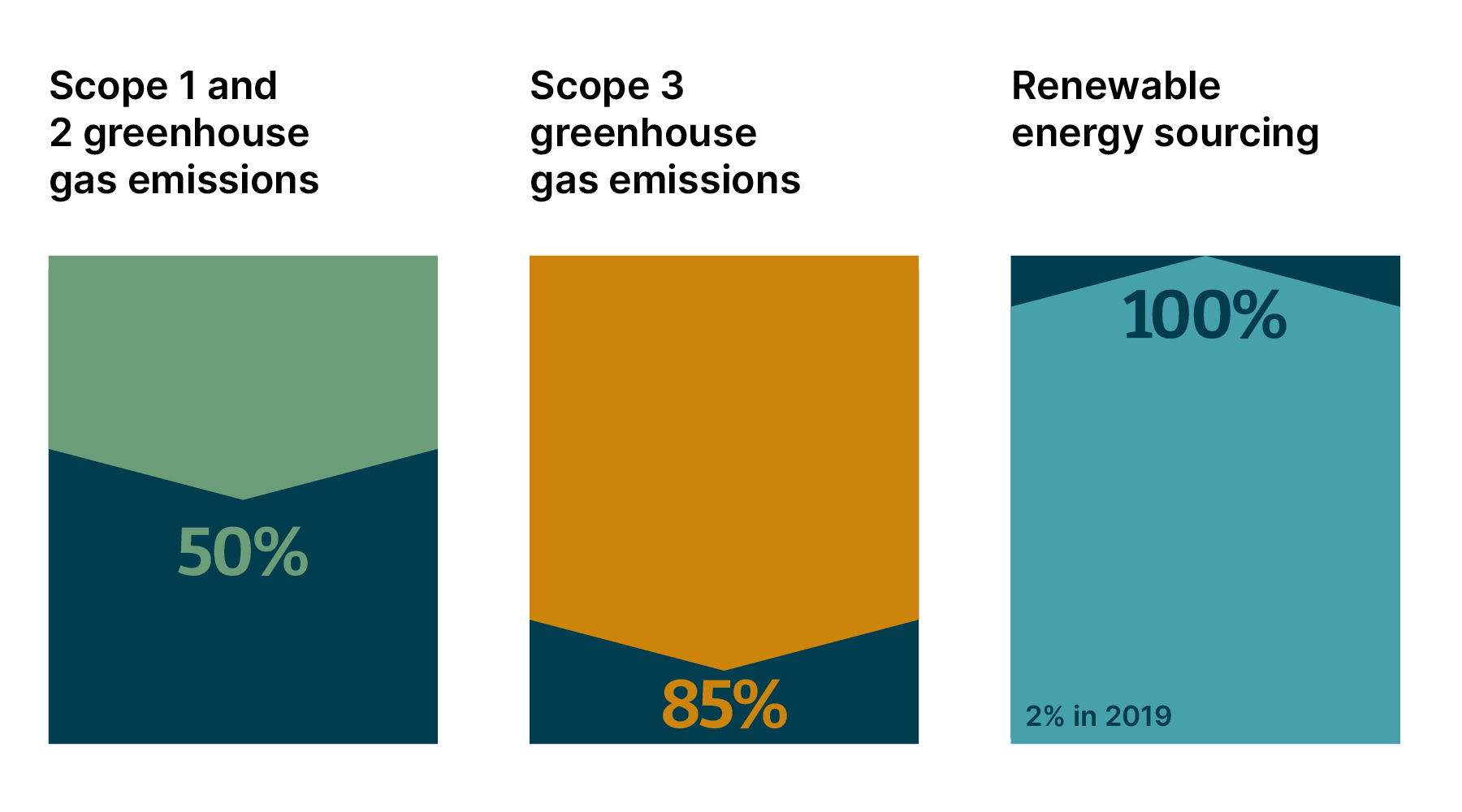 While these targets await SBTi validation, we're putting the governance and infrastructure in place to ensure they can be reached, and taking steps to assess and proactively implement the changes they are likely to require in our day-to-day operations. For example, our team in Spain is exploring what a 360 degree approach to carbon responsibility might look like.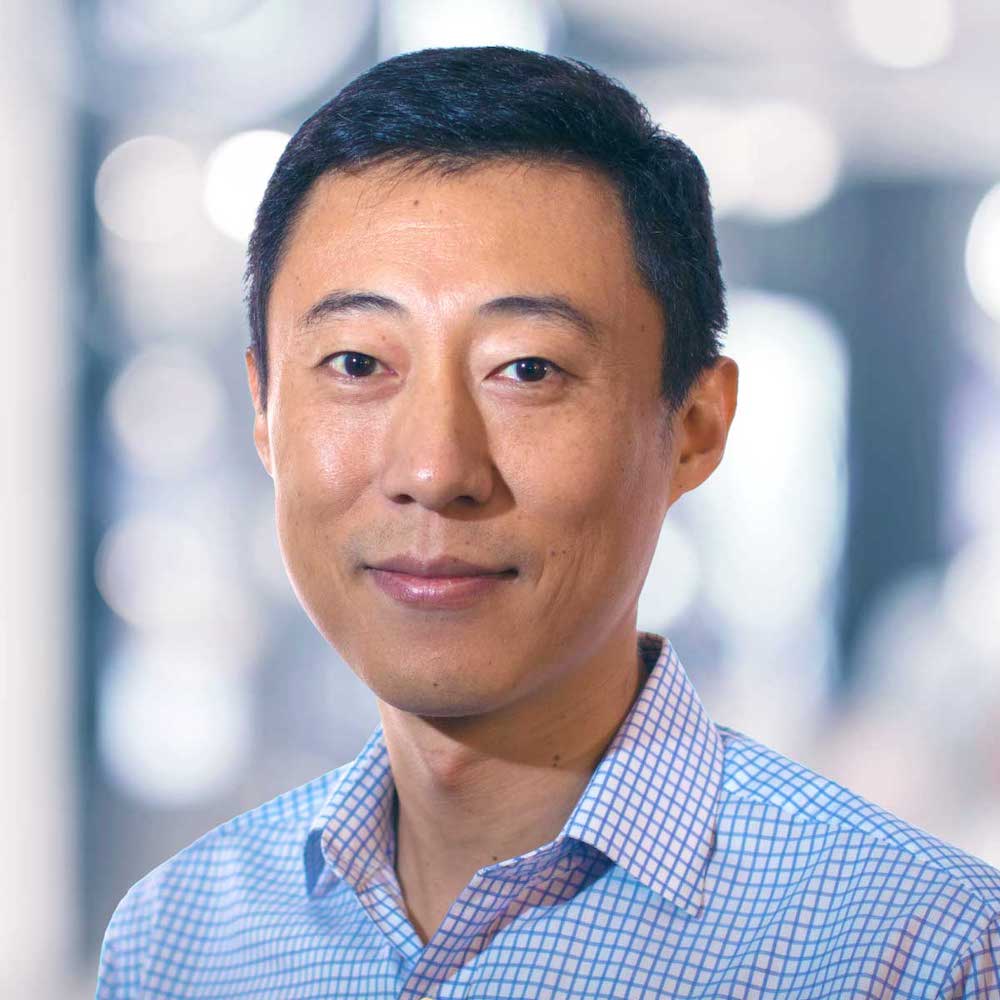 "It's vital that in all the urgency around net-zero we don't lose sight of the fact that our climate commitments need to be formulated carefully and align with our core beliefs as an organization. We have to stay true to ourselves, set goals that challenge us and encourage innovation, act in solidarity with those on the climate change front lines and always ask what we can do better. This year we'll be working to incorporate these beliefs into a governance model that will guide our net-zero drive, ensuring it's consistent, accurate and constantly evaluated and optimized."
Guo Xiao
Chief Executive Officer, Thoughtworks 
Partnerships and platforms for action
Comunidades do Bem Viver 
Comunidades Agroecológicas do Bem Viver (Community of Good Living) is a transformation project that unites farming families with urban neighbors as co-farmers. Together, using agroforestry systems, while regenerating degraded areas, they make the biome self-sustainable, transforming the area into a forest that also produces healthy food with a low carbon footprint. 
In 2021 we had a dedicated team to support the digital infrastructure of the program, including payments, registration, reporting and structuring, and extending their website. Our work together continues and is progressing to review and advise on the user experience, retention and scaling; we aim to enhance the work of the Agroecological Communities of Good Living, based on a scalable and replicable virtual infrastructure.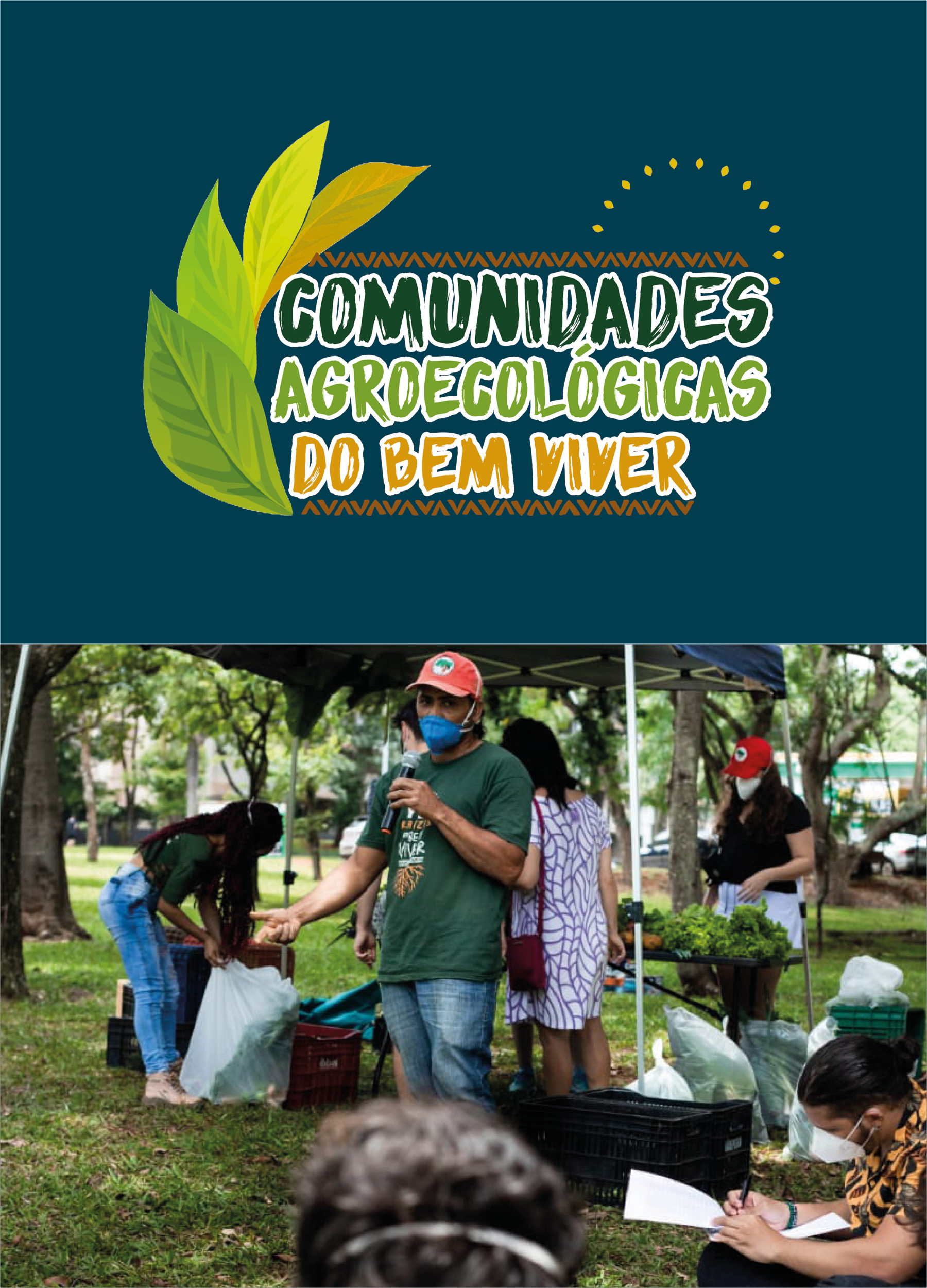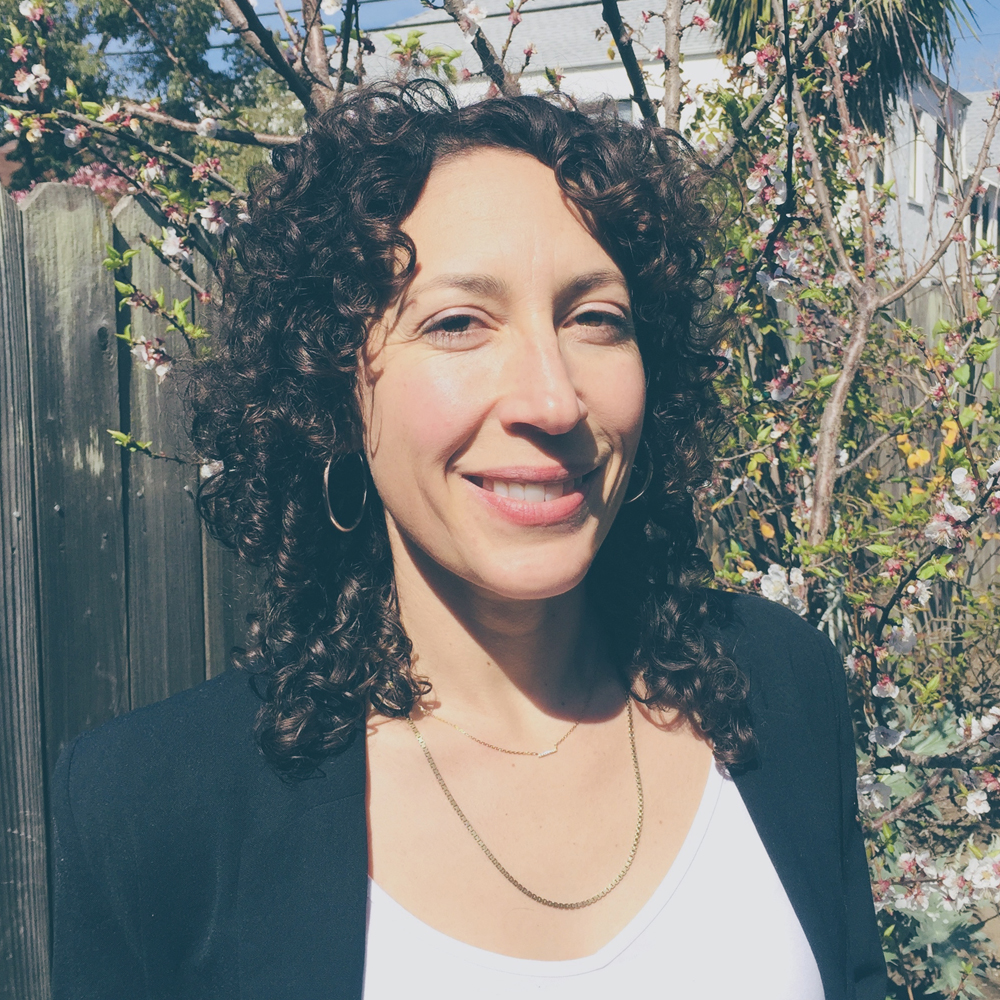 "The traditional system that has caused the climate crisis is coexisting with a new, emerging system, which means we are innovating during a period which is full of contradictions. As a tech company, we can help our clients during this transition process. We understand complexity, and know that tech can enable more efficient economic production and facilitate growing social relationships. We are continuously building on that knowledge and embracing our role in the transition to a more sustainable future."
Lisa McNally
Head of Cleantech & Sustainability, Thoughtworks