AI Augmented: A family of approaches

Increasing levels of complexity and uncertainty confound organizations' decision-making. AI is increasingly being used in attempts to clarify horizons, but if utilized only with a computer-centric approach, less than optimal results should be expected.
Thoughtworks' AI Augmented approach includes a family of novel decision-making approaches that go beyond the common computer-centric AI paradigm to solve organizations' most difficult problems. In this whitepaper, we will outline how the AI Augmented approach straddles a broad spectrum of decision-making activities, ranging from tactical and operational decisions, to creative and strategic decisions. AI Augmented approach produces better outcomes because it enables stakeholders to more effectively align their decision-making with a specific situation. This solution space holds significant untapped value and to support this, we've included client case studies for each approach to share the extraordinary impacts these approaches have achieved for our clients.
The four approaches sit along a spectrum
On one end, we find tactical and operational decisions, which tend to be highly automated. On the other end, we find more strategic and creative decisions which tend to involve increased human interaction. What binds all of these together is an augmented approach that emphasizes human learning at every level.

Automation Augmented
A scalable system that interacts with it's environment to optimize / personalize virtually any decision.

Operations Augmented
A flexible optimization toolkit bringing mathematically optimal results to resource constrained situations.

Creativity Augmented
An interactive R&D process between AI and experts to enable speed and quality in product development.

Strategy Augmented
An approach to codifying & simulating scenarios, building robust and transparent strategies.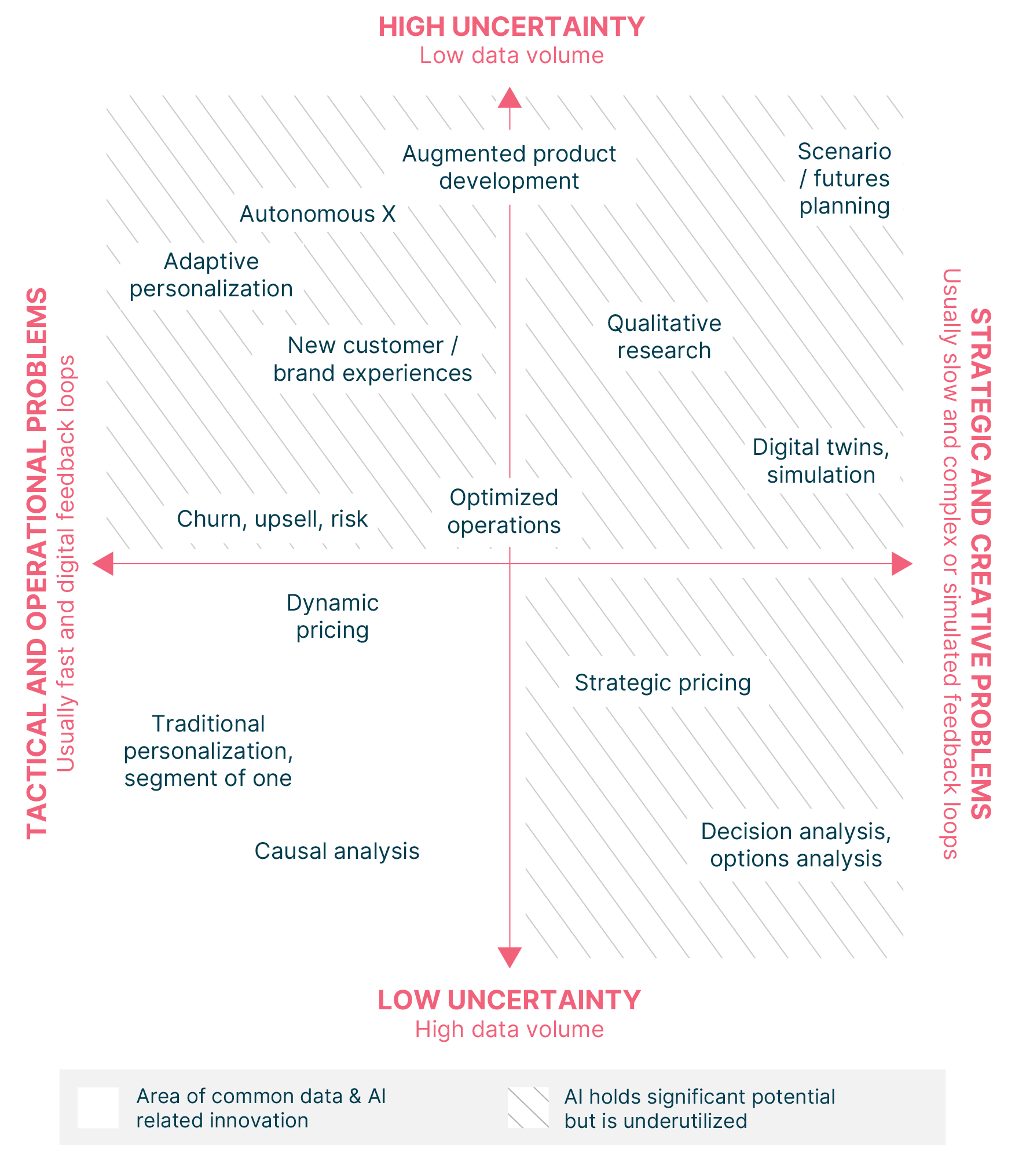 AI holds significant potential outside automation
From an AI Augmented perspective, we see AI as running across two key axes, as pictured above with some examples. AI Augmented approaches are particularly useful in problem spaces such as the top right quadrant where greater uncertainty and the need for a strategic or creative approach is required. In such situations, there is often little data available. This is one feature that makes AI Augmented fundamentally different to dominant approaches to AI which rely exclusively on large datasets.
Download the whitepaper to learn more and see what types of business benefits our clients gained by adopting the approach.
More content delivered to your inbox
Stay up-to-date with our latest insights, events and conversations about how to win with data & AI.