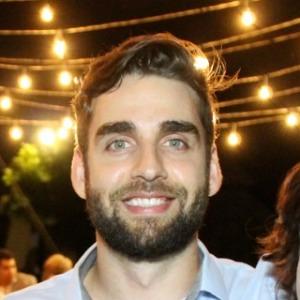 Guilherme Moraes
CABRA DA PESTMENT CONSULTANT
I am a doer. Enthusiastic about everything and definitely in love with life and the desire to evolve everyone's skills, including mine. Full of personal projects and goals and the strong inclination to fulfill them all. Agile values guide my behavior. I like saying I live an agile life, applying its core concept to my own life: react to change rather than get stuck to the plan.

A.k.a. Lopídio, Virgs and G. (I know, it's a lot). I wrote my very first software when I was 13 and this is pretty much what I've been doing ever since. My main interest in the computer world is the design of software systems. From classes code level to distributed systems and how they coexist. Try to find out patterns of good software architecture fascinates me.
Besides my computer related stuff, I've done a quite a few things like selling pastry, batman-like dressed pamphlet distributing and clothes store cashier. I am deeply addicted to Rubik's cubes, minesweeper and solitaire games and soccer. Some even dare to say that, when I play soccer, I look like a wingless angel floating through the field (no one really says it, but it'd be cool). Lately, I've widened my learning focus range. Therefore, drawing, cooking, astronomy, finances and dance are the things that are moving pushing me forward.