This is the final article in our four-part series on creating a sustainable innovation engine that delivers long-term business value. See here for Part One, Part Two and Part Three.
Get started now
In the first three parts of this series, we've explored the ideas of building an innovation engine within your enterprise, creating a system for sustainable innovation. Here, we're going to look at the practicalities of making this real.
To give you an idea of how this Innovation to Impact model can work, I'll share with you the genesis of the concept, which emerged out of some work I was doing at Thoughtworks.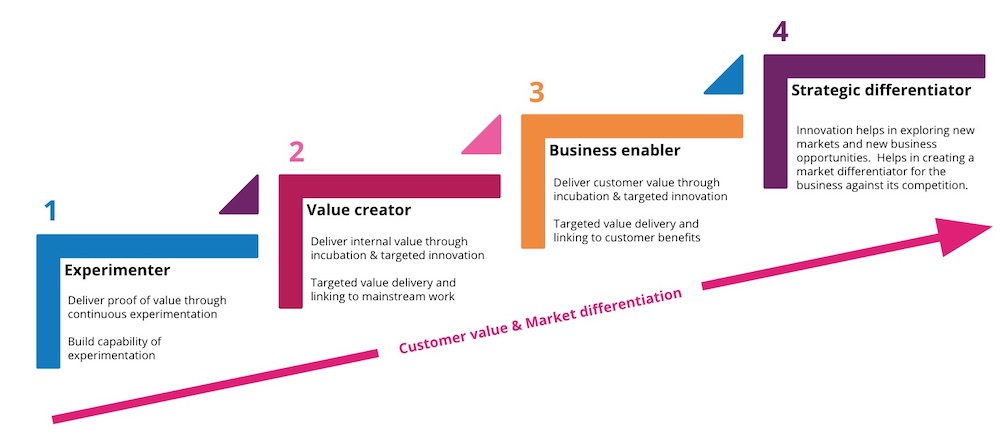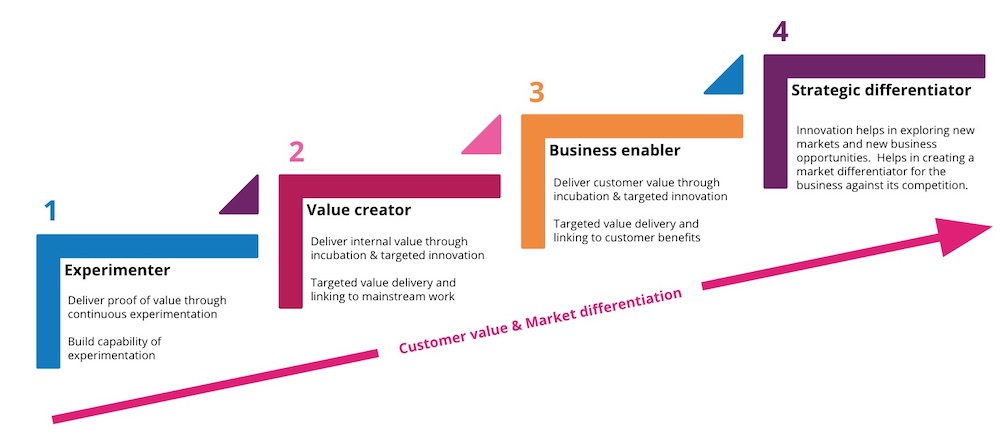 A few years ago, I'd started my role heading up the internal IT (workspaces) at Thoughtworks internal technology program — TechOps, and spent some time travelling across our global offices to get a better picture of our capabilities. I'm sure this was an experience familiar to many: the chance to meet incredible colleagues with brilliant ideas. But it was also clear to me that we were often not making as much impact as we could because there wasn't enough visibility into what people were doing.
So for instance, our demand teams in the US would have had no idea about some of the incredible work on Internet of Things (IoT) projects that colleagues in Manchester, UK were doing.
It's a tale that I'm sure's familiar to many people in enterprises today: the issue isn't that we don't have innovative teams, but channeling those ideas into business value is tough.
How do you create an ecosystem for innovation? How can you make that ecosystem sustainable?
As is often the case in a company such as ours, we started with ideas — a plan to run experiments. But to deliver something truly innovative — something that would add new value to the business — we would only pursue those that had a purpose.
We started by setting up meetings across the nine global offices, both in-person events and online meet-ups. And we asked our staff for ideas that would help us tackle issues they saw in their day-to-day roles.
Identifying the right projects
From those meetings, we generated 185 nominations, which we narrowed down to 130 ideas when we'd removed duplicates.
Out of those 130 ideas, we then had to streamline further, looking at which were commercially viable, and where we could start creating impact first. We eventually decided on a project for our recruitment teams — one looking at getting consistent feedback from candidates.
We also carved out a small, but separate incubator team, from an existing large team to focus especially on delivering business value through innovation. The team had a people with product and domain, strategy, design and development skills, with a person often playing multiple roles.
Their challenge was to find a consistent way of getting high quality feedback from candidates — and in a way that would enable us to improve our recruitment process, give better feedback to candidates and measure the effectiveness of our recruitment teams.
The team had their first prototype done in eight weeks: a tablet-based system that candidates use immediately after their interview. That enabled us to get a trial out quickly, which we then monitored to ensure people were using it, to identify areas that could be improved and to ensure our recruitment teams were finding it useful.
This solution quickly established the notion that our incubator team could not only innovate, but come up with ideas that impacted the business. And having established our credentials, we could then build on this by returning to our ideas board, re-evaluating our list of potential projects and finding new ways to help the business.
This process for creating sustainable innovation can be seen as a four-stage process:
Through this approach we've expanded our projects to include a global room booking system and multi-sensor environmental sensors. And we continue to grow and become an increasingly important engine of innovation.
An eight-point plan for success
To summarize, this series of articles has explored mechanisms to make innovation an integral part of business-as-usual — to make you less reliant on Eureka moments and to innovate systematically. I believe that by following the eight working principles outlined below, you'll have an opportunity to create an innovation culture that enables your organization to outmatch its competitors in the long run.
Co-creation and high-touch engagement. Building 'with' is better than building 'for' to build a sense of shared ownership 
High-velocity decisions. Speed is imperative for innovation, so avoid delays
Think 'openness'. Use open protocols, build your products / prototypes for interoperability by default
Intrepreneurship attitude. Think from outcome perspective, having a high-level vision and navigating to achieve desired results 
First-principle approach. Go back to basics and challenge your fundamentals, revalidate all rooted assumptions 
Sense of urgency. Bringing a sense of urgency into entire process can eliminate blockages and clear the path 
Use +1 thinking. Going beyond your immediate problem or idea to find the next and solve for that
Build for scale. You don't want to spend extra time "later" to scale your innovations, do you!