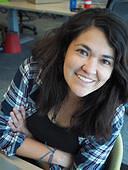 Pam Rucinque
Lead Consultant
As a software developer, I work with clients in a wide range of projects. Sometimes they are problems that can be solved with technology, while in other times they are projects where technology itself has become the problem.  
When working on a client engagement, my biggest effort goes into keeping the business and technical teams on the same page - it saves a lot of time. I enjoy communicating complex engineering problems to a non-technical audience and working on performance-related issues.
Besides work, I love learning about the subtle and not so subtle differences across cultures and languages. I am really curious about traditions, rituals or behaviours that are unfamiliar to me, and whenever someone is willing to share theirs, I fully switch into my anthropological mode.