(and why your marketing team might not be ready for it)
Information can tell us everything. It has all the answers. But they are answers to questions we have not asked, and which doubtless don't even arise.
- Jean Baudrillard, Cool Memories, Ch. 5, 1987
"How can my digital team reap the benefits of the changing world of search?" To do this, it's important to understand the evolution that has happened in search engines themselves: they have been transformed from tools to find content into personal assistants to help you meet your needs and wants. Search engines are now one part of the content discovery experience.
The holy grail of online search has been for websites to deliver upon the wants and needs of people based on them providing few, if no inputs.
My vision when we started Google 15 years ago was that eventually you wouldn't have to have a search query at all.
- Sergei Brin, 2013
Think about what this implies. It means that the computer would need to be able to figure out what information you need without you needing to ask for it. Further, it means figuring out what else you want but perhaps have not asked for, perhaps because you do not know how.
Google's solution used to need search queries. It was also designed for people using desktop computers. Fast forward to 2015 and you find:
4 Billion people are on the Internet using mobile phones
1 Billion of them are using Facebook on a daily basis
2 Billion of them have smartphones running iOS or Android.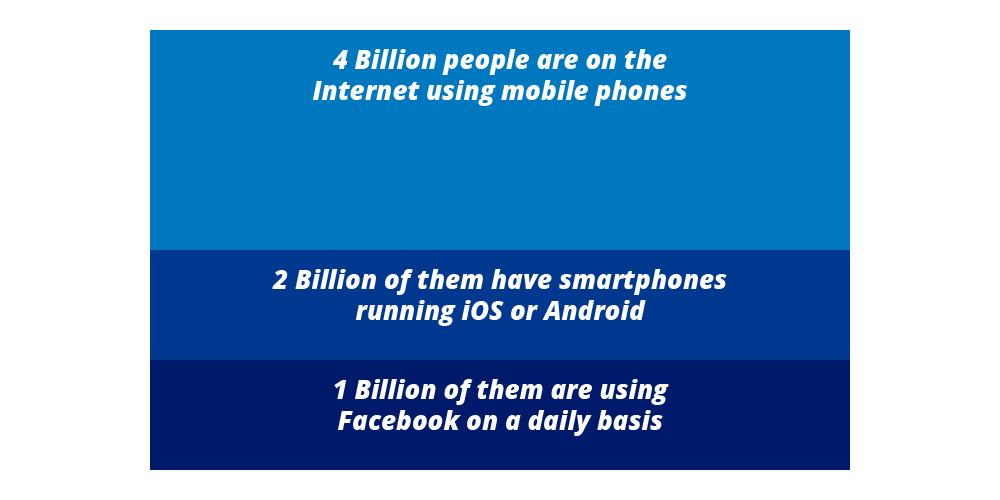 ​
The new web of content discovery is vast and exciting: mobile devices, social media and big data analytics are disrupting the way we will find information for years to come.
But first, some background on how we got here.
From Search Engine to Personal Assistant
Search engines have evolved to the point that good enough content is no longer enough to rank. The Google 1.0 model established Page Rank as the authoritative measure for ranking pages on the web. Over the last decade, lots of companies learned how to game Google 1.0: this led to lots of content that was "good enough" to get to page one.
In the Google 2.0 era, it became possible for software to automate the answering of "questions" for humans. Search engines have taught their systems to understand the relationship between topics. Using structured data and machine learning, they can identify content that answers questions. The engines can also now provide a preferred user experience for answers. Consider Google Answers and DuckDuckGo's corresponding feature (screenshots below); in these cases, the search engine is productizing results from existing websites. This is great for users who just want a quick answer, but not so great for brands that were hoping to bring new prospects to their websites.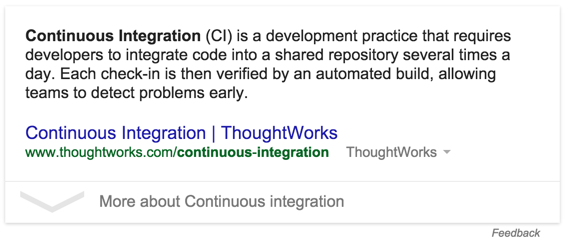 The Google 3.0 era has brought about the intersection of searcher "intent", "location" and "conversation". Much of this is due to the introduction of mobile smart phones. Consider that Google is aware of the device you use to search the web. Mobile devices offer a huge amount of data about the owner and their behavior. A search for something as simple as "comic books" can be interpreted to mean "comic books near me". Voice searches can show that we are on the move, in our car or walking down the street. As a result, they provide results that include store hours, maps, price and review comparisons.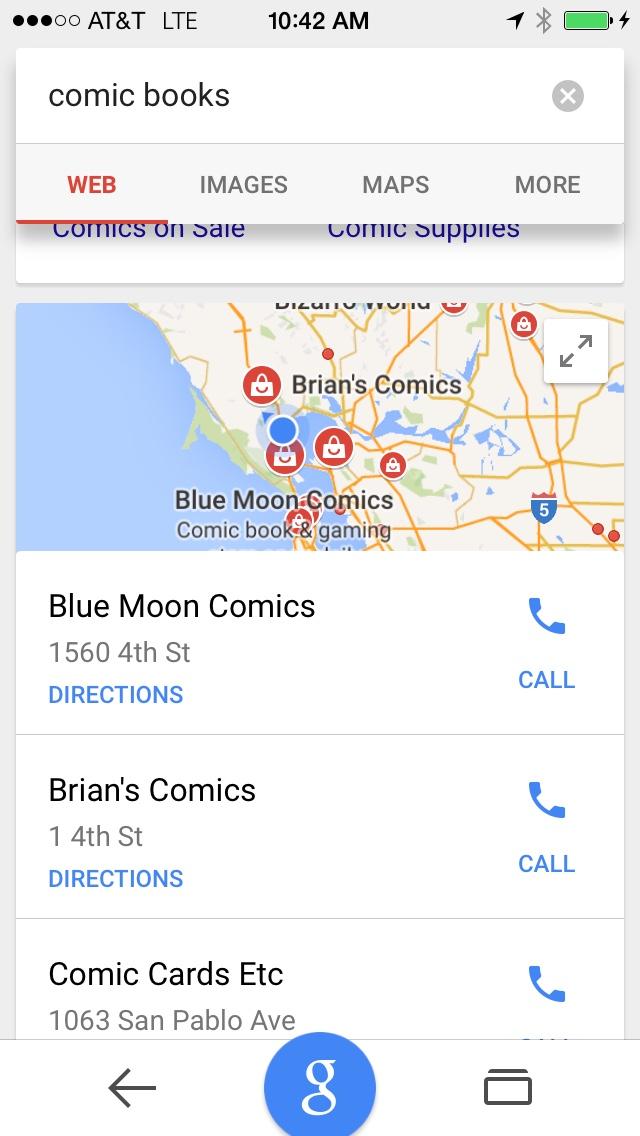 Conversational search is a capability that Google introduced as a part of its voice search product. It negates the need for a person to repeat all the elements of their search. It does this by determining when voice queries asked close together are related.
Consider the following search:
I search for "shoes"
I then search for "Walmart"
Google might assume that I am searching for "Walmart shoes" and runs that query on my behalf.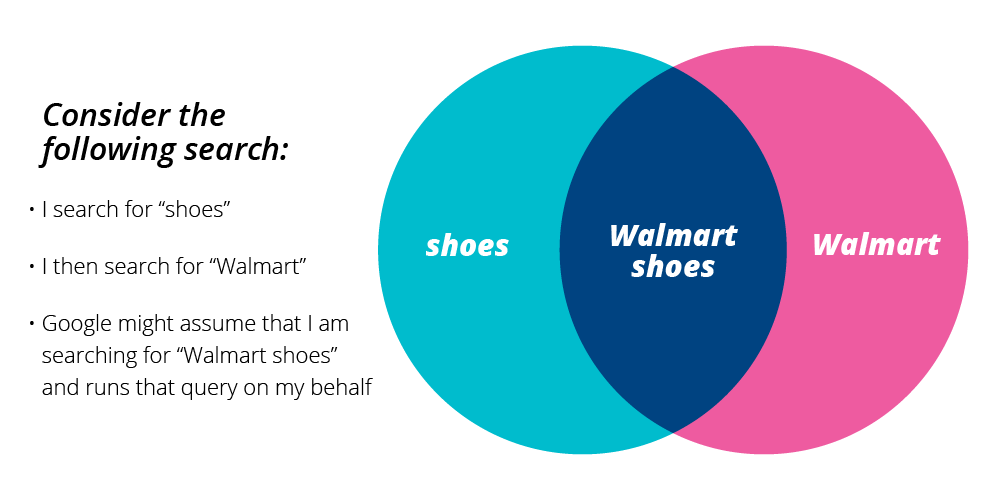 The impact on search capabilities like maps and movie times spans desktop and mobile device sessions. Conversational search is like the connective tissue for the entire Google search experience.
Your new search overlords
Our mindset is to consider search with Google. Make no mistake: they are still the leader, but they are not the only game in town anymore. Many competitors have grown formidable search and discovery platforms. Facebook, Apple, Amazon and Microsoft are starting to open themselves up to new applications.
Facebook Search and "M"
Facebook (FB) Search (search.fb.com) is now a powerful search engine used by over 1 Billion people daily. This search platform started as a way to find content within Facebook based on some structured queries. Within two years, it has become a valuable tool for marketers. It is useful for finding relationships between people and companies, geographies and groups. Recently, it has become much more. Facebook has extended the platform to support natural language search across all content.

Facebook Graph Search Timeline via @davidmihm of @moz
Facebook search is an unfettered view into the recommendations from your social connections. I recommend you try some searches for simple interests (e.g. Thai food). Notice the collection of places, and also posts from friends and public posts from across the Facebook network. Search results are by definition personalized and based on the privacy settings of participants. For more information on the capabilities of FB Search, check out this great guide by Simon Penson on the Moz Blog.
Facebook has also started to make inroads into the world of predictive search with the introduction of its personal assistant technology called "M". In a post on Facebook, Facebook Messaging leader, David Marcus called M "a personal digital assistant inside of Messenger that completes tasks and finds information on your behalf. It's powered by artificial intelligence that's trained and supervised by people." This calls out a really unique new dimension to their technology: human supervision. Without understanding all of the particulars, it appears that Facebook has engineers available to spot check the results offered by the machines and provide a direct feedback loop to those working on the supervised learning aspects of the system. Because Facebook wants to make sure they really understand the quality of the interface they are offering, the initial pilot of M is in a very small pilot area with a heavy degree of human review of results.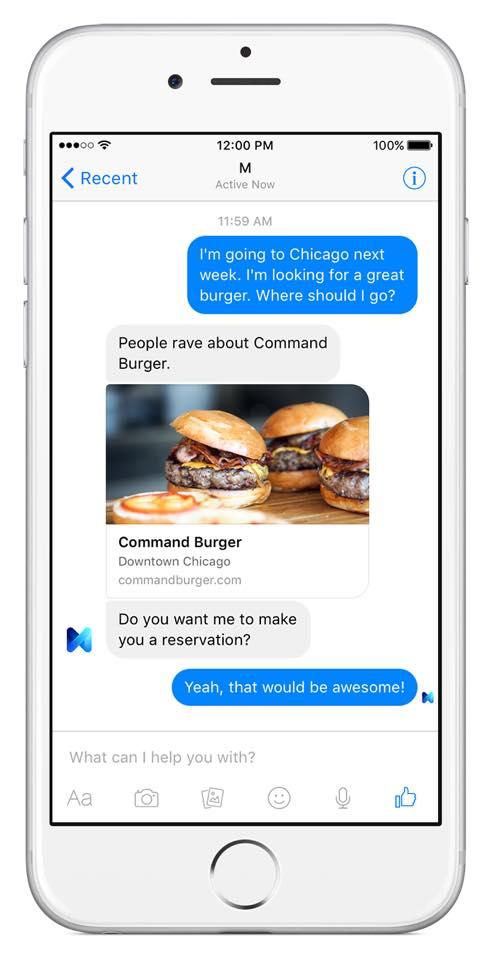 Screenshot of Facebook "M" from David Marcus' post
Apple Spotlight and Siri
Users of iPhones and iPads are familiar with the Spotlight search that allows people to quickly find applications, emails and contacts. Recently, Apple confirmed suspicions that they were expanding the scope of their search; the upcoming iOS9 release will allow application publishers to open up their applications to the Spotlight index. The new Spotlight will also expose results from a number of third-party services like Wikipedia, YouTube, Amazon and Netflix. In addition, the latest edition allows people using iOS devices to issue voice commands to Siri, Apple's personal digital assistant, and have them run search queries, much like Google.
At this time, one of the distinguishing features of Apple Spotlight search will be that it will not remember the owner's identity or search histories which could limit capabilities compared to Google or Facebook.
When you consider that Apple has sold over 700 Million iPhones during the last eight years, you can appreciate that Spotlight will very quickly become a very large search engine.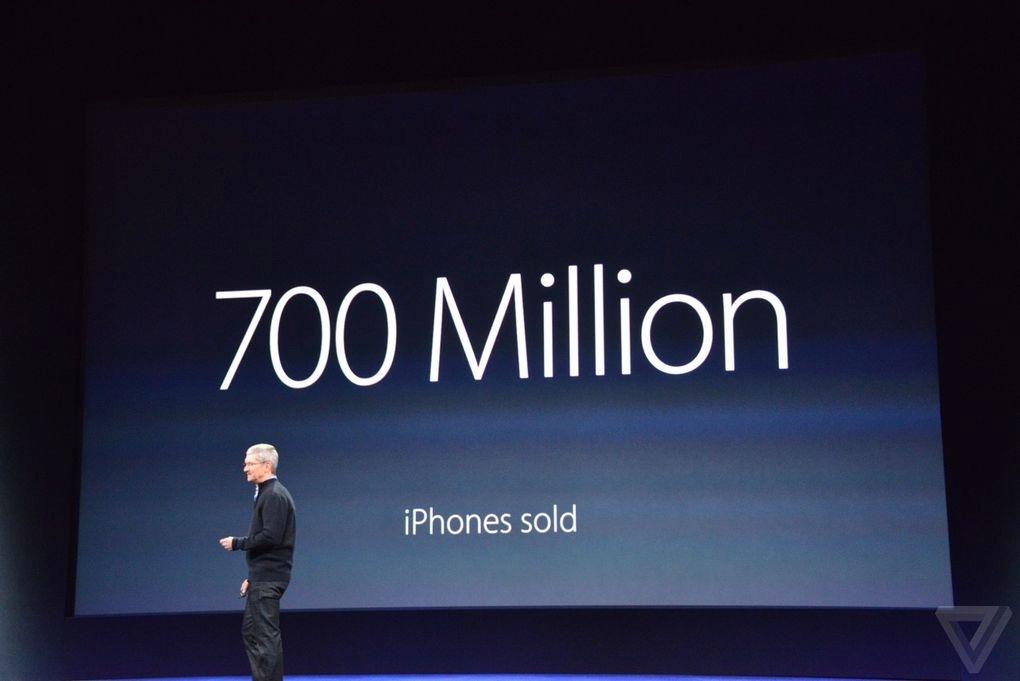 Tim Cook, Apple CEO
Amazon Search and Echo
Amazon's search began as a product search engine for its massive online store. Over time, it evolved into an array of search products to support not only finding products but also images and reviews. Similar to Google, Amazon Search is now available as a cloud appliance for other websites to leverage.
Google's Chairman Eric Schmidt in 2014 claimed that Amazon was their largest search competitor, primarily because it is already well established in people's minds as the "place you go to buy things". Amazon recently introduced its own personal assistant technology (Alexa) in the form of its Echo home appliance. Given this, it is worth considering that Amazon might draw upon many of the same data resources across the web that Google, Facebook and Microsoft rely on to provide you answers.
Microsoft Bing and Cortana
Long considered the second most popular search engine by a very large margin, Bing has quietly been ramping up user counts, particularly with the help of some large deals with AOL, Yahoo and Firefox. It also has introduced its own personal digital assistant, Cortana, that provides voice search integrated with Windows 10 and gives Microsoft an offering very comparable to Google and Apple, minus the scale.
That said, in a world where Google has smaller search market share, it could be that Microsoft has much more potential for growth.
Opportunities in content discovery
All indications are that the content discovery industry is in the process of disrupting itself. The decade-old model of advertising subsidized search listings is giving way to a host of new search mechanisms that build a much more intricate web of discovery options for all of us. While we cannot predict with 100% certainty what the new model will look like, we can see a few core elements beginning to emerge.
Elements of modern content discovery:
Location awareness
Voice, text and touch driven
Conversational
Predictive
Native


Location Awareness
Because mobile is our primary form of consumption, location awareness is not a question anymore. The mobile device provides all the context on where you are and whether you are moving or standing still. As content producers we may not be taking advantage of the information that the platform can give us about our customer. Responsive layouts today tailor content to fit the phone or the desktop; will the layouts of tomorrow read to us while we're on the go?
Voice, text and touch driven
For those of us who are long-in-the-tooth, voice search may be a novelty, but for newer generations it is a way of life. A recent Google study showed that "59 percent of US teens and 36 percent of adults use voice search while watching TV and 22 percent of teens admit to using it while in the bathroom." For even younger children that are growing up with digital personal assistants in their homes and cars, it's possible that voice becomes their predominant interface to computers.


Let's also not forget touch. It is no secret to parents of young toddlers that they quickly adapt to the touch screens of today's tablets and smartphones. I anticipate that we will begin to see more playbooks for optimizing content for young children, such as this guide from Sesame Workshop for Best Practices in Children's App Development.
Conversational
Conversational is inferred in all of the new personal assistant technology models. Particularly, users of voice search or mobile devices will often be assuming that their most recent search or what is on their screen is informing the answers put in front of them next.
This introduces a couple of very interesting challenges for designers, developers and marketers. For one, it means ensuring that content needs to be increasingly more visual, and also tagged and annotated so that it can be easily understood by machines that need to quickly put it into context.
In addition, marketers will now need to adapt tactics for reaching people conducting these searches. In a search world that used to be keyword dominated, Google Adwords was sufficient to target searchers. This new search paradigm makes the old model of advertising far less effective in targeting searchers. Richard Cotton of Distilled has put together some great thinking on the future of paid search.
Predictive search and the privacy problem
Predictive search is starting to become a reality in many of the products we know and love on the web. The basic premise is simple: using your search history and other information that can be gleaned from your identity, the search engine can offer you content recommendations that are aligned with your needs and wants at a given time. What sort of information can be gleaned from your identity, you might ask, this could include entertainment preferences, shopping/eating recommendations from friends or services you typically use in close proximity to you.
We first saw predictive capabilities make their way to market as a part of Google Now. This service initially worked with a limited number of data services such as airlines and hotels, and later restaurants and events to bring customized reminders to their owners, including when to leave in order to beat traffic to their destination. For marketers, this is becoming relevant as Google has opened up Search Answers and Now Cards as ways that you can extend your brand's engagement to a person's device.
To me the possibilities of predictive search are exciting, especially now that we have competition in this space from Google, Apple, Amazon, Facebook and Microsoft. That said, I cannot help but wonder where this leaves us in terms of privacy.
Apple has prided itself on the fact that it did not associate user information with browsing history; some say that will hold it back in a war for predictive search dominance.
Google has developed a very subtle and elegant experience with Google Now.
Could Facebook or Microsoft find the balance between customized recommendations that respect privacy and preference?
Does Amazon have it right by keeping recommendations constrained to commercial ones?
I do not think that we will have the answers to these questions for some time, however, we do now have an outline of many of the core elements of search in the modern age.
Native
Native publishing is a term that typically refers to content created on mobile devices, often with specialized technologies. Until recently, this content has been walled off from the rest of the Internet. Deep linking is quickly becoming one of the building blocks to the next phase of the web, where mobile applications and their data become a part of the searchable, linked internet. This piece from TechCrunch scratches the surface of this rapidly growing field, but provides a solid primer on what the term means and how it has evolved.
This is a critical set of capabilities to understand if your organization has both a web and mobile presence. Not only is there a new set of metadata properties and crawler behavior that will need to be understood by your developers, but also components of information architecture and customer experience to consider.
Five steps to prepare your organization for the new world of search
1. Revisit your audience analytics to include ecosystem as well as channel audiences
It is one thing to track mobile and tablet visitors versus desktop. Are you looking at platform and app audiences as well? Specifically, you should work with your analytics team to identify the audience segments that are going to matter for you and build them into your regular reporting. These could be platform oriented (iOS/ Android/Windows), application oriented (Facebook/Snapchat), even assistant based (Siri/Cortana/M/Alexa) as that traffic becomes track able.
2. Expand your definition of SEO to include all aspects of content discovery, including web, mobile, voice and social.
SEO professionals already have a body of knowledge around optimizing content to your business goals, albeit on specific channels. They are the best prepared folks to help your organization, but mobile and social are not always within their purview. Make these clear SEO priorities. Encourage your SEO team to learn about the broader set of factors involved in mobile and voice.
For example, the appreciation that mobile searches will very likely return 'Answer boxes' or other specialized search result packs, can help your team decide how to best prepare and present content on your sites and applications. In some cases, the use of structured data formats can better prepare your data to be selected for well-positioned answer packs.
A couple of great resources for your team to get familiar with include:
3. Get a handle on your local search strategy.
Businesses where physical locations matter already likely consider local traffic sources in their regular mix of marketing activities. Having said that, the local search landscape is becoming increasingly fragmented: Many of the fundamental elements such as quality listings and contact information are being considered "
table stakes
" to play. Further, richer information such as customer reviews can play a much stronger role than ever in having your business found in search.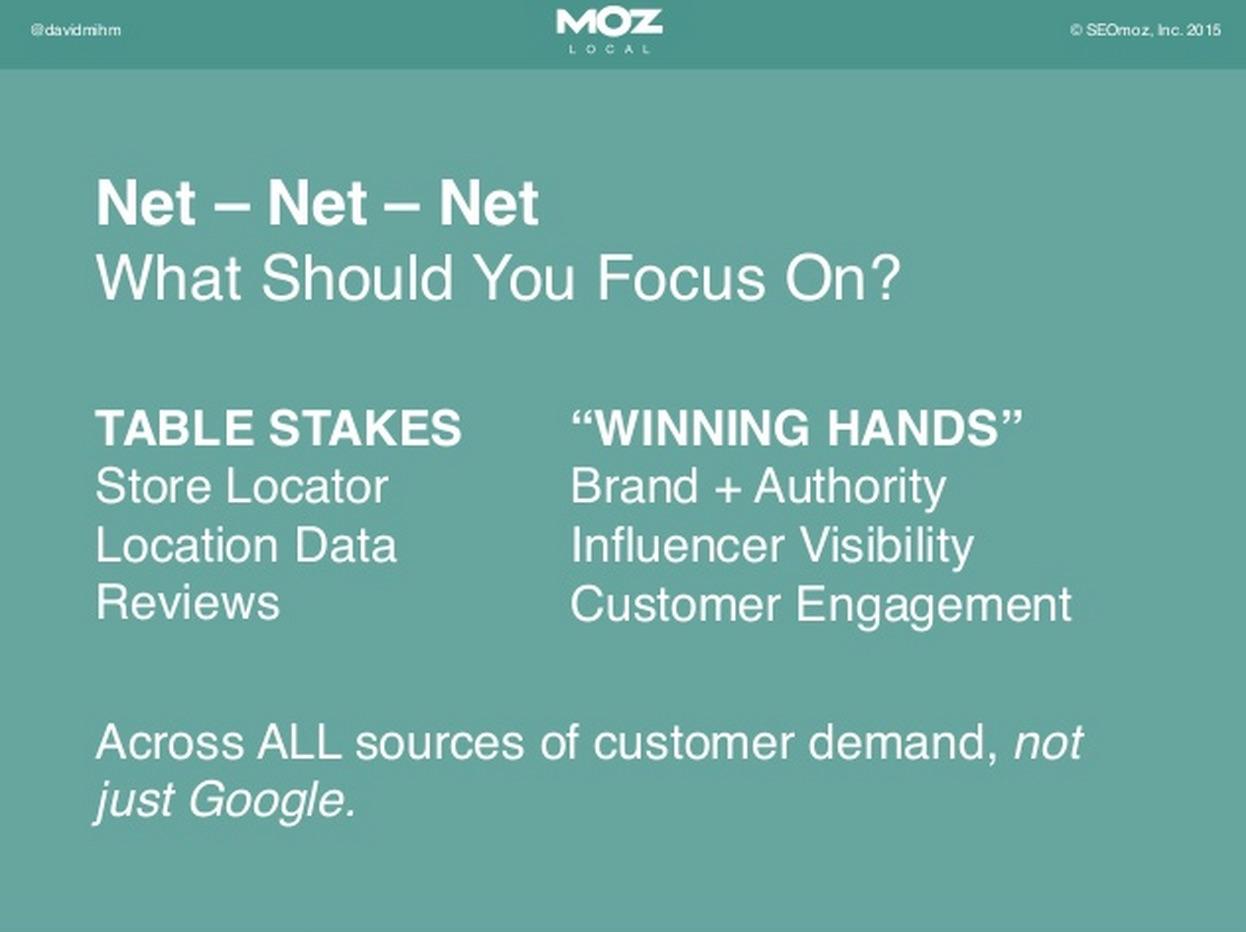 Source: David Mihm, 'Local Search: Shiny Objects may be Closer than They Appear
If you are a storefront-oriented business, you probably do not need to be told this twice, but what if you are not. Are you a B2B software provider? Or a professional services company? How do you fare with local office results and better yet relevant calls to action for the market. Increasingly, the search providers are opening up listings and advertisements to feature call and chat buttons to initiate contact directly from the search results.
4. Re-imagine your customer journey to span all device touch-points.
Rather than optimizing your channels for the customers you have today, focus on the customers of tomorrow.
Earlier we covered deep linking, and its ability to surface your mobile content in search. Take this opportunity to revisit your information architecture in the context of mobile. That is, on what device touch points would you like the customer to experience certain pages of your content.
5. Have a conversation with your community about privacy.
Winning in predictive search will mean finding the right balance of personalization and privacy. Often, the tolerance of individuals is going to vary based on their perceived value of a particular product or service. So, the approach for balancing the two is going to need to be unique in every organization.
To begin, explore the attributes of the channels where you are publishing/participating. Facebook, as an example, operates within the context of your personal social network. Apple, has stated they will not leverage search histories of individuals on their platform. Your business should understand the tradeoffs for sure. Leading organizations will
be transparent about data
they are collecting and what they are using it for.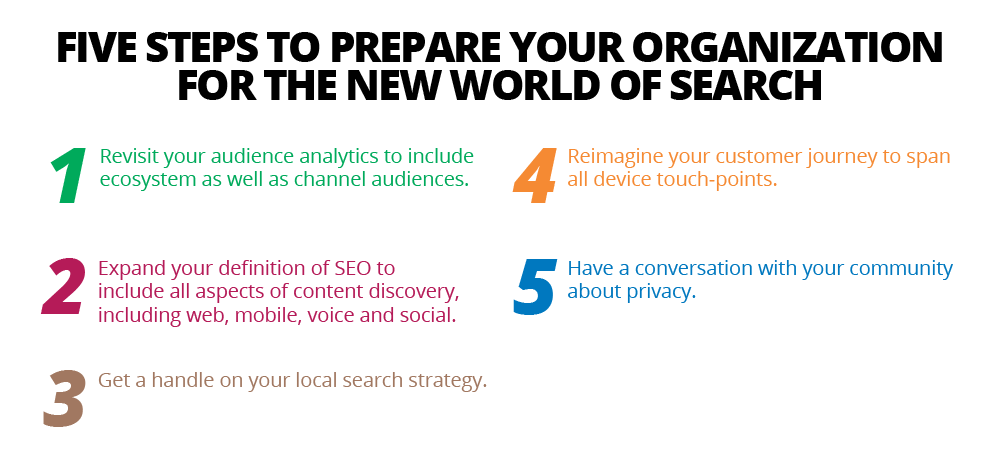 Conclusion
It has never been a more exciting time to be a marketer, a content strategist or a software developer. Our new generation of personal assistants can be a threat or an opportunity. I like the idea of having the robots deal with the more mundane tasks of finding information. This allows knowledge workers to focus on curation, categorization and analysis.To realize the opportunity, organizations should begin a new phase of learning and development with mobile and web technologies. Those who take this opportunity to retool their business for mobile-first will stand to be the winners of the next generation of content discovery.
Many thanks to the work of Tom Anthony, David Mihm, Cindy Krum, Richard Cotton and others who have given conference talks or reporting upon which this work is based.
Related reading
A number of the topics referenced herein are deeply technical in and of themselves so I have offered links to some further reading for those so inclined. Some pieces which inspired aspects of this article and some presumably developed in parallel are available on the accompanying
Pinterest board
.
Disclaimer: The statements and opinions expressed in this article are those of the author(s) and do not necessarily reflect the positions of Thoughtworks.