The backbone of digital transformation
Customer expectations are shaped by experiences with digitally native industry leaders and are driving all organizations to adapt their business models to become more convenient, more responsive and more personalized. The gap between those who are able to quickly adapt to changing expectations, and those who struggle to, has never been more stark.  
Thoughtworks Digital Platform Strategy (DPS) provides the strategic analysis, prioritization models and communication frameworks to maximize investments in modern, cloud-native technology tools, patterns and practices. Our approach co-delivers mission-critical architecture and software alongside our clients, ensuring platform technology strategy delivers tangible value. In addition, we deliver the necessary engineering and architecture organization upskilling that enables our clients to steer their platform efforts into the future.
We have a blueprint for success
A holistic approach to unleash the assets and capabilities your enterprise already possesses
Continuous Delivery, Microservices, API Strategy and DevOps are all powerful, but complex, tools and techniques, and they can be difficult to deploy effectively in organizations with a sprawling estate of legacy systems and significant technical, architectural and process debt. Successfully driving a cross-disciplinary transformation to tangible, business-meaningful outcomes is both an art and a science.
Investments must be planned holistically across silos, taking into account not only "the right tool" for your organization's desired outcomes and current maturity, but also your organization's leadership capacity to scale and steer delivery of the strategy. Most transformations fail because the human dimension is overlooked or assumptions are overly optimistic.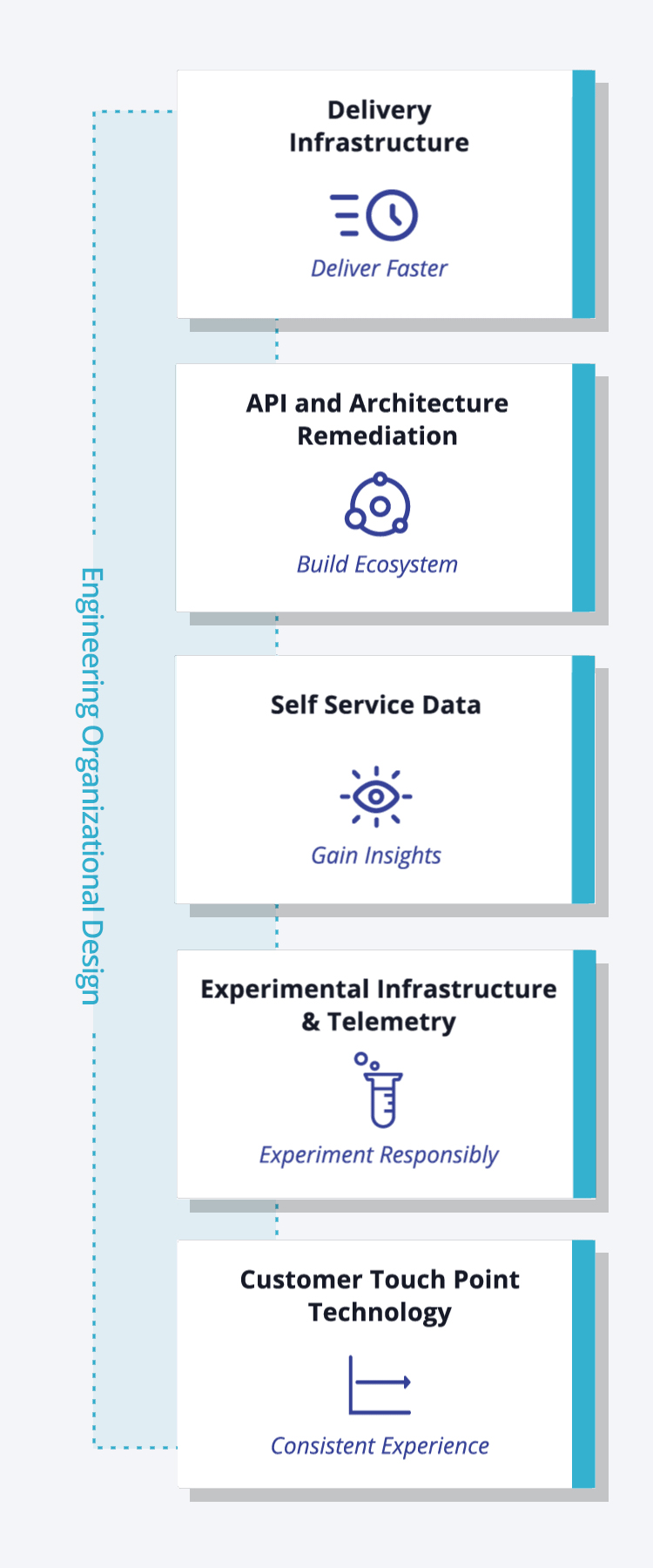 All organizations have the capacity to innovate but most can't because their technology platform is brittle, inflexible, and outdated. Modern cloud-native tools and techniques promise an antidote but distributed systems are complex to manage and, implemented wrongly, can actually make things less reliable and slower to deliver.
Strategy Led, Implementation Powered
Platform strategy, rooted in decades of delivery excellence
We collaborate with our clients to customize our DPS strategy and implementation blueprint with a focus on unlocking near-term business priorities through incremental, pragmatic delivery.  Unlike strategic offerings that produce only slideware, or commoditized approaches from low-cost system integrators, Thoughtworks DPS brings 20+ years of real-world experience delivering architecture evolution. Our industry-leading talent will work alongside your engineers, as well as architects and senior leaders, in the transformation of your engineering organization.
Unlocking your digital potential
Don't fall into the trap of "digital transformation vanity metrics" - the fact you have implemented microservices or are now "doing DevOps" doesn't mean much if you are not delivering business & customer-responsive software significantly faster.  
Bred from real-life success and failures, our "Platform Thinking" model allows you to realize business outcomes faster, laying the foundation for new value sources that emerge from a creative engineering and product workforce that is empowered to imagine and create.
Our approach to help you systematically prioritize strategic investments

Assess the most impactful sources of friction, whether it be fragile technology stacks, poor developer experience, long process delays or toxic culture. 

Identify and unlock key data assets and business capabilities via easy-to-consume, self-service APIs.

Enable the "test and learn" model of product development across the entire technology stack by focusing on the end-to-end toolset and process.