Nimble, one of Australia's first disruptive lenders, has a vision to make finance faster. But with a significant pivot to that vision in the last year, CEO, Gavin Slater has sought to transform the company out of short term lending into a truly customer-centric fintech.
Transformation is never easy, particularly at the speed needed to compete in Australia's thriving fintech ecosystem. Thoughtworks partnered with Nimble over a seven month period to provide product delivery coordination and technical excellence to build a new credit product, Nimble AnyTime. 
A rapidly evolving fintech sector
Speed and innovation have always been at the forefront of Nimble's strategy. It was the first to bring to market paperless applications in 2009 and Straight-Through Processing (STP) in 2011. However, as with many successful startups, growth has not come without accumulating technical debt, hampering the opportunity for further innovation and scale.
In parallel, in the last two years Australia has seen enormous fragmentation in financial services with the rise of specialist Loantechs, Fintechs and Neobanks. These new entrants have supercharged the industry offering customers convenience and speed to digitally engage and access services that are tailored for them. This has only amplified the increasing customer expectations set by other digital services that everything should be instant, easy and personalised.
With a strong brand, customer base and credit data set, Nimble needed to live up to its name and respond fast, whilst also ensuring that it was doing the right thing for its customers. In 2019, the company set out to realise their vision to transition out of payday loans. Instead, Nimble would extend its credit decisioning expertise, and pivot to offer new products to a near prime, digitally savvy customer audience, who were underwhelmed by traditional lenders.
The way forward through collaboration over creation
In order to move quickly and ensure Nimble focused on its core business, rather than trying to build and own the entire solution stack - a strategy that often mires large enterprises in years of fruitless delivery - they alternatively curated product and platform partners to collaborate with. 
Nimble chose Mambu for its general ledger; Illion for bank feeds, eKYC and fraud/credit checking; EML for their credit card payments engine; SplitPayments for real-time payments gateway; AWS for cloud infrastructure. To name a few of the many integrations, each was selected by balancing the suitability and utility of the service, developer experience, and modularity.
Differentiation would be provided through tightly integrating these services and delivering a seamless customer experience that lived up to Nimble's brand promise.
First and foremost, Nimble needed a partner with a proven track record and whose commitment to customer and delivery excellence matched our own. In choosing Thoughtworks, we found a partner who brought flexibility, capability and maturity to not only help us achieve our goals but was also committed to develop and nurture Nimble's nascent transformation into a product-oriented, contemporary Fintech.
Journey to delivering a great digital product
Critical to the launch of a successful digital product is having the right team to deliver the solution. Thoughtworks supported Nimble with growing their own capability for the future ongoing evolution of the product.
To align around a common purpose and goal for Nimble's new product, Thoughtworks first facilitated an inception workshop with the leadership and product delivery team. This helped expose differences in understanding, and develop a lightweight plan that could be updated as the project progressed and constraints were better understood. 
A 'steel thread' end-to-end approach was initially selected to ensure functionality exposed in the application integrated with the underlying services. However, this can create challenges when progress is not always easy to showcase and get feedback from stakeholders, so the team flexed between developing front-end interfaces and then integrating them. 
With many partner integrations and technologies new to Nimble, the challenge of coordinating effective collaboration to deliver on time was key. Although in an ideal world, all services have well documented APIs and test environments, in reality, it requires teams to be flexible and adapt, making decisions quickly that allow progress which can be revisited later when partners are able to respond.
Applying machine learning in credit lending
A key enabler of Nimble's brand promise of "Making Finance Faster" is the adoption and implementation of an industrialised Machine Learning capability. Understanding the complexities and concerns commonly associated with such endeavours, Thoughtworks worked with Nimble in the development of a Machine Learning Infrastructure which, in a measurable and observable manner, unlocks the value of rapid experimentation cycles. Iterations of models are trained, validated and, once proven to be better, promoted through Nimble's Continuous Delivery for Machine Learning (CD4ML) pipeline into production. 
The first of these models, 'Olas', from the Irish Gaelic word for 'knowledge' ('Eolas'), assists in the automated decisioning process driving efficiencies through Straight-Through Processing (STP), enabling Nimble to process loan applications at pace in Australia's changing economy. The program initiative, titled 'Continuous Credit Intelligence (CCI)' - started in late 2019 to support Nimble's AnyTime platform initiative - is ambitious and with a solid foundation in CD4ML, Nimble is confident of driving future customer and business value through the continued application and optimisation of machine learning.
Introducing 'Nimble AnyTime'
After seven months, a beta version of Nimble AnyTime was launched to an existing customer segment in order to further validate and optimise before releasing to its broader customer base. The product offers a line of credit up to $10,000, accessed via a Nimble virtual card in their Google Pay or Apple Pay wallet, with fixed amount repayments over 12 months. Customers can now get loans approved and be ready to "tap and go" within minutes once they download the Nimble credit card app. The app links directly to the customer's Nimble account making the approved funds available to spend on the spot.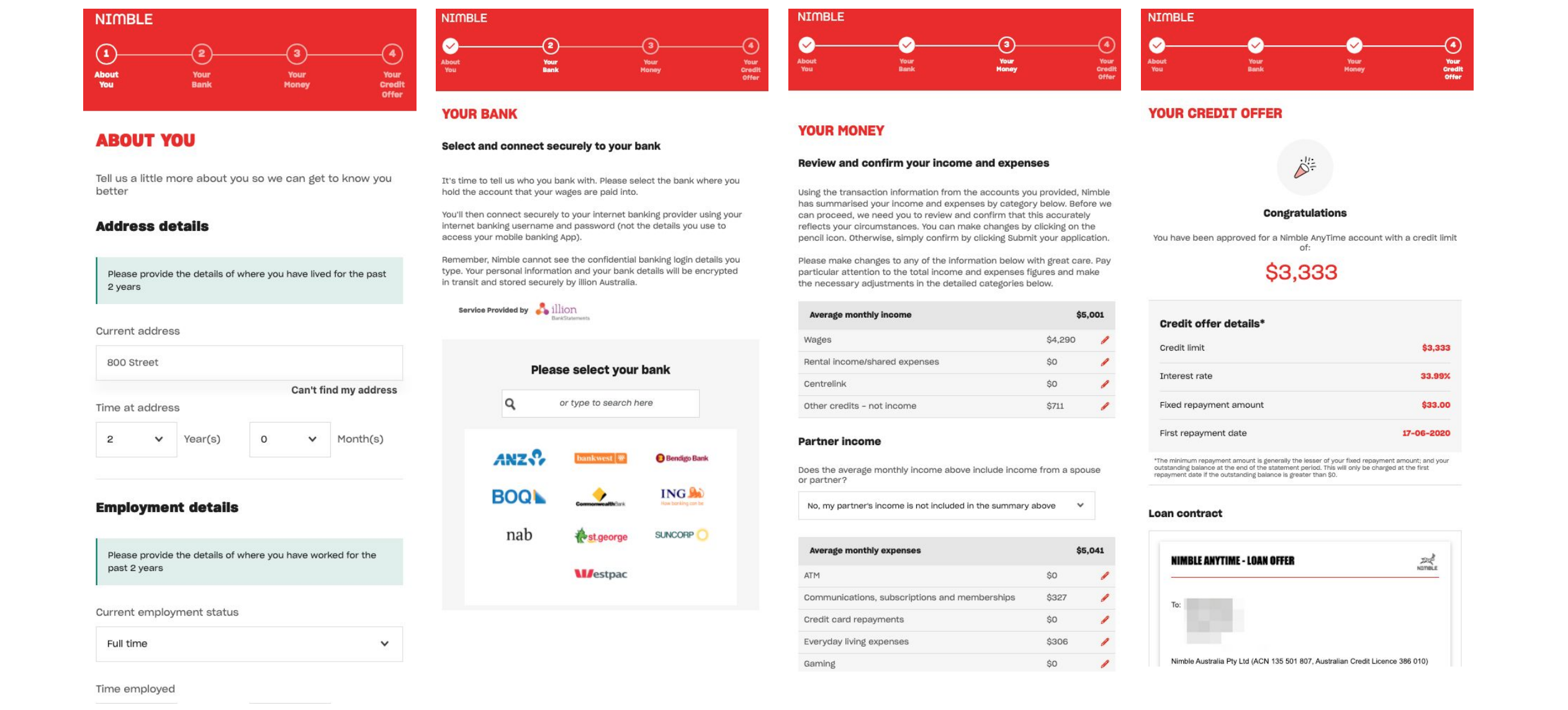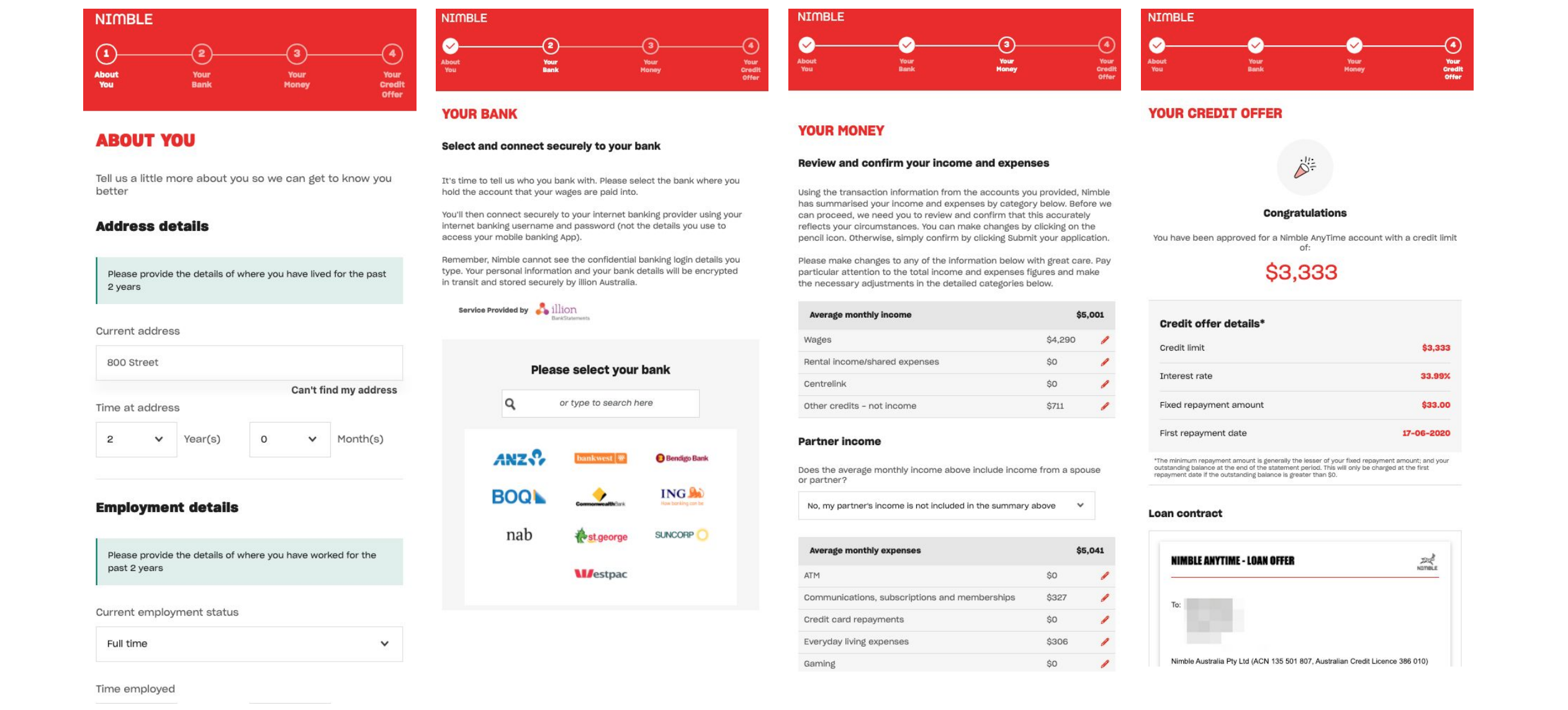 The application and onboarding funnel features automated ID verification using a customer's driver's licence, automatic categorisation of income and expenses from bank transaction integration to ensure serviceability, and straight-through processing and decision making on approved credit limits.
What's ahead
Nimble and Thoughtworks are currently exploring how to harness its credit decisioning machine learning capability and deliver it as a service for others in the fintech ecosystem.