When a crisis strikes, some teams run for the hills. Others face the challenge head-on.
We spoke with Ben Davison, Interim Executive Director of Product Development at NHS Digital, the national information and technology partner for the UK's health and social care system, at our Thoughtworks Live event. Ben shared with us some of the challenges his teams had to deal with to overcome the disruption of the COVID-19 pandemic. He also revealed how responding to those challenges head-on and collaborating with Thoughtworks helped his teams transform the way they work, so they can deliver more value, faster.
Here are three important lessons NHS Digital learned from last year's disruption - lessons that everyone responsible for driving business value with technology should take on board.
1. Predict unpredictability
COVID-19 caused a massive surge in demand for digital healthcare services throughout the UK. In some cases, the enormous increases in volume broke critical services completely. 
The NHS 111 online service, which gives people advice on what to do in urgent medical situations, crashed after seeing visitor numbers increase from around 10,000 a day to almost one million a day. NHS 111 was built to cope with a 20x increase in volume, but not a sudden 100x increase. 
"We learned a lot from that and Thoughtworks helped us make sure that the service was scalable moving forward," says Ben. "It's a lesson that we learned as an organization. In the future, we'll build all our services with unpredictability in mind."
Lesson learned: Build for resilience and scalability
"Assume your services will operate in a hostile environment, where you don't have control over where demand is coming from and build in truly elastic scalability."
2. Unlock insight to deliver more connected and personalized patient experiences 
NHS Digital has always been responsible for collecting and distributing data from across the many organizations in the NHS, but during the pandemic they added a new level of analytical capability.
Rather than simply aggregating and disseminating datasets, the NHS Digital team began to join datasets together to generate deeper insights. For example, NHS Digital created the shielded patients list by combining information from numerous datasets to identify people most at risk of severe symptoms of COVID-19 and instruct them to stay at home. 
NHS Digital also began to unlock insights for the public health teams, allowing them to prepare by sensing the signals. By combining datasets around COVID-19 infection rates with how people were using the NHS 111 service at the postcode level – NHS Digital was able to provide a deeper level of intelligence to give directors of public health a more holistic view of what was happening in their areas. 
"We needed to be better at reacting to unpredictability. We needed a better understanding of what's happening in the field to be able to pivot very quickly and respond," Ben explains. "That means we need very strong and responsive data science, information governance, analytics, and data engineering capabilities, and we're already starting to put those improvements in place."
Lesson learned: Data can be harnessed to deliver improved patient care
"Derive meaningful insights from data by connecting and correlating data trends, which will enable you to foresee challenges and allow your teams to respond more effectively at speed."
3. Set up your teams to respond at pace
As the wider NHS organization felt the impact of the pandemic on its systems and processes, it quickly became clear to Ben and his team that they needed a delivery model with more agility. The traditional public sector approach of multi-year initiatives and annual business cases was no match for a global pandemic.
So, NHS Digital rethought its delivery model and set its teams up to deliver services dramatically faster. For example, NHS Pathways (the algorithms that underpin the telephone version of the NHS 111 service) previously operated on a three-month release cycle. During the pandemic, as these algorithms changed more frequently, the team, with essential support from their clinical colleagues, were able to release algorithms daily, and sometimes several times a day.
With teams across the healthcare system becoming more distributed as a result of the pandemic, NHS Digital also had to very quickly enable primary and secondary care staff to work in a different way. In just a few months, it created various services to connect healthcare professionals with each other and with patients, including a GP information-sharing platform, and video and online consultation capabilities.
Lesson learned: Evolve teams to be more agile, and develop faster test and learn cycles
"To respond to unpredictability, teams must be able to act fast. Multi-year IT initiatives and lengthy delivery cycles are relics of the pre-COVID era."
A mindset shift at NHS Digital
There's a fundamental change in mindset that's at the heart of the many transformations NHS Digital has been through over the last year. It is a shift from a "project mindset" to a "product mindset" that enables rapid innovation, fast responses to changing circumstances, and a long-term approach to sustainable value delivery.
As Ben says, "We're shifting focus from delivering things to delivering business outcomes. It's all about maximizing the value we deliver to the organization as well as maximizing the efficiency with which we deliver that value."
Getting value from volatility
One of the biggest benefits NHS Digital has seen from rising to the challenge of the pandemic is that it has fast-tracked a lot of the work the team had planned to do over 12 to 24 months.
By responding to the pandemic, NHS Digital has accelerated a journey it was already on; it is releasing software faster than ever and using data to develop patient-centric insights. And it is building services that will be more resilient in the face of disruptions and unforeseen demands.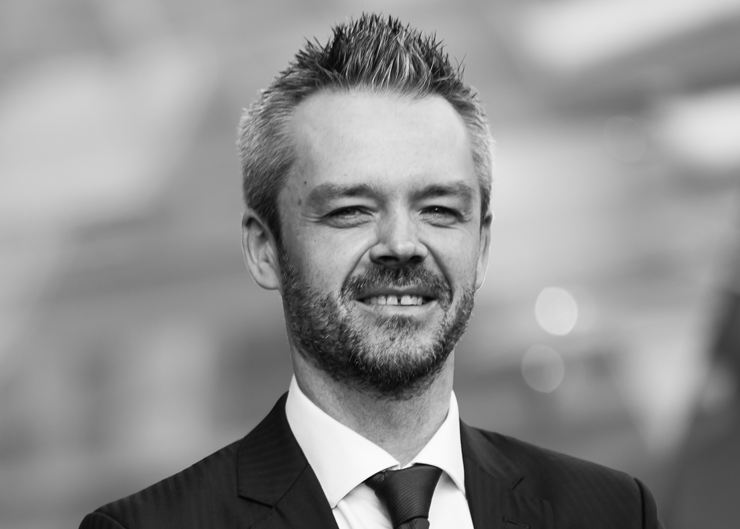 Ben Davison
Interim Executive Director of Product Development, NHS Digital
Ben is interim executive director for Product Development and joined NHS Digital in April 2018. Prior to taking up the role as interim executive director in January 2020, Ben was on secondment to Genomics England as interim CIO. Before joining NHS Digital, Ben led the digital transformation program for the UK's immigration systems for the Home Office. Prior to the Home Office, Ben was Head of Delivery and subsequently MD for a global IT services organization specializing in the build of custom enterprise systems for large scale digital transformations. Ben also has a long track record in healthcare transformation, playing lead roles on a number of other large-scale healthcare programmes subsequently.
Want more digital insights? Subscribe to our quarterly report for business leaders.