What happens when you have fascinating clients with challenging problems on the one hand and passionate software developers looking to build future-focused solutions on the other? This in-between is where Business Analysts reside, acting as a bridge between the client and team. You will establish the outcomes software must achieve, assess how it will be used, and then generate bold ideas with our developers to create custom applications. You will work with clients across a variety of sectors and ensure the business-critical software solutions we develop deliver real business value every time.
Job responsibilities
Understand a client's business problems in order to build, maintain, and evolve product roadmaps to generate impactful solutions
Assure effective collaboration between Thoughtworks' and the client's teams, encouraging open communication and advocating for shared outcomes
You will assess the as-is situation and collaborate with clients to create artifacts (personas, epics, stories, etc.) to maximize value
You will facilitate analysis workshops through "innovation games" with senior client stakeholders to outline business vision, objective, product roadmap and a project release plan.
You will help companies from a variety of industries achieve true, differentiating outcomes and engage with and influence senior business stakeholders on the client side.
You will liaise between the client and your team, consisting of SMEs, C-suite executives, developers, quality analysts, tech architects, user experience designers, project managers, etc to manage the product backlog and keep an eye on software delivery
You will work in agile teams that facilitate organizational transformations for medium- and large-scale businesses
You will be involved in the Analyst community to share knowledge, mentor and evangelize Agile, Lean, and Continuous Development analysis best practices
Job qualifications
Technical skills
You have a track record of delivering impactful software, ideally on a collaborative software delivery team
You have attention to detail, a practical approach to the day-to-day work of story-writing and delivery and can draw a line directly from an overarching client strategy to your team's outcomes
You enjoy unearthing the root cause(s) of a client's pain points, validating a business opportunity or problem and partnering to deliver a solution
You are well versed with Agile, Lean and Continuous Delivery methodologies and love to mentor others
You understand how businesses operate and have experience modeling business processes using a variety of tools and techniques to facilitate requirement elicitation sessions
You design and facilitate workshops with business stakeholders to outline the business vision, objective, product roadmap and a project release plan
You are well-versed with tech trends and can relate them to real-world business challenges at a program or project level
Professional skills
You are aware of people and dynamics and can identify and support the people in the team through their career path identifying opportunities and helping them find the right mentors/sponsors and resources
You have a knack for prioritization, obtaining buy-in from stakeholders and resolving conflicts as they arise
You're resilient and flexible in ambiguous situations and enjoy solving problems from technical and business perspectives

If you have most but not all of the skills we ask for, don't worry! You don't have to check all the boxes. Feel free to apply!


Other things to know
L&D
There is no one-size-fits-all career path at Thoughtworks: however you want to develop your career is entirely up to you. But we also balance autonomy with the strength of our cultivation culture. This means your career is supported by interactive tools, numerous development programs and teammates who want to help you grow. We see value in helping each other be our best and that extends to empowering our employees in their career journeys.
What we offer:
Enjoy a flexible benefits budget (restaurants/public transport/nursery/health insurance)

💳

Keep growing thanks to Learning budget 📚

Enjoy 2 days extra days off per year for learning

🌱

Learn thanks to unlimited Business Udemy access 👩‍🏫

Brush up your English, Spanish, Catalan thanks to free online classes📘

Take care of your mental well-being thanks to ifeel app 🧘🏿‍♀️

Get a work from home budget 💰

Team outing budget 🎡

Business trips will be stress free thanks to travel insurance 🎒

Enjoy working in an international, diverse and inclusive environment 🌎

Our contributions to the tech community:
We work remotely from all around Spain: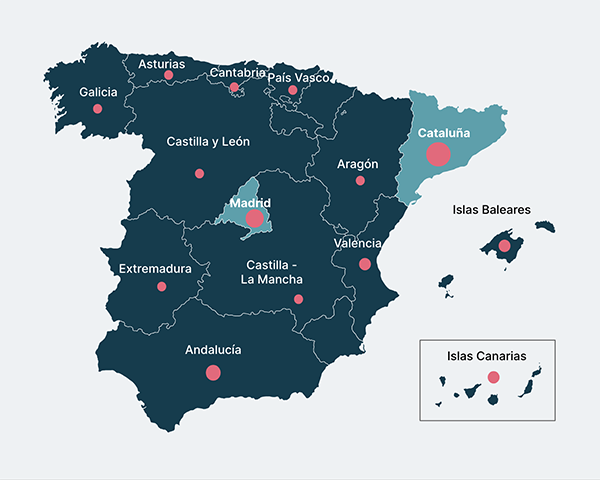 Job Details
Country: Spain
City: Barcelona
Date Posted: 08-12-2022
Industry: Information Technology
Employment Type: Regular
About Thoughtworks
Thoughtworks is a global technology consultancy that integrates strategy, design and engineering to drive digital innovation. For 28+ years, our clients have trusted our autonomous teams to build solutions that look past the obvious. Here, computer science grads come together with seasoned technologists, self-taught developers, midlife career changers and more to learn from and challenge each other. Career journeys flourish with the strength of our cultivation culture, which has won numerous awards around the world.
We are proud to be an equal opportunity employer, we value diversity and it's one of our core values. Here at Thoguhtworks, we do not discriminate on the basis of race, religion, color, sex, gender identity, sexual orientation, age, disability, national origin, veteran status or any other basis covered by appropriate law. All employment is decided on the basis of qualifications, merit, and business need.
Join Thoughtworks and thrive. We are proud to be certified as a Great Place to Work organization in Spain. Together, our extra curiosity, innovation, passion and dedication overcomes ordinary.
What it looks like to be a Thoughtworker
#LI-SPAIN
Thanks for your interest in joining Thoughtworks. A member of our Recruiting team will review your application as soon as possible. 
In the meantime, check out our Consultant Life page to learn more about the extraordinary impact Thoughtworkers make on clients, the tech industry and each other. 
Please note that we value privacy: all information submitted to us via your online application will be kept confidential to Thoughtworks.